Monarch Air Group provides private air charter in Geneva, Switzerland. Our clients benefit from top-notch service, unrelenting dedication to safety, wide selection of aircraft, and years of experience in chartering private jets. To obtain a free quote, please use our online quoting tool provided below, or call toll-free 1-877-281-3051.
Charter a private jet to&from Geneva, Switzerland
Book a Private Jet Charter to Geneva, Switzerland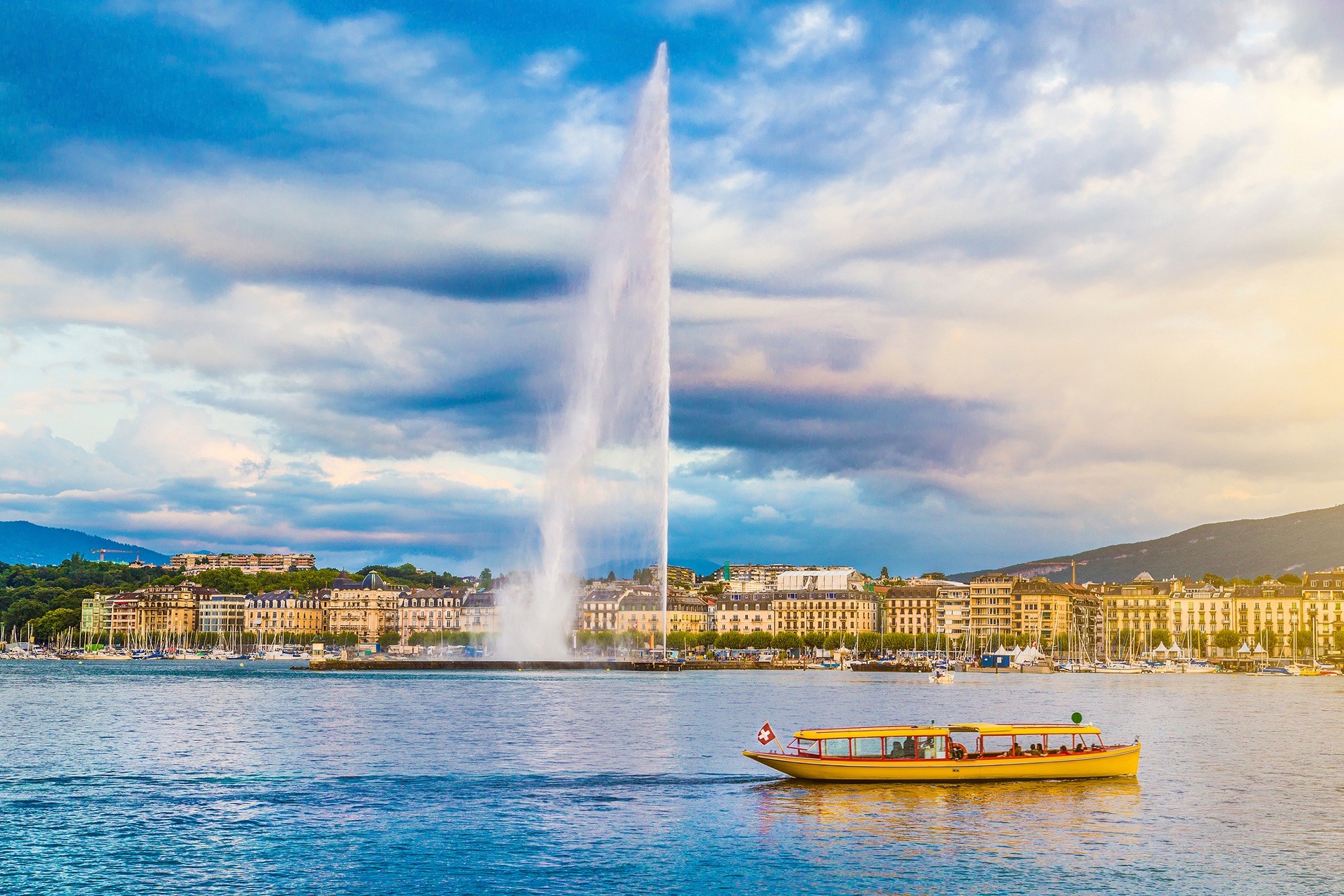 Monarch Air Group offers private jet charter services to and from Geneva, Switzerland.
We have access to over 150 VIP aircraft options in the region, all newer than 2000 (YOM). The most commonly used airport for executive charters and international jet charters is the Geneva Cointrin Airport (GVA), which is located about three miles north of Downtown Geneva.
The most popular private jet types are light jets (Citation CJ3, Citation II, and Citation Bravo), midsize jets (Citation III, Learjet 60, and Hawker 900XP), and large jets (Challenger 850, Falcon 2000EX, Falcon 900EX, and Falcon 2000).
We provide a plenty of ultra-long-range jets including the Global Express XRS, Falcon 7X, and the Gulfstream G550, and VIP airliners, including the Boeing Business Jets and Airbus 319 Corporate Jet. In addition, we offer empty legs, one-way flights as well as access to transient aircraft.
About Geneva and Places to See
Geneva is Switzerland's second-largest city across the water from the French Alps. The city hosts the headquarters of numerous international organizations and is also the world's financial center. Being a vital government stronghold for the country and an even more critical meeting place for the world's leaders, Geneva is a neutral meeting spot in a neutral country. It is a beautiful, elegant, well-maintained, and fashionable place for leisure or business, which explains the popularity of private flights to Geneva.
Geneva is one of the most beautiful and charming European cities, attracting thousands of tourists worldwide every year. It combines well modern and Gothic architecture, the latest technology, and comfort. But, of course, the best time to charter a flight to Geneva depends on the weather that you feel most comfortable walking through the city.
Book a private jet in Geneva to visit the most popular tourist attractions in Geneva the Reformation Wall, English Garden, St.P Peter's Cathedral, Museum of Old Geneva, Museum of Modern Art, Place Neuve, Ariana Museum, Townscape, Geneva Opera House, and Natural History Museum of Geneva.
Geneva International Airport (GVA, LSGG) is 2.5 miles from downtown Geneva. The airport has a route network of flights, primarily to European metropolises and vacation destinations, and is perfect when you charter a private jet to Geneva.
Geneva Private Jet Airports
GVA, LSGG, Geneva International Airport
FAQ for Private Jet Flights to Geneva
Why choose a private jet to Geneva with Monarch Air Group?
Monarch Air Group provides private flights to and from Geneva that are ideal for those who want to maximize their travel time for business or leisure. Expand your Geneva private jet charter options and take advantage of special offers on group charter flights. Call one of our agents to book a Geneva charter jet.
How much does it cost to book a Geneva private jet charter?
The cost of a Geneva private jet is determined by the size of the aircraft, range, and additional services. As a result, you save time by arriving closer to your final destination, avoiding transfers and queues at check-in and security. You can contact our experts if you can't find the information you need on air charter Geneva. Moreover, you can get an estimate for your flight using our private jet charter cost estimator.
Here are some approximate prices for private flights to Geneva:
Charter a Private Jet to Geneva from London will cost from $6,340;
Charter Flights from Geneva to Nice will cost from $5,180;
Private Flights to Geneva from Teterboro will cost from $73,600;
*Estimated price before taxes & fees.
What types of private jets can use for Geneva charter flights?
A private jet charter is a more reasonable way to travel than you might expect. First, explore the types of aircraft available, like helicopters, turboprops, light jets, midsize jets, super-midsize jets, heavy jets, and VIP airliners, and choose the option best suits your needs. The choice depends on the range, comfort level, and several passengers.
| Aircraft type | Passengers | Non-stop range | Cruising speed | Intended use |
| --- | --- | --- | --- | --- |
| Light Jet | up to 6 passengers | about 700 – 2,000 miles | 476 to 518 mph | for comfortable short- to mid-range distances |
| Midsize Jet | up to 10 passengers | about 1,300 – 1,500 miles | 422 to 541 mph | to fly nonstop from coast to coast |
| Super midsize Jet | up to 10 passengers | about 3,500 – 4,000 miles | 490 to 590 mph | for longer flights |
| Heavy Jet | up to 18 passengers | about 6,000 miles | 480 to 551 mph | traveling overseas in luxury for an intercontinental flight |
| Turboprops | up to 10 passengers | about 600 – 1,900 miles | 220 to 360 mph | for short- to mid-range flights |
| Ultra-Long Range Jet | up to 19 passengers | about 2,800 – 7,685 miles | 460 to 594 mph | for long-haul travels |
| Helicopters | up to 28 passengers | about 250 – 600 miles | 150 to 175 mph | for passenger and cargo transportation |
What are the advantages of flying on a Geneva private jet?
Renting a private jet has some undeniable advantages over commercial flights. You decide when to take off, where to land, who to take with you, and what you want to see on the private jet. We offer luxury private jets to suit your needs based on the number of passengers and departure seats. Our specialist is available 24 hours, seven days a week for all your travel needs.
Popular destinations near Geneva by private jet
Lausanne – on the north shore of Lake Geneva, is an incredibly exclusive city that gets wildly rave reviews from private aviation clients.
Lyon – is famous for its outstanding cuisine and boasts many local specialties and stylish restaurants.
Bern – has many medieval cityscapes, narrow streets, and historic towers.
Lucerne – became popular among travelers from all over the world for its exciting treasures and unique scenery.
Zurich – is a fascinating city and a major center of modern art, shopping, and tourism.
Our clients travel on efficient and comfortable private jets. If you haven't found the answers to all your questions, you can contact our experienced and reliable team at any time or visit our air charter FAQ page.