Monarch Air Group provides private air charter in Gdansk, Poland. Our clients benefit from top-notch service, unrelenting dedication to safety, wide selection of aircraft, and years of experience in chartering private jets. To obtain a free quote, please use our online quoting tool provided below, or call toll-free 1-877-281-3051.
Charter a private jet to&from Gdansk
About Gdansk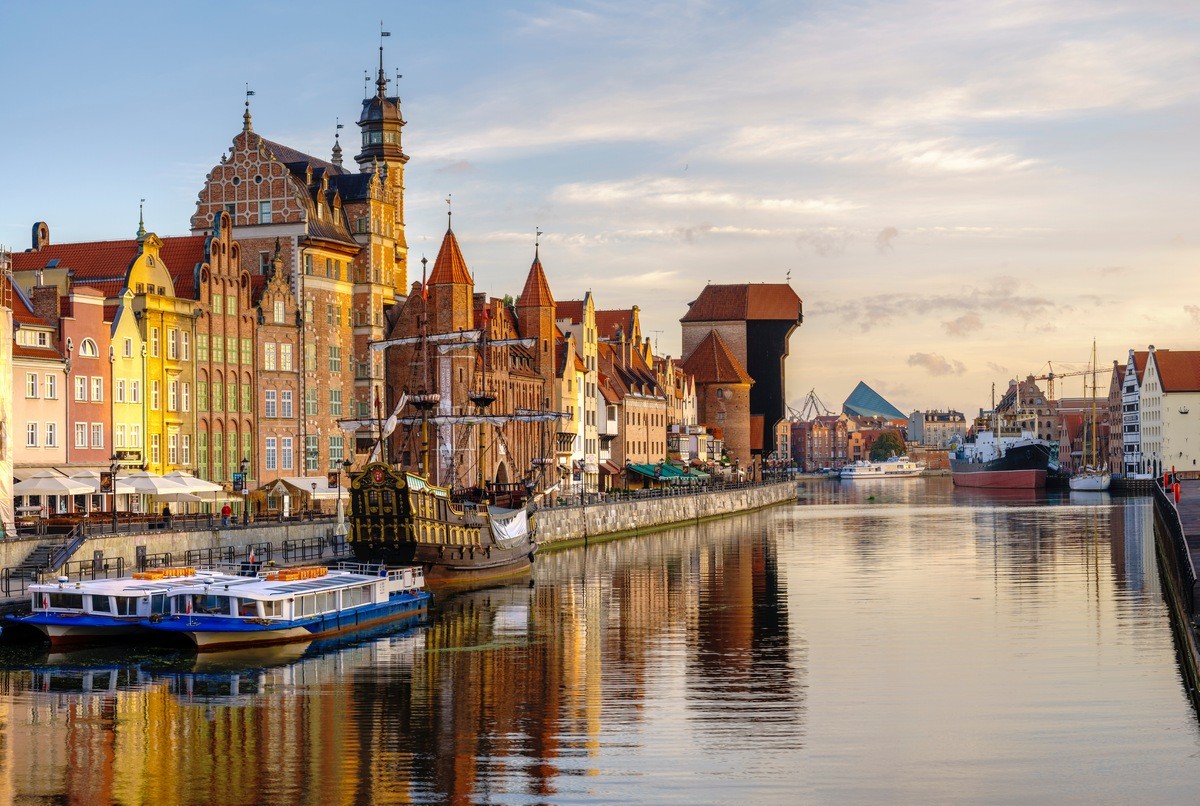 Monarch Air Group offers private jet charter services to and from Gdansk, Poland.
The port city of Gdansk thrived during the Medieval period when it was a hub for trading Baltic amber. Amber contains a natural analgesic and healing agent called succinic acid. Sometimes worn in necklace form, Amber has been used by people, including the ancient Romans, to protect against disease and combat pain, stomach ailments and other maladies. The Amber Museum has a world-class collection of amber, including examples of amber inclusions, made famous by the movie Jurrasic Park. Inclusions are nature's time capsules, instances where the resin has encased insects for millions of years. To explore the historical streets of Gdansk on foot, start your walk at Ulica Długa (Long Street) and then walk along Długi Targ (Long Market). On Long Market, find your way to Neptune's Fountain.
Also nearby is Golden House decorated with sculpted friezes and sixteen busts gracing its pillars. The top of the building is adorned with statues of Achilles, Antigone, Cleopatra and Oedipus. The Main Town Hall, designed by Dutch architects in the 16th century, is also worth exploring. St. Mary's Church towers over surrounding buildings. Visitors who climb 400 steps of this Gothic cathedral will be rewarded with remarkable views of the city. There are plenty of notable artifacts from the town's history to see on ground level, including a mechanical astronomical clock from the 1460s. For a stroll along the Baltic shore, explore the waterfront of the Jelitkowo District.
Gdansk Lech Wałęsa Airport (EPGD) is located 7.5 miles (12 km) from the tri-city metropolitan area of Gdansk, Sopot and Gdynia. Empty legs and transient aircraft are very popular in the region.
Gdansk Map
Gdansk Airports For Private Jets within 70 miles
1. GDN, Gdańsk Lech Wałęsa Airport, Gdansk, Poland
2. BZG, Bydgoszcz Ignacy Jan Paderewski Airport, Bydgoszcz, Poland
3. KGD, Khrabrovo Airport, Kaliningrad, Russia
4. PLQ, Palanga International Airport, Palanga, Lithuania
5. WMI, Warsaw-Modlin Mazovia Airport, Warsaw, Poland
6. SZZ, "Solidarity" Szczecin-Goleniów Airport, Szczecin, Poland
7. POZ, Poznań-Ławica Henryk Wieniawski Airport, Poznan, Poland
8. HDF, Heringsdorf Airport, Heringsdorf, Germany
9. RNB, Ronneby Airport, Ronneby, Sweden
10. WAW, Warsaw Chopin Airport, Warsaw, Poland
11. KLR, Kalmar Airport, Kalmar, Sweden
12. RNN, Bornholm Airport, Ronne, Denmark