Monarch Air Group provides private air charter in Freiburg, Germany. Our clients benefit from top-notch service, unrelenting dedication to safety, wide selection of aircraft, and years of experience in chartering private jets. To obtain a free quote, please use our online quoting tool provided below, or call toll-free 1-877-281-3051.
Charter a private jet to&from Freiburg
About Freiburg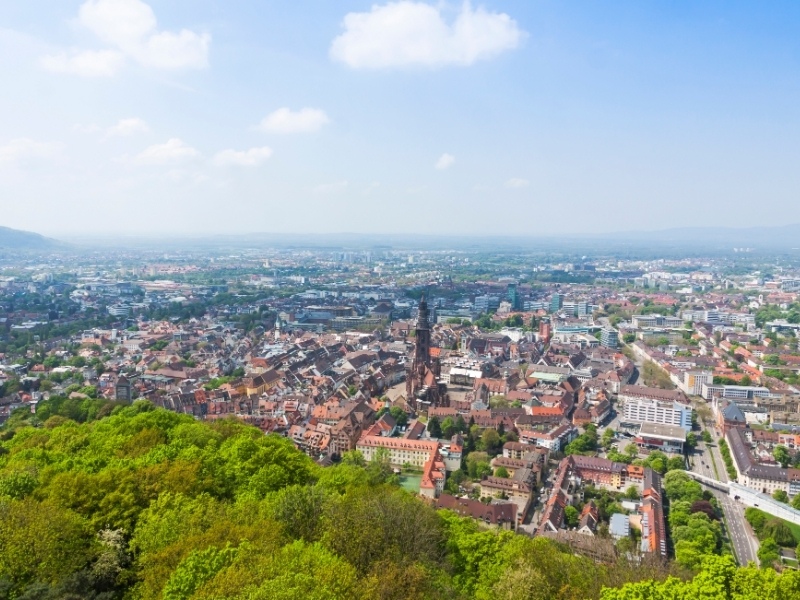 Monarch Air Group offers private jet charter services to and from Freiburg, Germany.
Freiburg is in southwest Germany. This city of just over 225,000 residents is characterized by its picturesque landscapes and a mix of architecture in the Baroque, Gothic and Renaissance styles. Freiburg's history dates to 1100 when it was founded and chartered by the dukes of Zähringen as a free market town. The city's most famous landmark is its Romanesque Freiburg Cathedral. Established in 1200, construction of the building was completed in 1513. Look for the symbols on the stained-glass windows that were used to represent each guild that helped craft them.
In the city center, look for the town halls. Each town hall has been used for various purposes over the centuries. Today they are used mainly for administration purposes, including a useful tourist information office. Although Freiburg is bordered the Black Forest, nearly half of the city's area is covered in trees. The most famous tree in Germany grows in Freiburg. The 100-year-old Douglas Fir stands at 218 feet (66.58 meters). Perhaps inspired by the nature that surrounds it, Freiburg is considered a Green City.
You can see this forward-thinking reflected in the urban architecture of the Vauban district. Over decades, walking, cycling and use of public transport has greatly reduced the city's carbon footprint. The benefits are Freiburg's air quality and minimized congestion and noise. For a view of Freiburg and the picturesque Rhine Valley, the top of the Schlossberg Tower offers onlookers panoramic views. Take the cable car to the summit of Schauinslad Mountain (4,212 ft./1,284 m) to explore the recreational area and the views from the summit.
The Black Forest is known for its inspiration of some of the world's most enduring fairytales, but there is much more to Germany's Black Forest than fairytales. Take a trip through the towering forests and dark hamlets to explore the region's cuisine. Recipes in the Black Forest region have been refined over centuries with fresh ingredients from terraced vineyards and cherry orchards.
Basel/Mulhouse/Freiburg Airport (EDTF) is located 72 km (45 miles) from the city center of Freiburg. Empty legs and transient aircraft are extremely popular in the region.
Freiburg Map
Airports within 70 miles For Private Jets to Freiburg
1. EAP, EuroAirport Basel-Mulhouse-Freiburg, Saint-Louis, France
2. SXB, Strasbourg International Airport, Strasbourg, France
3. FKB, Baden Airpark, Baden-Baden, Germany
4. ZRH, Zurich Airport, Zurich, Switzerland
5. FDH, Bodensee Airport, Friedrichshafen, Friedrichshafen, Germany
6. BRN, Bern Airport, Bern, Switzerland
7. ACH, St. Gallen-Altenrhein Airport, Altenrhein, Switzerland
8. STR, Stuttgart Airport, Stuttgart, Germany
9. SCN, Saarbrücken Airport, Saarbrucken, Germany
10. ZQW, Zweibrücken Airport, Zweibrucken, Germany