Monarch Air Group provides private air charter in Frankfurt, Germany. Our clients benefit from top-notch service, unrelenting dedication to safety, wide selection of aircraft, and years of experience in chartering private jets. To obtain a free quote, please use our online quoting tool provided below, or call toll-free 1-877-281-3051.
Charter a private jet to&from Frankfurt, Germany
Book a Private Jet Charter to and from Frankfurt, Germany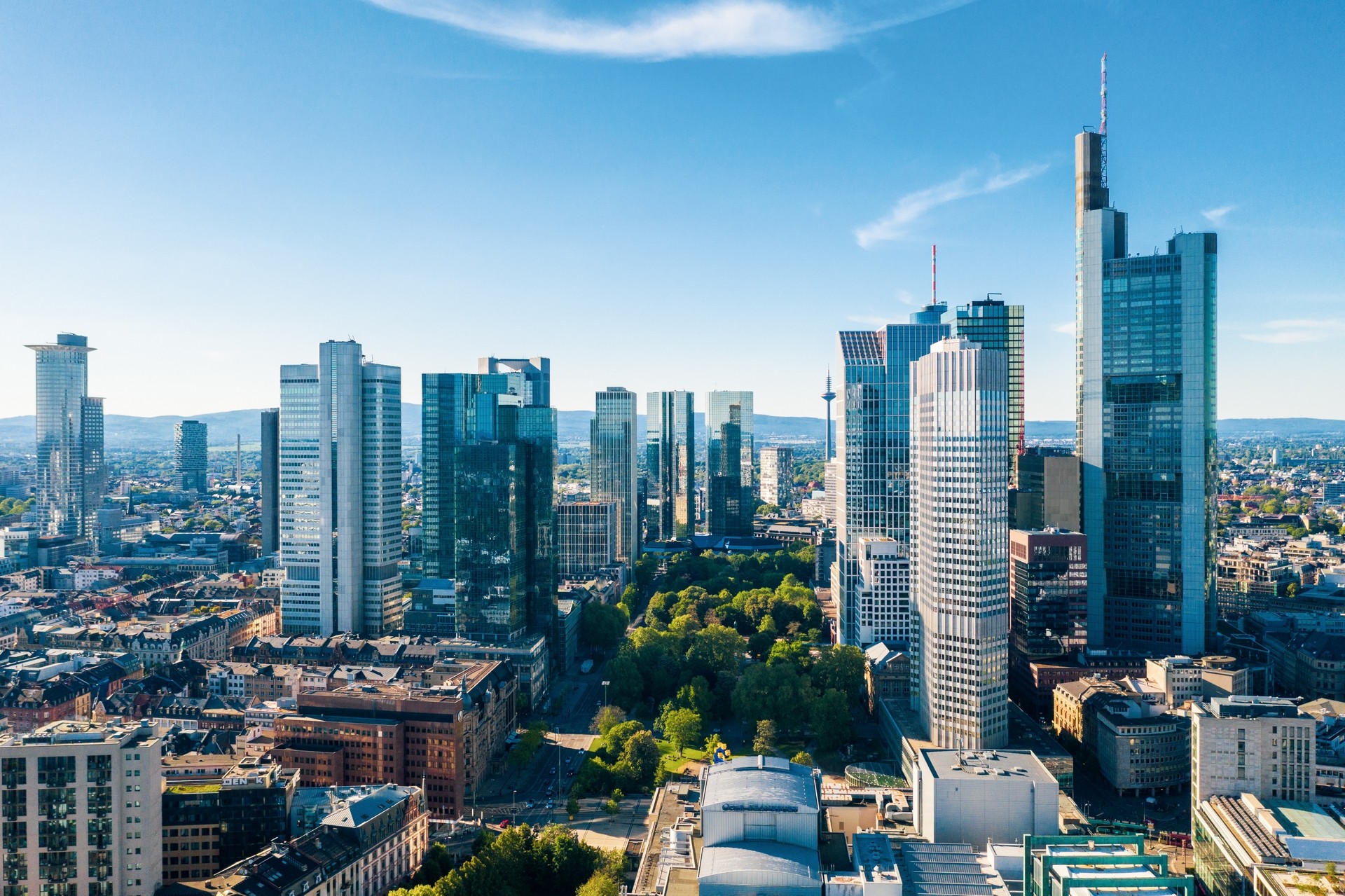 Monarch Air Group specializes in arranging private jet charter flights to and from Frankfurt while offering the largest selection of high-quality jets.
Paris Private Jet Sizes and Terminals
The most popular rental aircraft options include turbo props, very light jets, light jets, midsize jets, super midsize, and large jets such the Legacy 600, Falcon 2000 EX and Challenger 604. For a larger group of passengers we offer ultra long range aircraft including Global 5000, Gulfstream G550, and Global Express or VIP Airliners such as the Airbus 319 Corporate Jet and the Boeing Business Jet. There are over eight airports located within a fifty-mile radius of Frankfurt Airport(FRA), including Hanau AAF Airport(ZNF), situated 13 miles northeast of Downtown Frankfurt, and Frankfurt Egelsbach Airport(QEF), situated eleven miles south of Downtown Frankfurt.
Frankfurt Overview and Things to Do
Monarch Air Group provides private jet charter flights to and from Groningen.
Frankfurt am Main is the largest city in the German state of Hesse, divided into North and South regions by the Main River. If you have long dreamed of plunging into the maelstrom of Western European life, charter a private jet to Frankfurt.
The center of Frankfurt is on the north bank of the river, and the south bank is the largest forested area in Germany. Want to feel the pace of Frankfurt life and enjoy the atmosphere of the modern Middle Ages, a private jet charter Frankfurt is the best option. The most popular tourist attractions include City Hall, St.Pauls Church, Goethe House, Palm Garden, Senckenberg Museum of Natural History, and Roman Mountain.
Some must-see places of interest here when you choose private flight Frankfurt are one of its many skyscrapers, a famous opera house, the prospering theater district, plenty of bars and dance clubs, the pedestrian shopping street, and a lot of museums. Some other events you might be interested in are the Autumn, Spring, and Book Fairs. Moreover, the city is transformed during the winter holidays with the Christmas Fair opening in the heart.
The Frankfurt Airport (FRA, EDDF) is 28 miles from the center of Frankfurt. It is a major international airport with an annual capacity of about 65 million passengers and serves charter flights to and from Frankfurt.
Frankfurt Private Jet Airports within 70 miles
FRA, Frankfurt International Airport (rhein-main), Frankfurt, Germany.
HDB, Heidelberg, Heidelberg, Germany.
HHN, Frankfurt-Hahn, Hahn, Germany.
KLT, Kaiserslautern, Kaiserslautern, Germany.
MHG, Mannheim Arpt, Mannheim, Germany.
RMS, Ramstein, Ramstein, Germany.
SEX, Sembach, Sembach, Germany.
SGE, Siegerland Airport, Siegen, Germany.
WIE, Air Base, Wiesbaden, Germany.
Hotels in Frankfurt
Hotel Cult Frankfurt City, Offenbacherlandstr 56, Frankfurt.
Innside Premium Hotel eurotheum, Neue Mainzer Straße 66, Frankfurt.
Adina Apartment Hotel Frankfurt Neue Oper, Wilhelm-Leuschner-Straße 6, Frankfurt am Main.
Restaurant FranAais, Frankfurt.
CITY HOTEL FRANKFURT, Allerheiligenstraße 30, Frankfurt.
Fleming's Deluxe Hotel Frankfurt-City, Eschenheimer Tor 2, Frankfurt.
The Westin Grand Frankfurt, Konrad-Adenauer-Straße 7, Frankfurt.
Hotel Cult Frankfurt City, Offenbacherlandstr 56, Frankfurt.
Innside Premium Hotel eurotheum, Neue Mainzer Straße 66, Frankfurt.
Restaurant FranAais, Frankfurt.
FAQ for a Private Jet Charter Flights to Frankfurt
Why choose a charter jet to Frankfurt with Monarch Air Group?
Monarch Air Group provides private flights to and from Frankfurt, offering levels of safety, reliability, and security that the commercial industry cannot provide. We offer our customers a wide range of luxurious private jets and exclusive services. You book your flight and choose the time, date, and place of departure, the number of stops, the airport for boarding, and more. Call one of our agents to book your charter jet to Frankfurt.
How much does it cost to book a Frankfurt private jet charter?
Several factors determine the cost of renting a Frankfurt private jet. The main parameters are the chosen aircraft's model and the route's specifics. If you have not found the necessary information on the Frankfurt air charter, don't hesitate to get in touch with our experts. The cost estimate is not a template service but is calculated individually for each client. Moreover, you can get a flight cost estimate by using a private jet charter cost estimator.
Here are some approximate prices for a private jet to Frankfurt:
Charter a Private Jet to Frankfurt from Copenhagen: from $5,340;
Charter Flights to Frankfurt from London: from $6,100;
Private Charter Flights to Frankfurt from Prague: from $5,180.
*Estimated price before taxes & fees.
What types of private jets can use for Frankfurt charter flights?
Private jets come in different sizes and capacities. Monarch Air Group offers competitive prices for VIP jets, airliners, heavy jets, light jets, and turboprops. The choice of a plane for Frankfurt charter flights depends on the number of passengers, destination/destination, luggage allowance, and flight duration. We will choose the business jet that best suits your needs and wishes. The goal is to make your trip as efficient as possible.
| Aircraft type | Passengers | Non-stop range | Cruising speed | Intended use |
| --- | --- | --- | --- | --- |
| Light Jet | up to 6 passengers | about 700 – 2000 miles | 476 to 518 mph | for comfortable short- to mid-range distances |
| Midsize Jet | up to 10 passengers | about 1300 – 1500 miles | 422 to 541 mph | to fly nonstop from coast to coast |
| Super midsize Jet | up to 10 passengers | about 3.500 – 4.000 miles | 490 to 590 mph | for longer flights |
| Heavy Jet | up to 18 passengers | about 6.000 miles | 480 to 551 mph | traveling overseas in luxury for an intercontinental flight |
| Turboprops | up to 10 passengers | about 600 – 1.900 miles | 220 to 360 mph | for short- to mid-range flights |
| Ultra-Long Range Jet | up to 19 passengers | about 2,800 – 7,685 miles | 460 to 594 mph | for long-haul travels |
| Helicopters | up to 28 passengers | about 250 – 600 miles | 150 to 175 mph | for passenger and cargo transportation |
What are the advantages of flying on a Frankfurt private jet?
Renting a private jet has several undeniable advantages over commercial flights. Our efficiency and competitive rates will save you money and time. We are available 24 hours a day to answer any questions our clients may have regarding private plane charter Frankfurt. You can arrange hotel transfers, individual onboard meals, or group charter flights. Our specialist is available for you 24 hours a day, seven days a week, to answer any questions you may have.
Popular destinations near Frankfurt by private jet
Egelsbach – between Frankfurt am Main and Darmstadt, is a business and industrial city with many fascinating museums.
Dortmund – is Germany's largest metropolitan area and receives rave reviews from private aviation customers.
Essen – is located in the center of the large Rhine-Ruhr metropolitan area and is the country's industrial center.
Dusseldorf – a dynamic and lively city, it is the cultural and economic center of the Rhineland region.
Luxembourg – offers lush hills and valleys, steep vineyards, and medieval historic sites.
Our clients travel on efficient and comfortable private jets. If you haven't found the answers to all your questions, you can contact our experienced and reliable team at any time or visit our air charter FAQ page.