Monarch Air Group provides private air charter in Fortaleza. Our clients benefit from top-notch service, unrelenting dedication to safety, wide selection of aircraft, and years of experience in chartering private jets. To obtain a free quote, please use our online quoting tool provided below, or call toll-free 1-877-281-3051.
Charter a private jet in Fortaleza:
About Fortaleza, Brazil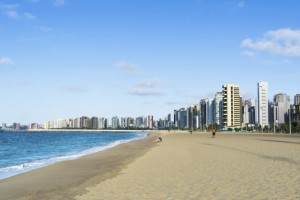 Monarch Air Group offers a wide variety of private jet charter options to and from Fortaleza, Brazil.
Situated in Northeastern Brazil, Fortaleza is the state capital of Ceara and the fifth largest city in the country, with a population of around 2,55 million people. It is one of Northeast region's three leading cities along with Salvador and Recife. The city is known for its Fortaleza Carnival season, unique culture and spectacular landmarks.
Fortaleza is a popular tourist destination that attracts many beach lovers from around the world. Some of the top-rated tourist attractions include the Morro Branco, Cachaca Museum, Praia de Cumbuco, Arena Castelao, RioMar Fortaleza, Dragao do Mar Centro de Arte e Cultura, Praia do Futuro, Jose de Alencar Theater, and Fontes Beach, among the others.
Fortaleza is served by Pinto Martins – Fortaleza International Airport, which is situated 14 km from the city center and offers domestic and international flights.
Fortaleza Airports within 70 miles
1. BYO, Bonito Airport, Bonito, Brazil
2. FOR, Pinto Martins, Fortaleza, Brazil
Hotels in Fortaleza
1. Holiday Inn Fortaleza, Av. Hist. Raimundo Girão, 800 – Praia de Iracema, Fortaleza
2. Seara Praia Hotel, Avenida Beira Mar, 3080 – Meireles, Fortaleza
3. Quality Hotel Fortaleza, Avenida Beira Mar, 2340 – Meireles, Fortaleza
4. Mercure Fortaleza Meireles Hotel, Rua Joaquim Nabuco, 166 – Meirelles, Fortaleza
5. Hotel Luzeiros, Av Beira Mar, 2600 – Meireles, Fortaleza
6. Ibis Fortaleza Praia de Iracema, Rua Doutor Atualpa Barbosa Lima, 660 – Praia de Iracema, Fortaleza
7. Comfort Hotel Fortaleza, Rua Frei Mansueto, 160 – Meireles, Fortaleza
8. Villa Mayor, Rua Visconde de Mauá, 151 – Praia do Meireles, Fortaleza
9. Carmel Magna Praia Hotel, Avenida Historiador Raimundo Girão, 1002 – Meireles, Fortaleza
10. Mareiro Hotel, Avenida Beira Mar, 2380 – Meireles, Fortaleza
11. Hotel Gran Marquise, Avenida Beira Mar, 3980 – Mucuripe, Fortaleza
12. Hotel Praia Centro, Avenida Monsenhor Tabosa, 740 – Praia de Iracema, Fortaleza
13. Praiano Hotel, Avenida Beira Mar, 2800 – Meireles, Fortaleza
14. Hotel Casa de Praia, Rua Joaquim Alves, 169 – Praia de Iracema, Fortaleza
15. Hotel Tulip Inn Fortaleza, Avenida da Abolição, 3340 – Meireles, Fortaleza