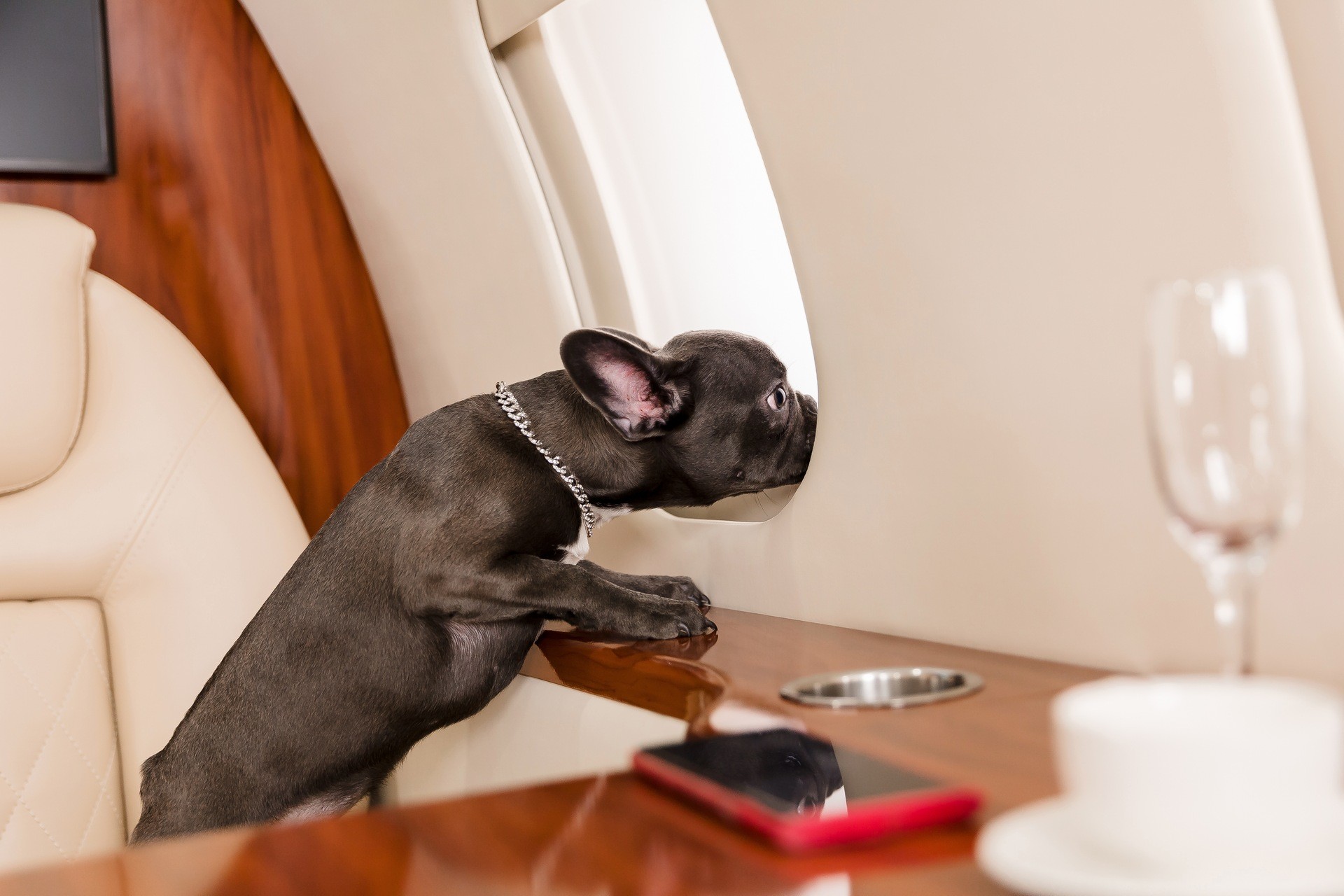 Tragically, every year there are dozens of pets being lost, injured, or killed during commercial flights. One incident was recently reported by USA Today when a dog flying on a United Airlines flight died after being put in the overhead bin compartment by a flight attendant, and another United Airlines flight accidentally sent a family's dog to Japan instead of Kansas. As dogs and cats become more like family members, the potential risks of losing either one of them can be scary.
Charter a private jet flying with pets
Ensure Your Pets Safety
Commercial flights almost always require pets to be stored in a cage with the cargo. Being tucked away into a cold and pitch-black baggage compartment during an 8-hour flight is a traumatic experience for an animal to go through, as the in-flight conditions and altitude fluctuations can not only be dangerous but also cruel.
Not only that, but leaving your pet at a boarding hotel back home while you go on a vacation is also distressing, as they are in an unfamiliar place and more often than not feel like they are being abandoned. By traveling on a private charter, you ensure that your pet can not only come on vacation with you but also arrive there in a comfortable, relaxing, and safe environment, eliminating your worry about his or her safety and well-being during the flight.
With safety being of the utmost priority to us, we are a leading provider of on-demand private jet charters, aircraft management, and long-term aircraft lease with over 12 years of experience. With clientele including the U.S. Government and Fortune 500 companies, we are subject to the most rigorous requirements in safety and operational standards – ensuring you and your pet can arrive safely to your destination.
Hassle-Free Arrangement of Your Pets Travel
So long as that all of the U.S. Department of Transportation safety and pet travel documentation is correct and current, our talented and helpful concierge team is able to help make arrangements for travelers who wish to bring their pets along on their flight. As each country has different rules and regulations in regards to flying with pets, our team will work closely with you to ensure the process is simple, transparent, and runs smoothly in and out of the city of your choice.
Flexibility and Stress-Free Traveling
Routine, security, and the comforting presence of their owner are all components of a stress-free flight for both the pet and their owner. As the restrictions such as size, type of breed, and age of pets on commercial flights become more and more strict, flying private offers pet owners the right amount of flexibility to bring your companion along.
As many airlines continue to not allow pets to travel due to increased risk and liability, especially during hot summer months or cold winters, these policies give pet owners no flexibility when it comes to bringing their pets along with them. By flying private, you give your pet the personal attention it requires along with the peace of mind for yourself, knowing he can arrive there safely with you.