Monarch Air Group provides private air charter in Florianópolis. Our clients benefit from top-notch service, unrelenting dedication to safety, wide selection of aircraft, and years of experience in chartering private jets. To obtain a free quote, please use our online quoting tool provided below, or call toll-free 1-877-281-3051.
Charter a private jet in Florianópolis:
About Florianópolis, Brazil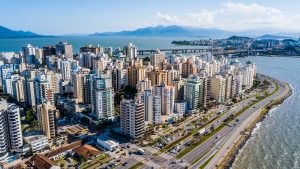 Monarch Air Group offers a wide variety of private jet charter options to and from Florianopolis, Brazil.
Florianopolis is the second-largest and capital city of the Brazilian state of Santa Catarina. It is the state's second most populous city with a population of approximately 462 thousand people. The city is renowned for its high quality of life and the economy based on tourism, information technology, and services. With 60 spectacular beaches, Florianopolis is a center of surfing activity.
The major tourist attractions in Florianopolis include Santo Antonio de Lisboa, Campeche Island, Lagoinha do Leste, Costa da Lagoa, Jurere Internacional, Matadeiro Beach, Praia Mole, Joaquina Beach, Ribeirao da Ilha, Dunas Joaquina, Praia do Santinho, and Naufragados Beach, among the others.
Florianopolis is served by Florianopolis-Hercilio Luz International Airport, which is located 13 km from the city center and provides domestic and international flights.
Florianopolis Airports within 70 miles
1. BNU, Blumenau, Blumenau, Brazil
2. FLN, Hercilio Luz, Florianopolis, Brazil
3. NVT, Navegantes, Navegantes, Brazil
Hotels in Florianopolis
1. Hotel Sofitel Florianopolis, de number 2034, Avenida Jornalista Rubéns de Arruda Ramos – Penha, Florianópolis
2. Majestic Palace Hotel, Avenida Jornalista Rubens de Arruda Ramos, 2746 – Centro, Florianópolis
3. Porto da Ilha Hotel, Rua Dom Jaime Câmara, 43 – Centro, Florianópolis
4. Hotel ibis Florianopolis, Av. Rio Branco 37, Florianopolis
5. Mercure Florianopolis Convention Hotel, Rodovia Admar Gonzaga, 600 – Itacorubi, Florianópolis
6. Hotel Quinta da Bica D'Água, Rua Capitão Romualdo de Barros, 641 – Carvoeira, Florianópolis
7. Faial Prime Suites, Rua Felipe Schmidt, 603 Centro – Centro, Florianópolis
8. Hotel Sofitel Florianopolis, de number 2034, Avenida Jornalista Rubéns de Arruda Ramos – Penha, Florianópolis
9. Majestic Palace Hotel, Avenida Jornalista Rubens de Arruda Ramos, 2746 – Centro, Florianópolis
10. Porto da Ilha Hotel, Rua Dom Jaime Câmara, 43 – Centro, Florianópolis
11. Mercure Florianopolis Centro Hotel, Rua Felipe Schmidt 1102 – Centro, Florianopolis
12. Hotel ibis Florianopolis, Av. Rio Branco 37, Florianopolis
13. Plaza Florianópolis Hotel, Rua Silva Jardim, 830 – Prainha, Florianópolis
14. Florianópolis Palace Hotel, Rua Artista Bittencourt, 14 – Centro, Florianópolis
15. Mercure Florianopolis Convention Hotel, Rodovia Admar Gonzaga, 600 – Itacorubi, Florianópolis
16. Hotel Valerim Plaza, Rua Felipe Schmidt, 705 – Centro, Florianópolis
17. Castelmar Hotel, Rua Felipe Schmidt, 1260 – Centro, Florianópolis
18. Hotel Quinta da Bica D'Água, Rua Capitão Romualdo de Barros, 641 – Carvoeira, Florianópolis
19. Cecomtur Executive Hotel, Rua Arcipreste Paiva, 107 – Centro, Florianópolis
20. Hotel Lumar, Rua Conselheiro Mafra, 848 – Centro, Florianópolis
21. Faial Prime Suites, Rua Felipe Schmidt, 603 Centro – Centro, Florianópolis
22. SLAVIERO Baía Norte Florianópolis, Avenida Beira Mar Norte, 220 – Centro, Florianópolis
23. InterCity Premium Florianópolis, Av. Paulo Fontes, 1210 – Centro, Florianópolis
24. Slaviero Executive Florianópolis, Rua Desembargador Vítor Lima, 380 – Trindade, Florianópolis
25. Rio Branco Apart Hotel, Avenida Rio Branco, 369 – Centro, Florianópolis
26. Hotel Oceano, Avenida Governador Ivo Silveira, 1041 – Coqueiros, Florianópolis