Monarch Air Group provides private air charter in Florence. Our clients benefit from top-notch service, unrelenting dedication to safety, wide selection of aircraft, and years of experience in chartering private jets. To obtain a free quote, please use our online quoting tool provided below, or call toll-free 1-877-281-3051.
Charter a private jet in Florence:
About Florence, Italy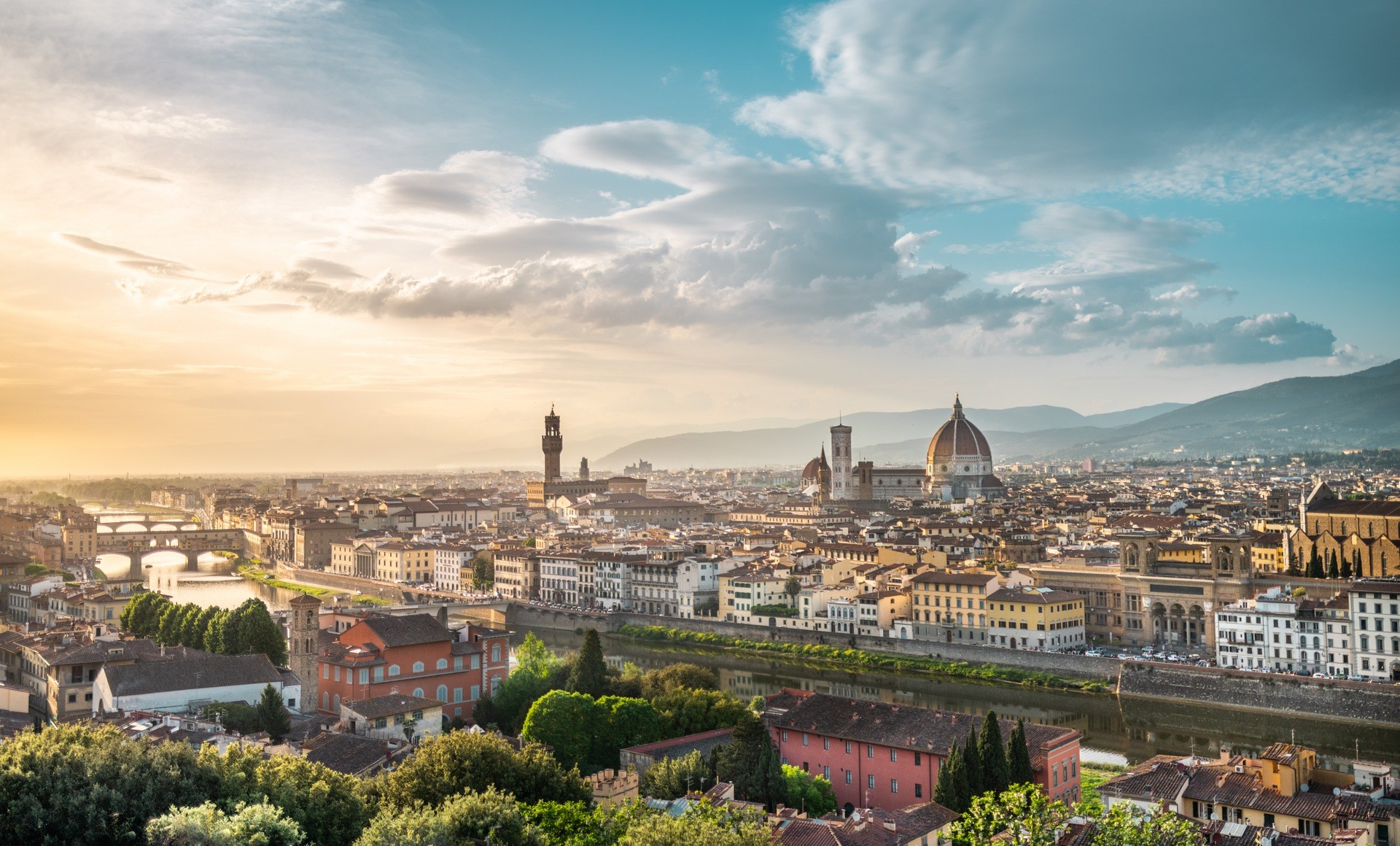 Monarch Air Group offers plenty of private jet charter options to and from Florence, Italy.
The capital city of Tuscany, Florence is the most populous city in this Italian region. It is the birthplace of the Renaissance and home to the Historic Centre of Florence, which draws more than 13 million visitors every year. There are tons of museums and art galleries that feature the Renaissance art and architecture. Florence is ranked in the top world's 51 fashion capitals and is a crucial city in Italian fashion.
Apart from being a major commercial and production center in the country, tourism is an important industry in Florence as well. The most popular tourist attractions include Palazzo Pitti, Boboli Gardens, Piazzale Michelangelo, Basilica di San Lorenzo, Palazzo Vecchio, Uffizi Gallery, Piazza della Signoria, Santa Maria del Fiore, and Ponte Vecchio.
Florence is served by Florence Airport, the second-busiest Tuscan airport, and Galileo Galilei International Airport, the main airport in Tuscany.
Florence Airports within 70 miles
1. BLQ, Guglielmo Marconi, Bologna, Italy.
2. FLR, Peretola, Florence, Italy.
3. FRL, Luigi Ridolfi, Forli, Italy.
4. LCV, Lucca, Lucca, Italy.
5. PSA, Galileo Galilei, Pisa, Italy.
6. QMM, Marina Di Massa, Marina Di Massa, Italy.
7. RAN, La Spreta, Ravenna, Italy.
8. RMI, Miramare, Rimini, Italy.
9. SAY, Siena, Siena, Italy.
10. TQR, San Domino Island, San Domino Island, Italy.
Hotels in Florence
1. The Westin Excelsior, Florence, Piazza Ognissanti, 3, Firenze.
2. Four Seasons Hotel Firenze, Borgo Pinti, 99, Firenze.
3. AC Hotel Firenze, Piazza Alessandro Bonsanti, 5, Firenze.
4. Hotel Helvetia & Bristol, Via dei Pescioni, 2, Firenze.
5. La Scaletta Hotel Florence, Via de' Guicciardini, 13, Firenze.
6. Hotel Albion, Via Il Prato, 22, Firenze.
7. Grand Amore Hotel And Spa, Via dei Servi, 38/A, Firenze.
8. Hotel David, Viale Michelangiolo, 1, Firenze.
9. Hotel Pendini, Via degli Strozzi, 2, Firenze.
10. Hilton Garden Inn Florence Novoli, Via Sandro Pertini, 2/9, Firenze.
11. Hotel Savoy, Piazza della Repubblica, 7, Firenze.
12. Hotel Torre Guelfa, Borgo Santi Apostoli, 8, Firenze.
13. Hotel Brunelleschi, Piazza Sant'Elisabetta, 3, Firenze.
14. Hotel Berchielli, Lungarno Acciaiuoli, 14, Firenze.
15. Hotel degli Orafi, Lungarno degli Archibusieri, 4, Firenze.
16. Portrait Firenze, Lungarno degli Acciaiuoli, 4, Firenze.
17. Hotel Il Guelfo Bianco, Via Cavour, 29, Firenze.
18. Hotel Lungarno, Borgo San Jacopo, 14, Firenze.
19. Hotel Duomo Firenze, Piazza del Duomo, 1, Firenze.