Monarch Air Group provides reliable, and convenient private air charter service to Exuma, Bahamas. Serving countless domestic and international destinations, Monarch Air Group is in a strategic location to offer direct flights to the Bahamas and beyond. On-demand charter flights can be obtained from anywhere as part of our service to the Caribbean islands. Through a combination of preselected operators and joint venture agreements, Monarch Air Group operates and maintains a variety of aircraft to meet your air charter needs and budget.
Charter a private jet To and From Exuma, Bahamas
Air charter Exuma
Prop Aircraft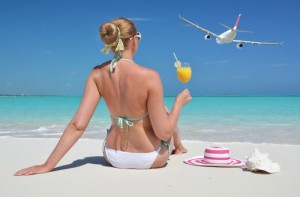 Twin-engine piston aircraft are typically the most cost-effective for air charter to The Bahamas. They can seat up to six passengers. Due to their compact size, twin-engine piston aircraft are able to land and take off in less trafficked airports with shorter runways, allowing access to several of the smaller islands throughout The Bahamas and Caribbean.
Turboprop aircraft provide more space than twin-engine piston aircraft, as well as a pressurized cabin, lavatory and outside luggage compartment. Cabin height is typically around 4'6" and seating arrangements allow for up to nine passengers. Turboprop aircraft also have the ability to land in smaller local airports, allowing access to destinations such as Exuma, Eleuthera and Harbour Island.
Light Jets
For shorter and regional flights, light jets reach higher average cruising speeds than prop aircraft. Light jets are able to seat up to seven passengers and provide a comfortable and relaxing air charter experience to the Bahamas. Most light jets offer enclosed lavatory, ample legroom, a quiet and pressurized cabin, and various optional amenities, such as Wi-Fi and catering. Cabin height for light jets typically average at 4'6".
Mid-Size Jets
For longer-range travel or larger passenger requirements, mid-size jets can comfortably accommodate up to eight passengers, offering a 5'8" stand-up cabin, ample legroom and luggage space. Seating arrangements vary to provide for maximum relaxation and interaction. Mid-size jets are equipped with a full lavatory and typically with a galley to allow for catering services. Various amenities can also be arranged to increase productivity and enhance the flight experience.
Heavy Jets
With an average cabin height of over 6' and space for up to sixteen passengers plus luggage, heavy jets provide the most spacious interior and most luxurious flight experience. Select jets have two full lavatories, and many come equipped with other services such as catering, digital entertainment, Wi-Fi, videoconferencing, massage chairs and much more. Since heavy jets require longer runways, they are most conveniently used for flying into major Bahamas airways such as Lynden Pindling International Airport, Grand Bahama International Airport, and Marsh Harbour International Airport, among others.
To book a private flight to Exuma, Bahamas, contact +1 (954) 359 0059 to reach our charter department. Travel arrangements to Exuma, Bahamas can be made with flexibility based on passenger itinerary. For even more affordable options, empty leg flight availability can also be found publicly at competitive prices. View Exuma private jet availability using our private jet charter cost estimator.