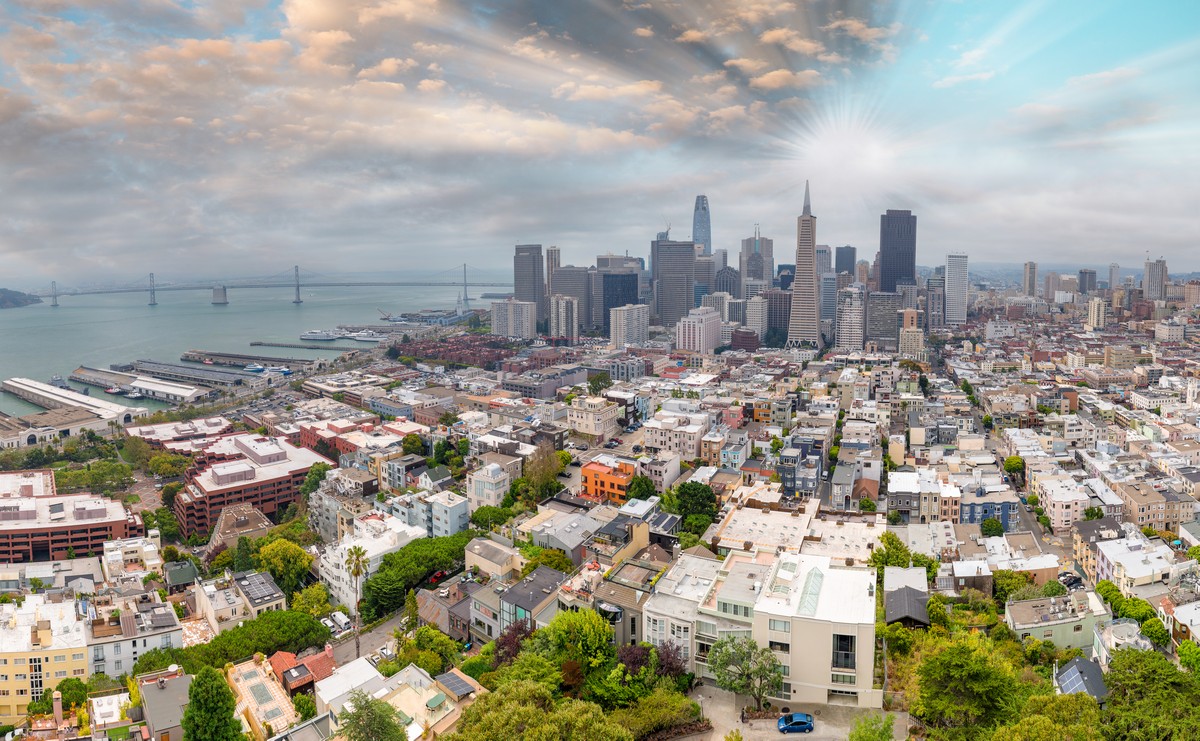 San Francisco is known for its world-famous landmarks, including the Golden Gate Bridge, Fisherman's Wharf, Alcatraz Island, and the historical 11-mile cable car system that runs from Union Square to Fisherman's Wharf. San Francisco was founded in 1776 and named after St. Francis of Assisi by colonists from Spain.
Aside from its landmarks, San Francisco is also famous for its cuisine. The city's proximity to the Pacific Ocean provides an abundant and diverse selection of fresh seafood. The city's modern culinary culture is the result of a combined heritage from countless immigrants who have come to California from all over the world. Together, these immigrants have helped shape San Francisco's unique melting pot and the blend of culinary dishes that have become synonymous with its name.
We've curated a sampling of dishes and treats from the city's sweet side that reflect a modern San Francisco's food culture—a sumptuous fusion of culinary delights.
Seafood at Fisherman's Wharf
In 1898, young Nunzio Alioto left his home in Sicily to pursue the more productive fishing waters of San Francisco. In 1925, he started a business selling fish to Italian laborers. In those days, Fisherman's Wharf was a hub of activity that supported San Francisco's burgeoning growth with a lumber yard, a busy rail system and bustling wholesale fisheries. Nunzio's business grew steadily and by 1932, he constructed the first building on Fisherman's Wharf and opened a stand to sell fresh shrimp and cracked crab.
Today, more than 90 years later, visitors enjoy a stunning view of the San Francisco Golden Gate Bridge and the fishing harbor where Nunzio started Alioto's. The restaurant serves Sicilian- inspired seafood cuisine with hand-selected wines from California's Napa Valley. Diners rave about the Oysters Rockefeller baked with spinach and glazed with Hollandaise sauce served on the half shell. If you want the best of both coasts, order "East Meet West". You'll receive half of a roasted Dungeness crab and half of a roasted Maine lobster sautéed with garlic, fresh lemon, Italian parsley, and green onions. The dish is oven-roasted and served with Alioto's rice and sautéed seasonal vegetables.
Cioppini at Fisherman's Wharf
Cioppino is a signature San Franciscan dish. This savory seafood soup was created on the docks by Italian fisherman in the early 1900s. When fishermen returned to the docks after a long day, each person contributed to a communal stew with their catch of the day. Dungeness clams, crab, fish, mussels, scallops, and squid were combined in a pot with fresh vine-ripened tomatoes and a wine sauce. Today, Cioppino's is a fifth-generation family restaurant whose heritage of sharing is an integral part of San Francisco's food culture.
Fish Tacos at Oracle Park
If you're in the neighborhood for a San Francisco Giants baseball game at Oracle Park, and you would like to enjoy lighter fare, some of the best fish tacos in San Francisco can be found at Garaje. Fish tacos originated in Baja, Mexico over 50 years ago and fast became a staple of California's state cuisine. Fish tacos are made with white fish fillets from a variety of different fish, including tilapia, halibut, mahi-mahi, snapper, and cod. Garaje's fresh on-the-go eats include grilled fish and guacamole tacos with shredded cabbage in a corn tortilla topped with fresh guacamole and cilantro-lime mayo, and a seared ahi and avocado taco with cilantro, avocado, and lime.
Sushi in the Financial District
San Francisco's Japanese heritage began in 1869 when the first Japanese immigrants arrived. San Francisco became home to the largest settlement of Japanese immigrants until WWII. After the war, many Japantown residents returned to San Francisco and settled in suburbs across the city.
Sushi is a Japanese specialty and a San Francisco favorite. One of the best places to enjoy sushi is at Roka Akor, which is located next to San Francisco's Financial District. The technique of cooking used by Roka Akor is from a traditional style of cooking used by Japanese fishermen on the country's northernmost island, Hokkaido. Fishermen prepare meals around a communal hearth, called an irori. The hearth serves as a cooking area and a source of heat.
Roka Akor offers seasonally rotating menu selections including prime-cut steaks, seafood, and vegetables with Japanese-inspired marinades and sauces, along with sushi and sashimi. If you are feeling adventurous, there is the option of the Omakase, a personalized tasting menu prepared with premium in-house ingredients that are translated to mean "to entrust the chef."
San Francisco's Sweet Side
Every food lover knows that dessert is part of a meal. When you set out to explore San Francisco's eclectic neighborhoods, follow the dessert trail below to discover your favorite from San Francisco's sweet side.
Banana Cream Tart at Tartine Bakery
Tartine Bakery is a modern cafe with a diverse menu that includes sandwiches, fresh breads, and delicious pastries including a local favorite, banana cream tart. Tartine's co-founder, Chad Robertson, applies a modern approach to baking bread "with an old soul." He works with grain farmers to expand upon the diversity of grains he incorporates into bread making, techniques he has honed throughout his career. With this level of dedication to quality, after enjoying your banana cream tart, you might consider taking a loaf of bread with you to enjoy later with a bottle of wine.
World Famous Hot Fudge Sundae at Ghirardelli Square
A landmark in itself, Ghirardelli Square is a bustling center with retail shops and restaurants and the original site of a chocolate factory established by Domenico "Domingo" Ghirardelli. Born in 1817 in Rapallo, Italy, Ghirardelli's world travels would eventually lead him to meet James Lick in Peru. After Lick departed Peru for San Francisco in January 1848 with 600 pounds of chocolate, Ghirardelli decided to join him a year later and opened a general store supplying a variety of goods, including mustard, coffee, spices, and, of course, chocolate. Visit this historical place for the most decadent ice cream and chocolate brownie sundae on the U.S. West Coast.
Mochi at Benkyodo Company
Opened in 1906 by Suyeichi Okamura, Benkyodo Company is one of the original businesses in Japantown. A Mochi is a Japanese rice cake. Mochi are stuffed with paste made from sweet red beans or white beans. Another version, Mochi ice cream, is enjoyed in a variety of flavors, including vanilla bean, sweet mango, and green tea.
Hungry for More?
If your exploration leaves you hungry for more, consider taking a food tour with Secret Food Tours to complete your unforgettable culinary experience in the City by the Bay. Let your taste buds be your guide as you explore all the foods this culturally diverse city has to offer.