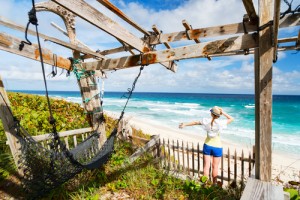 Monarch Air Group provides reliable, and convenient private air charter service to Eleuthera, Bahamas. Serving countless domestic and international destinations, Monarch Air Group is in a strategic location to offer direct flights to the Bahamas and beyond. Through a combination of our fleet and preselected operators, we offer the industry's highest standards to provide you an air charter experience you won't forget.
Charter a private jet to&from Eleuthera
Book a Private Jet Charter to and from Eleuthera
Monarch Air Group provides private jet charter flights in and out of Eleuthera.
In the Bahamas archipelago, just east of Nassau lies Eleuthera Island. It is a long and narrow island that strikes with endless beaches and sprawling tamarind trees. Beautiful sandy beaches and amazing natural attractions attract many travelers on private planes from all over the world. This part of the Bahamas is special because of the amazing combination of crystal waves of the Caribbean Sea and the Atlantic Ocean.
Vacation on the island of Eleuthera will appeal to lovers of relaxing on the beach, as well as fans of scuba diving and water sports. The object of admiration tourists often become amazing beauty of corals, reef fish, and other sea creatures. In addition, a popular tourist stop is the village of Dunmore, where the houses and streets have preserved traces of 200 years of history. Also of interest are Priest's Cave, Devils Ridge, and Spanish Wells. Perhaps the most stunning feature of Eleuthera is the Glass Window Bridge, where two of the most amazing bodies of water in the world collide. The best beaches of Eleuthera read Pink Sands Beach, Lighthouse Beach, and Ocean Hole, where world celebrities also like to vacation.
North Eleuthera Airport (ELH, MYEH) is located at the north end of the island, which is great for landing private charters to and from Eleuthera. In addition, there is also Governor's Harbour Airport (GHB) right in the center and Rock Sound Airport (RSD).
Prop Aircraft
Prop aircraft are usually the most cost-effective for air charter to The Bahamas. They typically seat up to six passengers. Thanks to their short runway capabilities, prop aircraft are able to land and take off in less trafficked airports with shorter runways, allowing easy access to local airports in Eleuthera such as Governor's Harbour Airport (GBH) and Rock Sound Airport (RSD).
Turboprop aircraft typically offers a pressurized cabin, lavatory, and outside luggage compartment. Cabin height averages around 4'6" and seating arrangements allow for up to nine passengers. Since turboprop aircraft have the ability to land in smaller local airports, they allow access to several of the smaller islands throughout The Bahamas and Caribbean such as Eleuthera, Exuma, and Harbour Island.
Light Jets
Light jets will typically reach higher average cruising speeds and altitudes, allowing them to travel farther and faster than prop aircraft. Light jets can seat up to seven passengers and provide a comfortable and relaxing air charter experience to the Bahamas. Most light jets offer enclosed lavatory, ample legroom, and a quiet and pressurized cabin. Various optional amenities can be included such as Wi-Fi and catering, and cabin height typically averages 4'6".
Mid-Size Jets
For longer-range travel or larger capacity requirements, mid-size jets can comfortably accommodate up to eight passengers. Mid-size jets are not only able to travel further and faster than light jets, but offer a 5'8" stand-up cabin, ample legroom, and luggage space. Seating arrangements vary to provide for maximum relaxation and interaction. Mid-size jets are equipped with a full lavatory and typically a galley to allow for catering services. Various amenities can also be arranged to increase productivity and enhance the flight experience.
Heavy Jets
With an average cabin height of over 6' and space for up to sixteen passengers plus luggage, heavy jets provide the most spacious interior and most luxurious flight experience. While featuring the same simplicity and convenience of light and mid-sized jets, heavy jets offer more amenities and space. Select jets have two full lavatories, and many come equipped with other features such as full galleys, catering, digital entertainment, Wi-Fi, videoconferencing, massage chairs, and much more.
Contact us today for a free quote.
Eleuthera Airports within 70 miles
ASD, Andros Town, Andros Town, Bahamas.
CCZ, Chub Cay, Chub Cay, Bahamas.
CEL, Cape Eleuthera, Cape Eleuthera, Bahamas.
COX, Congo Town, Congo Town, Bahamas.
ELH, International, North Eleuthera, Bahamas.
GHB, Governors Harbour, Governors Harbour, Bahamas.
GHC, Great Harbour, Great Harbour, Bahamas.
MAY, Mangrove Cay, Mangrove Cay, Bahamas.
NAS, Nassau International, Nassau, Bahamas.
PID, Paradise Island, Nassau, Bahamas.
PPO, Powell Point, Powell Point, Bahamas.
SAQ, San Andros, San Andros, Bahamas.
SWL, Spanish Wells, Spanish Wells, Bahamas.
TZN, South Andros, South Andros, Bahamas.
WZY, Paradise Island Seaplane Base, Nassau, Bahamas.
Hotels in Bahamas
Sheraton Nassau Beach Resort, West Bay Street, Nassau.
Sheraton Nassau Beach Resort, West Bay Street, Nassau.
Nassau Beach Hotel, West Bay Street, Nassau.
Sheraton Nassau Beach Resort, West Bay Street, Nassau.
Nassau Beach Hotel, West Bay Street, Nassau.
Sheraton Nassau Beach Resort, West Bay Street, Nassau.
Nassau Beach Hotel, West Bay Street, Nassau.
FAQ for flying private to/from Eleuthera
Why choose charter jet Eleuthera?
Business jets for air charter Eleuthera are distinguished by high comfort and first-class services. Also, we guarantee privacy, security, and a trained crew on board. We specialize in providing you with exceptional and unparalleled standards of service. Eleuthera private jet can save you a lot of time if you are planning a business trip or a family vacation.
How much does it cost to book an Eleuthera private jet charter?
Many factors affect the price of a private plane charter Eleuthera such as duration of the flight, flight destination, time of the flight, and the number of passengers on board. For the final price, please contact our specialists at your convenience. Alternatively, you can use our private jet charter price estimator to calculate the approximate price. We offer the most competitive prices for private jet charter flights.
Here are some approximate prices for private jet charter flights to/from Eleuthera:
Private Jet Charter Flights to Eleuthera from New York: turboprop– starting at $ 17,420;
Private Jet Charter Flights to Eleuthera from Miami: piston – starting at $ 3,950;
Private Jet Charter Flights to Eleuthera from Los Angeles: mid-size jet– starting at $ 43,470.
Which is the best plane for Eleuthera charter flights?
When you travel on an Eleuthera charter jet, you can choose the right plane for your needs. Absolutely all the aircraft in the catalog are regularly inspected professionally. At any time you can view the documents of the aircraft and clarify all the details of safety or extra conveniences. Call one of our agents to view all aircraft options for Eleuthera private jet charters.
| Aircraft type | Passengers | Non-stop range | Cruising speed | Intended use |
| --- | --- | --- | --- | --- |
| Light Jet | up to 6 passengers | about 700 – 2000 miles | 476 to 518 mph | for comfortable short- to mid-range distances |
| Midsize Jet | up to 10 passengers | about 1300 – 1500 miles | 422 to 541 mph | to fly nonstop from coast to coast |
| Super midsize Jet | up to 10 passengers | about 3.500 – 4.000 miles | 490 to 590 mph | for longer flights |
| Heavy Jet | up to 18 passengers | about 6.000 miles | 480 to 551 mph | traveling overseas in luxury for an intercontinental flight |
| Turboprops  | up to 10 passengers | about 600 – 1.900 miles | 220 to 360  mph | for short- to mid-range flights |
| Ultra-Long Range Jet | up to 19 passengers | about 2,800 – 7,685 miles | 460 to 594 mph | for long-haul travels |
| Helicopters | up to 28 passengers | about 250 – 600 miles | 150 to 175 mph | for passenger and cargo transportation |
What are the advantages of flying on an Eleuthera private jet?
Booking an Eleuthera air charter service allows you to fly to the desired destination, at the time and in the surroundings that would be comfortable for you. It is an exceptional service, with absolute privacy, and comfort. High noise isolation, communication systems, and special working areas add to the comfort of business aviation aircraft. For more information on our exclusive in-flight services, please submit the flight request form, or call our agents 24/7 at 1-877-281-3051.
How to book an Eleuthera empty leg flight?
Using a one-way private jet is very convenient and cost-effective. The term empty leg in private aviation refers to an empty flight that the aircraft makes from the point of delivery of passengers to the place of permanent deployment. You can fly on a convenient schedule, not get stuck in security lines or wait for a boarding group. Contact our advisors for current Eleuthera 
empty leg flight
 options.
Popular destinations near Eleuthera by private jet
Nassau – choose a private jet and travel to an island paradise in the Bahamas in the shortest possible time, offering a wide range of entertainment, beaches, spas, and resorts.
Bimini – visit the most popular island in the Bahamas, Bimini, with its white sands and spectacular views by private jet.
Exuma – book a charter flight to Exuma Island, which has gained a reputation as a fantastic luxury travel destination.
Chub Cay – is a small, remote private island with white sand and crystal clear water, easily accessible by charter flight.
Private jet clients travel in efficient, reliable, and comfortable private jets. If you haven't found the answers to all your questions here, you can contact our experienced and reliable team at any time or visit our air charter FAQ page.