Monarch Air Group provides private air charter in Egelsbach, Germany. Our clients benefit from top-notch service, unrelenting dedication to safety, wide selection of aircraft, and years of experience in chartering private jets. To obtain a free quote, please use our online quoting tool provided below, or call toll-free 1-877-281-3051.
Charter a private jet to&from Egelsbach, Germany
About Egelsbach, Germany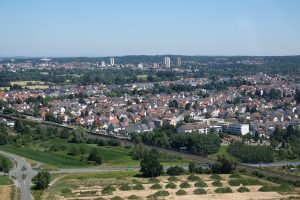 Monarch Air Group offers private jet charter services to and from Egelsbach, Germany.
We provide the most competitive, affordable and cost-effective rates in the charter industry in addition to our all-inclusive price match guarantee policy. There are nine airports within just fifty miles from the city.
The most convenient airport options are the Frankfurt Main Airport (FRA), Wiesbaden Aaf Airport (ETOU) and Hanau Aaf Airport (ZNF), which are all less than twenty miles from Egelsbach. There are many aircraft models to choose from near Egelsbach, but the most common options are light jets (Citation CJ3, Piaggio Avanti II and Premier I), midsize jets (Learjet 55, Learjet 60 and Hawker 800) and large jets (Legacy 600, Challenger 604 and Falcon 2000 EX Easy). We also provide access to turboprops, luxury airliners and substantially discounted empty leg charter services.
About Egelsbach and Places to Visit
With a population of about 9,700, Egelsbach is a community in the district of Offenbach, in Hesse. It is located in the Frankfurt Rhine Main Region south of the Main between Darmstadt and Frankfurt am Main. Egelsbach is a home to the Egelsbach Transmitter Facility with various antenna setups. The town has only a few cultural attractions including the Evangelical Church.
Other travel spots such as Frankfurt am Main and Wiesbaden may be more interesting to visit in the area. Frankfurt am Main is a commercial and industrial city that offers its visitors a lot of wonderful museums. Wiesbaden is a renowned international spa and also the capital of Hesse.
Egelsbach Map