Monarch Air Group offers a wide variety of private jet charter options to and from Edinburgh, Scotland. Our clients benefit from top-notch service, unrelenting dedication to safety, wide selection of aircraft, and years of experience in chartering private jets. To obtain a free quote, please use our online quoting tool provided below, or call toll-free 1-877-281-3051.
Charter a private jet to/from Edinburgh, Scotland
Book a Private Jet Charter to and from Edinburgh, Scotland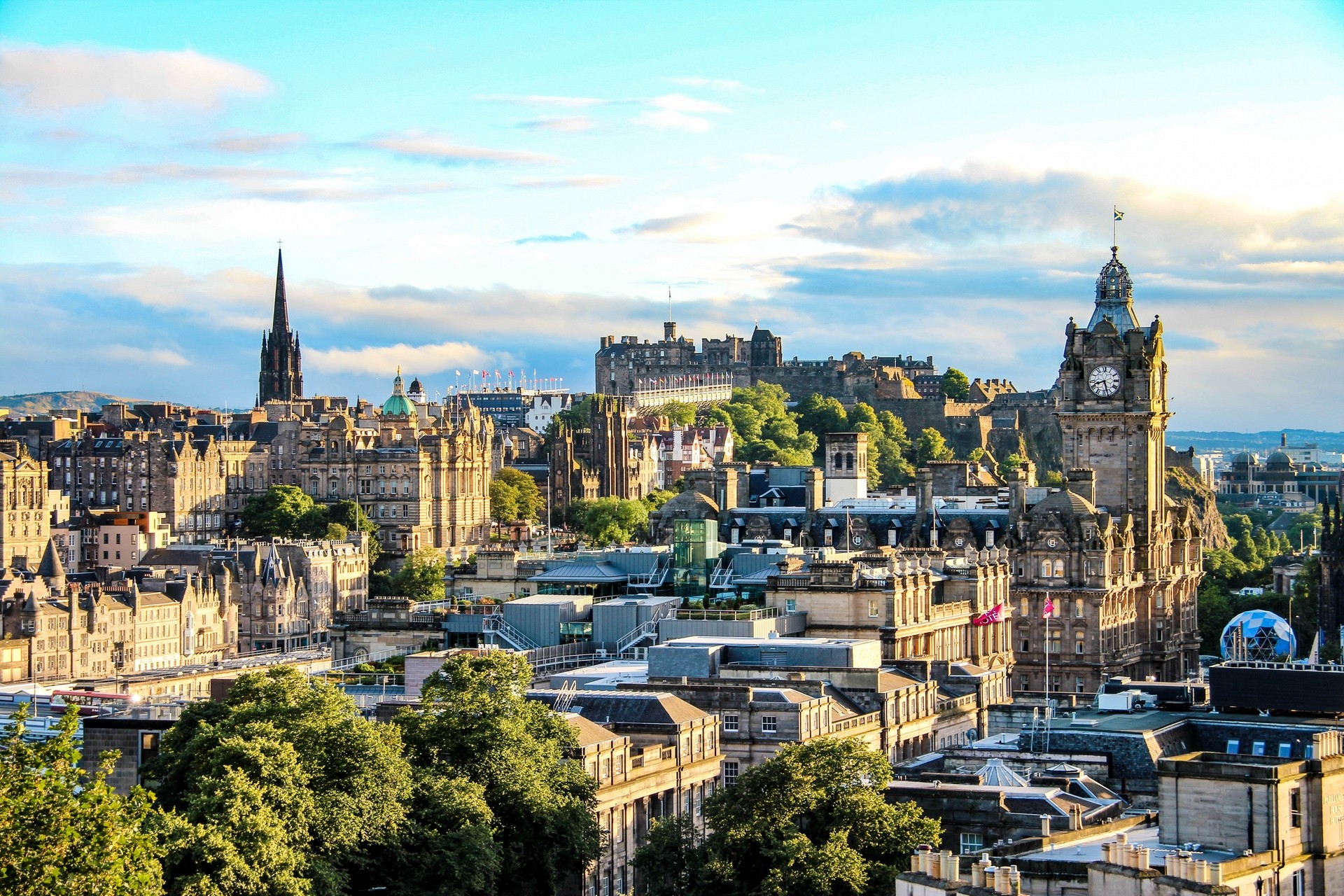 Monarch Air Group provides private jet charter flights to and from Edinburgh.
Edinburgh's capital and second-largest city is located on Scotland's east coast. It is classified as the most beautiful and picturesque place in all the United Kingdom. Charter a private jet to Edinburgh and marvel at the number of attractions per square meter. First of all, you will be impressed by the city's architecture. You can find a building belonging to the 16th century and monumental masterpieces of Gothic and Victorian styles.
With a private flight to Edinburgh, see a lot of different and impressive sights in Edinburgh like Inchcolm Abbey, Scottish National Portrait Gallery, the National Museum of Scotland, Edinburgh Castle, and Edinburgh University, among others. The city hosts major events, such as the annual Edinburgh International Festival, which brings together artists worldwide.
Nightlife is much more than just vibrant in Edinburgh. There are plenty of cocktail bars and pubs where you can have fun in a noisy company. Music lovers can visit one of the many venues. Of course, the Scottish Opera or National Theatre of Scotland is also worth visiting.
Edinburgh charter flights are served by Edinburgh International Airport (EDI), located 12 kilometers west of the city.
Our operators are standing by 24/7 to assist you in scheduling your next luxury air charter to Edinburgh, Scotland. Call us today for a free quote.
Airports for Private Jet near Edinburgh
EDI, EGPH, Edinburgh Airport, Edinburgh, United Kingdom
GLA, EGPF, Glasgow International Airport, Glasgow, United Kingdom
DND, EGPN, Dundee Airport, Dundee, United Kingdom
EGPG, Cumbernauld Airport, Glasgow, United Kingdom
PSL, EGPT, Perth Airport, Perth, United Kingdom
FAQ for a Private Jet Charter Flights to Edinburgh
Why choose a charter jet to Edinburgh with Monarch Air Group?
Renting a private jet with Monarch Air Group has many advantages for you. The main ones are the wide range of airports we can connect with, the different models of private jets, and the personalized approach. You determine the departure time and route of the Edinburgh private jet charter according to your schedule and travel plans. Flexibility to the passenger's needs is an advantage over a scheduled flight. Call one of our agents with questions about charter jet Edinburgh.
How much does it cost to book an Edinburgh private jet charter?
The cost of an Edinburgh private jet rental depends on various factors such as the distance, the complexity of the route, and other additional charges. You can contact our experts if you can't find the information you need on air charter Edinburgh. Flying on a private jet with exclusivity in price can be much cheaper than you might think. What's more, you can get a rough flight cost estimate by using a private jet charter cost estimator.
Here are some approximate prices for private flights to Edinburgh:
Charter a Private Jet to Edinburgh from Paris: from $6,090;
Charter Flights to Edinburgh from Geneva: from $11,840;
Private Flights to Edinburgh from Teterboro: from $74,030.
*Estimated price before taxes & fees.
What types of private jets can use for Edinburgh charter flights?
We will ensure you have the right aircraft if you need to send one person to Edinburgh for a day or a group of people. The efficiency of Edinburgh charter flights depends on choosing the right plane. The more information you have when you call us for a price, the quicker and more accurate our response will be.
| Aircraft type | Passengers | Non-stop range | Cruising speed | Intended use |
| --- | --- | --- | --- | --- |
| Light Jet | up to 6 passengers | about 700 – 2000 miles | 476 to 518 mph | for comfortable short- to mid-range distances |
| Midsize Jet | up to 10 passengers | about 1300 – 1500 miles | 422 to 541 mph | to fly nonstop from coast to coast |
| Super midsize Jet | up to 10 passengers | about 3.500 – 4.000 miles | 490 to 590 mph | for longer flights |
| Heavy Jet | up to 18 passengers | about 6.000 miles | 480 to 551 mph | traveling overseas in luxury for an intercontinental flight |
| Turboprops | up to 10 passengers | about 600 – 1.900 miles | 220 to 360 mph | for short- to mid-range flights |
| Ultra-Long Range Jet | up to 19 passengers | about 2,800 – 7,685 miles | 460 to 594 mph | for long-haul travels |
| Helicopters | up to 28 passengers | about 250 – 600 miles | 150 to 175 mph | for passenger and cargo transportation |
What are the advantages of flying on an Edinburgh private jet?
Renting a private jet has several undeniable advantages over commercial flights. There are no restrictions when choosing additional services like airport transfers or airport limousine pickups. Contact us today and make your private plane charter to Edinburgh comfortable, safe, and hassle-free. Our specialist is available to you 24/7 for all your questions.
Popular destinations near Edinburgh by private jet
Dundee – on the north shore of the North Sea Bay, an industrial city and seaport, gets wildly rave reviews from private aviation clients.
Glasgow – is known for its engineering plants and boasts world-renowned art collections.
Aberdeen – is Scotland's third largest city, with many cultural and historical sites and a unique natural harbor.
Belfast – is the center of political and industrial activity in Northern Ireland and is one of Europe's top tourist destinations.
Bradford – is an industrial city with a diverse economy, including information technology, financial services, retail, and tourism.
Our clients travel on efficient and comfortable private jets. If you haven't found the answers to all your questions, you can contact our experienced and reliable team at any time or visit our air charter FAQ page.