Monarch Air Group provides private air charter in Dusseldorf, Germany. Our clients benefit from top-notch service, unrelenting dedication to safety, wide selection of aircraft, and years of experience in chartering private jets. To obtain a free quote, please use our online quoting tool provided below, or call toll-free 1-877-281-3051.
Charter a private jet to&from Dusseldorf, Germany
Private Jet Charter to Dusseldorf, Germany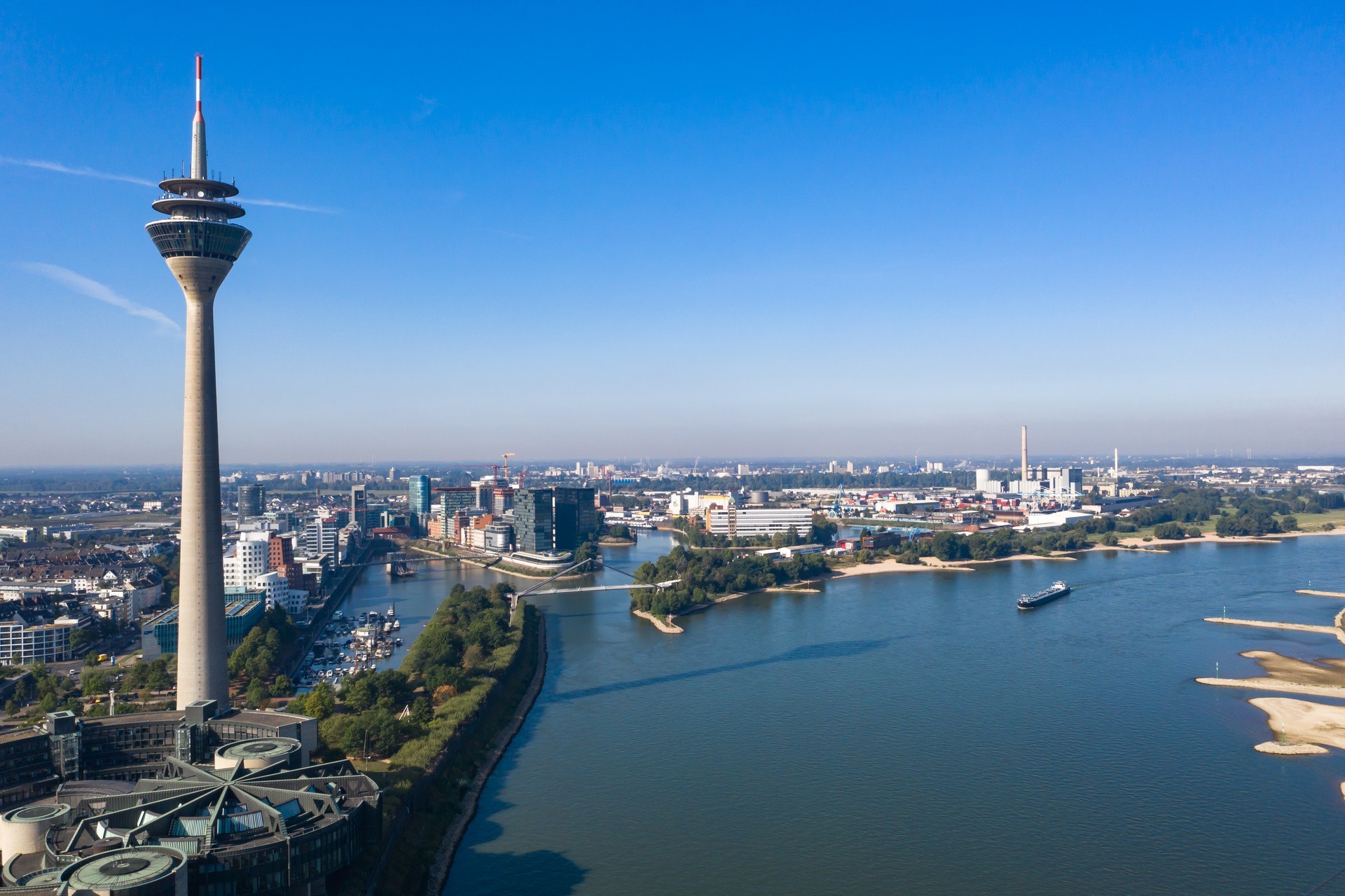 Monarch Air Group provides private jet charter flights in and out of Dusseldorf, Germany.
Dusseldorf, located at the junction of the Rhine and Dussel Rivers, is Germany's second-largest financial center as well as the Rhineland's cultural and commercial center. This thriving metropolis is home to the arts, fashion and the headquarters of various global enterprises. So whether you're visiting for business or pleasure, there's plenty to see and do with Dusseldorf private jet charter.
Once you've chartered a private jet to Dusseldorf, visit the Altstadt. Also known as "Old Town," it is a delightful district that boasts a diverse range of historic buildings, including the notable Rathaus (City Hall). Its cozy, narrow streets are lined with many restaurants, cafes, and bars, creating a perfect atmosphere for enjoying a refreshing beverage or delicious meal.
When renting a private jet to Dusseldorf, be sure to check out its art scene. Dusseldorf boasts a thriving art scene, with world-renowned contemporary art museums such as the Kunstpalast and K21 Ständehaus. These remarkable venues display exceptional collections of modern and contemporary art, making them essential destinations for art enthusiasts.
With a private jet to Dusseldorf, shop on the famous boulevard Königsallee lined with high-end shops and boutiques, making it the perfect place to indulge in some retail therapy. Whether you're looking for designer clothing, jewelry, or accessories, you'll find it all on Königsallee. In addition, experience the nightlife as Düsseldorf has a thriving nightlife scene, with plenty of bars, clubs, and music venues to choose from. Head to the Altstadt for a traditional pub crawl, or check out one of the city's many live music venues for an unforgettable night out.
Make sure to add Schloss Benrath to your itinerary when booking a private jet to Dusseldorf, a magnificent palace and gardens constructed in the 18th century that has earned UNESCO World Heritage Site recognition. Take a palace tour and bask in the opulent architectural details, then stroll through the lush gardens that boast over 50,000 plants and trees.
Dusseldorf is an accessible location to travel into or out of, with 10 airports within 50 miles of the city. Essen Hulheim Airport (ESS), Monchengladbach Airport (MGL), and Dusseldorf Airport (DUS) are the most popular options.
Dusseldorf Private Jet Rental Cost
The starting prices for private jet flights to Dusseldorf (one way) vary based on the type of aircraft used. A turboprop typically costs around $1,800 – $2,600 USD per hour, while a light jet costs $2,400 – $3,900 USD per hour. A midsize and super-midsize jet comes in at $4,200 – $8,100 USD per hour, and a long-range jet or group charter flight on a VIP airliner can cost $7,200– $17,800 USD per hour or more.
Private Jet Airports Near Dusseldorf
DUS, EDDL, Düsseldorf International Airport
CGN, EDDK, Cologne Bonn Airport
MGL, EDLN, Moenchen-Gladbach
ESS, Essen/Mulheim
WID, Wildenrath Airport
FAQ: Private Jet Flight to Dusseldorf
Why Choose a Private Jet to Dusseldorf with Monarch Air Group?
Once Monarch Air Group organizes your private jet travel to Dusseldorf, our key concerns are your comfort, security, and enjoyment. Our specialized private aviation trips are also made to meet your requirements and come with extras to make your journey more pleasurable.
What Types of the Private Jets Can Use for Dusseldorf?
The number of passengers, price, required range, and route all factor into selecting private aircraft for Dusseldorf. Our company offers customized, one-of-a-kind private aircraft charters to assure optimum privacy and time savings for a stress-free and enjoyable travel experience.
What are the Benefits of Flying a Dusseldorf Private Jet?
Compared to other types of transportation, using a private plane to Dusseldorf has some benefits. Depending on your preferences, available time, and financial constraints, our reputable private jet rental company provides flexible, affordable travel options.
Can I Bring My Pet on a Private Jet to Dusseldorf?
Our flights to Dusseldorf welcome pets. We recommend notifying us in advance to ensure the city's pet travel requirements are followed. Choose a plane with a pet-friendly cabin to ensure your pet's safety and comfort.
Popular Destinations Near Dusseldorf by Private Jet
Cologne (Köln in German) is a vibrant city in western Germany known for its impressive Gothic cathedral, the Kölner Dom. It also features a charming Old Town, plenty of museums and art galleries, and a thriving nightlife scene.
Dortmund is located in the Ruhr area of western Germany and is known for its history as a center of coal and steel production. Today, it's a bustling city with a strong football culture, impressive industrial architecture, and plenty of green spaces to explore.
Bonn is a picturesque city in western Germany that was the former capital of West Germany. It's known for its beautiful Rhine riverfront, the impressive Beethoven House museum, and its historic Old Town.
Essen is located in the heart of the Ruhr area and has a rich industrial history, which is reflected in its striking architecture. Today, it's a thriving cultural center with plenty of museums, galleries, and theaters. It's also known for its culinary scene, particularly its local specialties like Pottkieker and currywurst.
We offer top-of-the-line private airplanes that are both modern and comfortable, meeting all of your traveling demands. Please check our website's "Frequently Asked Questions" section for more information. In addition, our team is always accessible to answer any questions you may have.