Monarch Air Group provides private air charter in Dusseldorf, Germany. Our clients benefit from top-notch service, unrelenting dedication to safety, wide selection of aircraft, and years of experience in chartering private jets. To obtain a free quote, please use our online quoting tool provided below, or call toll-free 1-877-281-3051.
Charter a private jet to&from Dusseldorf, Germany
About Dusseldorf, Germany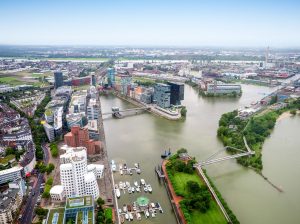 Monarch Air Group provides private jet charter flights in and out of Dusseldorf, Germany.
With 10 airports within 50 miles of the city, Dusseldorf is a convenient place to fly into or out of. The most common choices are Essen Hulheim Airport (ESS), Monchengladbach Airport (MGL) and Dusseldorf Airport (DUS). The popular aircraft types are the Learjet 60 and Learjet 55 (midsize jets), the Citation CJ2+, Premier I and Piaggio Avanti II(light jets), and the Falcon 2000 and Challenger 604(large jets). We also have access to luxury airliners at the most competitive rates in the industry.
About Dusseldorf and Things to See
Situated at the confluence of the Rhine and Dussel Rivers, Dusseldorf is the 2nd largest financial center in Germany and a cultural and economic center of the Rhineland. This vibrant city is home to the arts, fashion, and headquarters of a host of multinational corporations.
There are plenty of special events such as international and national conferences, and trade fairs including the Grose Dusseldorfer Kirmes fair. It's a popular travel destination, which is visited alone every July by 4.5 million people. Altstadt is the world's biggest bar, offering some of the best nightlife in more than 500 clubs and discos.
Dusseldorf Map