Monarch Air Group provides private air charter in Dublin, Ireland. Our clients benefit from top-notch service, unrelenting dedication to safety, wide selection of aircraft, and years of experience in chartering private jets. To obtain a free quote, please use our online quoting tool provided below, or call toll-free 1-877-281-3051.
Charter a private jet to&from Dublin, Ireland
Book a Private Jet Charter to and from Dublin, Ireland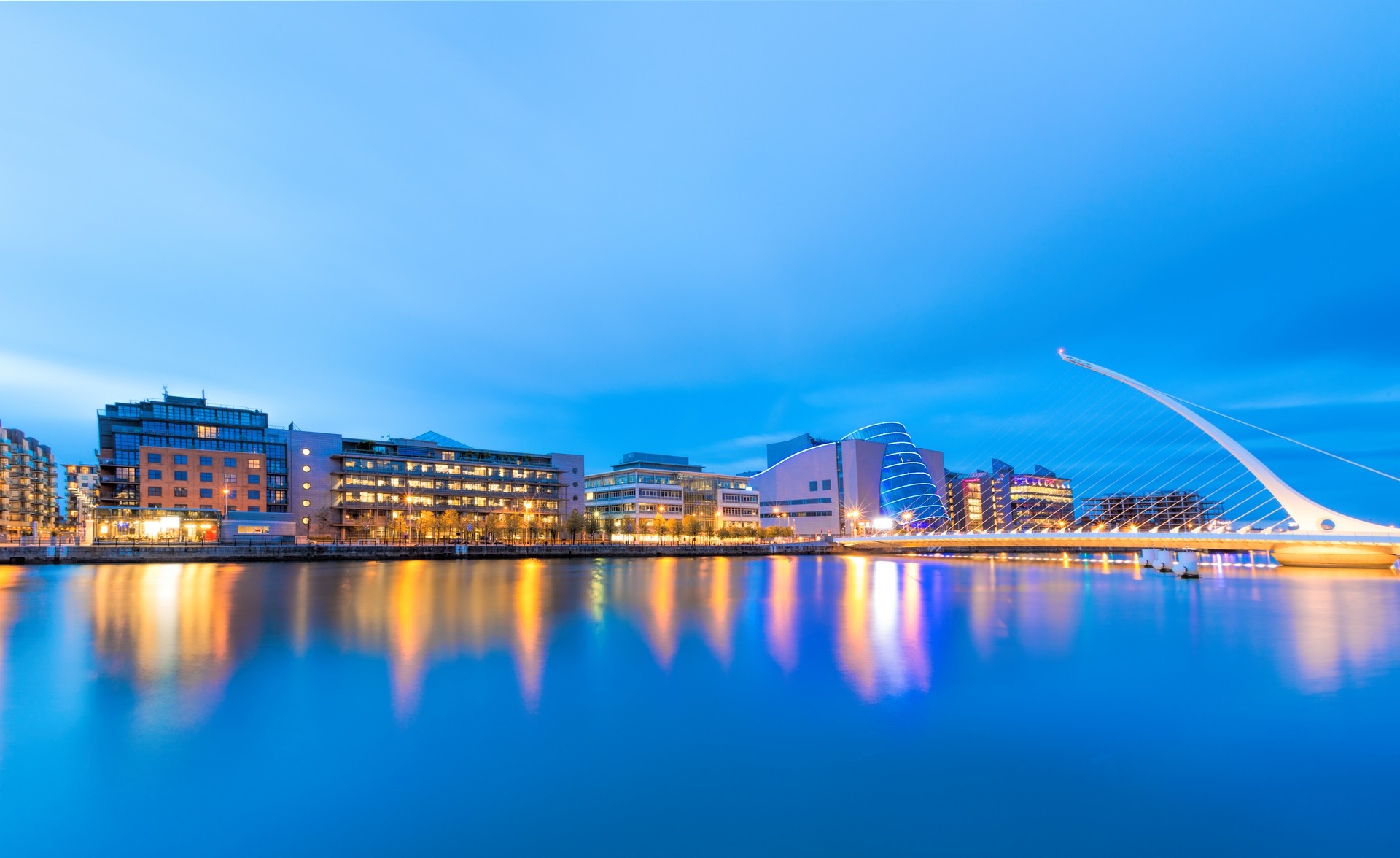 Monarch Air Group offers private jet charter services to and from Dublin, Ireland.
Dublin has convenient access to three airports within ten miles, including the Casement Airport (EIME), Dublin Airport (DUB), and the Weston Airport (WST). The most popular private jet in Dublin are the Citation CJ2, Premier I, and Citation Bravo (light jets), the Hawker 900 XP and Hawker 800 XP (midsize jets), and the Challenger 605, Legacy 600, and Gulfstream G450 (large jets). The most popular turboprop is the King Air 200. We also offer one-way trips and highly cost-effective empty leg charter services.
About Dublin and Places to Visit
Situated on Ireland's east coast and at the mouth of the River Liffey, Dublin is the capital and the largest city. It is well known as Ireland's economic, administrative and cultural center. The fast-growing city with its Irish culture and tradition, misty green countryside, historical places, castles, churches, and clubs, annually attracts thousands of private jet charter Dublin travelers worldwide and promises a good time to any who spend the night.
Dublin attracts visitors with thousands of years of historical monuments, an incredibly fantastic atmosphere, and unique museums. The most popular tourist attractions include City Hall, Number Twenty Nine, Abbey Theater, Christ Church Cathedral, Georgian House Museum, Dublin Castle, Dublin Writers Museum, Dublinia, The Viking World, Casino Marino, and Guinness Storehouse. In mid-July, Dublin is especially lively, with the city hosting Bloomsday, a festival dedicated to writer James Joyce. So charter a jet to Dublin to experience all the nuances of an ancient yet modern metropolis.
Dublin Private Jet Airports
DUB, EIDW, Dublin Airport, Dublin, Ireland
EIME, Casement Aerodrome, Baldonnel, Ireland
FAQ for a Private Jet Charter Flights to Dublin
Why choose a charter jet to Dublin with Monarch Air Group?
Monarch Air Group provides private flights to and from Dublin, exclusive service, and luxury private jets. If you need the flexibility and security of a Dublin private jet charter for one or a group, our company, thanks to many years of experience, will answer your needs best. First, you decide when to take off, the airport to land, and how many passengers and crew will be on board. Then, call one of our agents for a charter jet to Dublin.
How much does it cost to book a Dublin private jet charter?
Several factors determine the charter cost of a Dublin private jet. The basic hourly rate for the plane includes crew, aircraft, and fuel. Each category has dozens of aircraft types, varying in size and flight characteristics. You can contact our account executives if you don't find the information you need on air charter Dublin. Every official offer we send is calculated individually. Moreover, using the private jet charter cost estimator, you can get a rough flight cost estimate.
Here are some approximate prices for private flights to Groningen:
Charter a Private Jet to Groningen from Copenhagen: from $5,180;
Charter Flights to Groningen from Berlin: from $5,180;
Private Charter Flights to Groningen from Prague: from $5,180.
*Estimated price before taxes & fees.
What types of private jets can use for Dublin charter flights?
We can provide VIP jets, airliners, heavy, light, or turboprops. The aircraft type for Dublin charter flights depends on the range, comfort level, and passengers required. A medium-sized charter jet will get you there comfortably, non-stop, with plenty of room for passengers. However, for a long-haul international or transcontinental flight, it is best to choose a heavy jet.
| Aircraft type | Passengers | Non-stop range | Cruising speed | Intended use |
| --- | --- | --- | --- | --- |
| Light Jet | up to 6 passengers | about 700 – 2000 miles | 476 to 518 mph | for comfortable short- to mid-range distances |
| Midsize Jet | up to 10 passengers | about 1300 – 1500 miles | 422 to 541 mph | to fly nonstop from coast to coast |
| Super midsize Jet | up to 10 passengers | about 3.500 – 4.000 miles | 490 to 590 mph | for longer flights |
| Heavy Jet | up to 18 passengers | about 6.000 miles | 480 to 551 mph | traveling overseas in luxury for an intercontinental flight |
| Turboprops | up to 10 passengers | about 600 – 1.900 miles | 220 to 360 mph | for short- to mid-range flights |
| Ultra-Long Range Jet | up to 19 passengers | about 2,800 – 7,685 miles | 460 to 594 mph | for long-haul travels |
| Helicopters | up to 28 passengers | about 250 – 600 miles | 150 to 175 mph | for passenger and cargo transportation |
What are the advantages of flying on a Dublin private jet?
Renting a private jet has some undeniable advantages over commercial flights. Traveling on a private jet will allow you to get to almost any place on earth. Our team will make sure that the experience is exceptional. Enjoy the safety and privacy that only a private jet can offer. There is also the option of a hotel transfer or a personal onboard catering service with a private plane charter in Dublin.
Popular destinations near Dublin by private jet
Belfast – is a significant center of culture, tourism, and political and industrial activity in Northern Ireland, with beautiful historical sites, parks, and lively festivals.
Liverpool – in the northwest of England, offers crucial maritime history, unique attractions, and exciting nightlife.
Manchester – is a dynamic city with many museums, extravagant architecture, and exciting sights.
Glasgow – is Scotland's leading cultural center, famous for its many museums and galleries, the ballet, and the National Orchestra.
Bradford – is an outstanding destination northeast of Manchester and gets wildly rave reviews from private aviation clients.
Our clients travel on efficient and comfortable private jets. If you haven't found the answers to all your questions, you can contact our experienced and reliable team at any time or visit our air charter FAQ page.