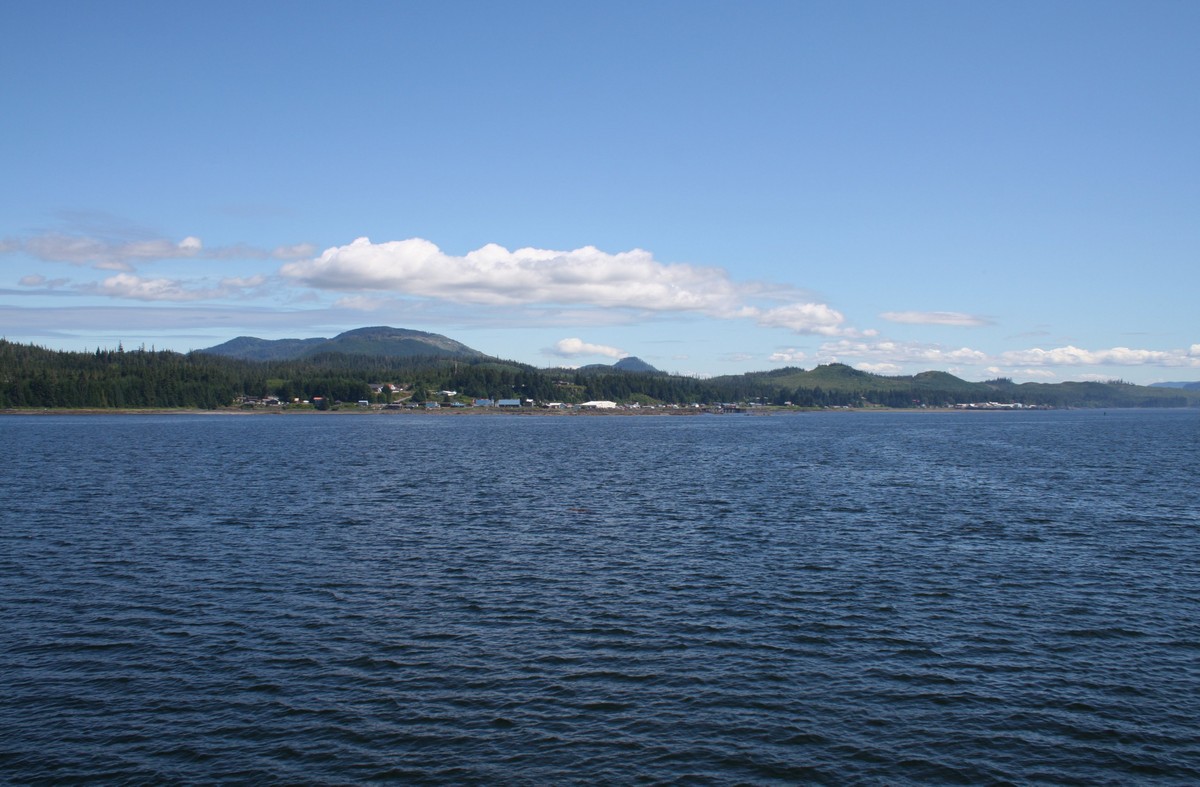 Kake is a small village and home to about 500 residents, the majority of whom are Tlingit ancestry. The name translates in Tlingit to "mouth of the dawn" or "opening of daylight". The Kake tribe of Tlingits have inhabited this region in Alaska for thousands of years. They've largely maintained a subsistence lifestyle, through fishing, hunting, and gathering plants and berries.
Considered one of Alaska's premiere fishing areas, it's easy to understand why Tlingit people had a reputation among early European and American explorers for fiercely defending their ancestral and trade routes in the Kuiu and Kupreanof Islands from neighboring tribes and from early Americans. In Kake you can take a pleasant walk along the main road to see spectacular sweeping ocean views.
Each year subsistence foods are collected and prepared in the old ways to teach youth about their culture, their connection to all living things, and the food that directly ties them to the land and sea.
Along the main road in Kake, stop in to meet local carver Mike Jackson. He teaches visitors by demonstrating the tools he uses to carve traditional totem poles. Kake has the tallest totem pole in the world which was raised in 1971 to commemorate the 100th Anniversary of the Alaska Purchase.
Young people are playing an important role in the survival of the Tlingit culture. Determined to keep the culture alive for future generations, young people in Kake are helping make it a more affordable place for residents to live through education and a deep commitment to live in Kake and support the local economy. Because of its remote location, the cost of power generation and shipping everyday goods to the town is very expensive.
At the town gathering hall, Kake visitors are treated to a dance performance by the Keex Kwan Dancers. The traditional dress and rhythmic sounds of dancers is centuries old. The deep connection and respect the Tlingit have with nature and each other is evident in their singing and dancing, as well as their culture of generosity for sharing their time with visitors who are interested in their culture.
Airport Distances and Flight Times
Private Jet from U.S. Cities to Kake Airport (KAE)
Departure
City
Departure
Airport
Airport Code
Distance (Nautical Miles)
Miles
Estimated Flight Time
Heavy
Super Midsize
Midsize
Light
New York
Newark
EWR
2,459
2,832
6 hrs

7 min

6 hrs

45 min

6 hrs

15 min

6 hrs

15 min

Miami
Miami Intl.
MIA
2,940
3,386
7 hrs

16 min

8 hrs
7 hrs

26 min

7 hrs

26 min

Denver
Denver Intl.
DEN
1,530
1,763
3 hrs

57 min

4 hrs

19 min

4 hrs

2 min

3 hrs

59 min

Dallas
George Bush
IAH
2,279
2,624
3 hrs

57 min

4 hrs

19 mins

4 hrs

2 min

3 hrs

59 min

Austin
Austin-Bergstrom
AUS
2,202
2,536
5 hrs

30 min

6 hrs

5 min

5 hrs

38 min

5 hrs

38 min

Albuquerque
 Albuquerque
ABQ
1,716
1,976
4 hrs

23 min

4 hrs

49 min

4 hrs

30 min

4 hrs

26 min

Scottsdale
Scottsdale
SDL
1,713
1,664
4 hrs

16 min

4 hrs

41 min

4 hrs

22 min

4 hrs

19 min

San Diego
San Diego Intl.
SAN
1,608
1,852
4 hrs

8 min

4 hrs

32 min

4 hrs

14 min

4 hrs

11 min

Seattle
Seattle-Tacoma
SEA
710
818
1 hr

49 min

2 hrs

18 min

2 hrs

2 min

2 hrs

2 min
Choose Monarch Air Group
Monarch Air Group on-demand white glove charter coordinators can assist you in choosing your preferred aircraft. To book a flight, call +1 (954) 359 0059 for our charter department. Monarch Air Group offers an instant quote request. Submit your request here to price out your flight immediately.