Monarch Air Group provides private air charter in Dijon, France. Our clients benefit from top-notch service, unrelenting dedication to safety, wide selection of aircraft, and years of experience in chartering private jets. To obtain a free quote, please use our online quoting tool provided below, or call toll-free 1-877-281-3051.
Charter a private jet to and from Dijon
Private Jet Charter to and from Dijon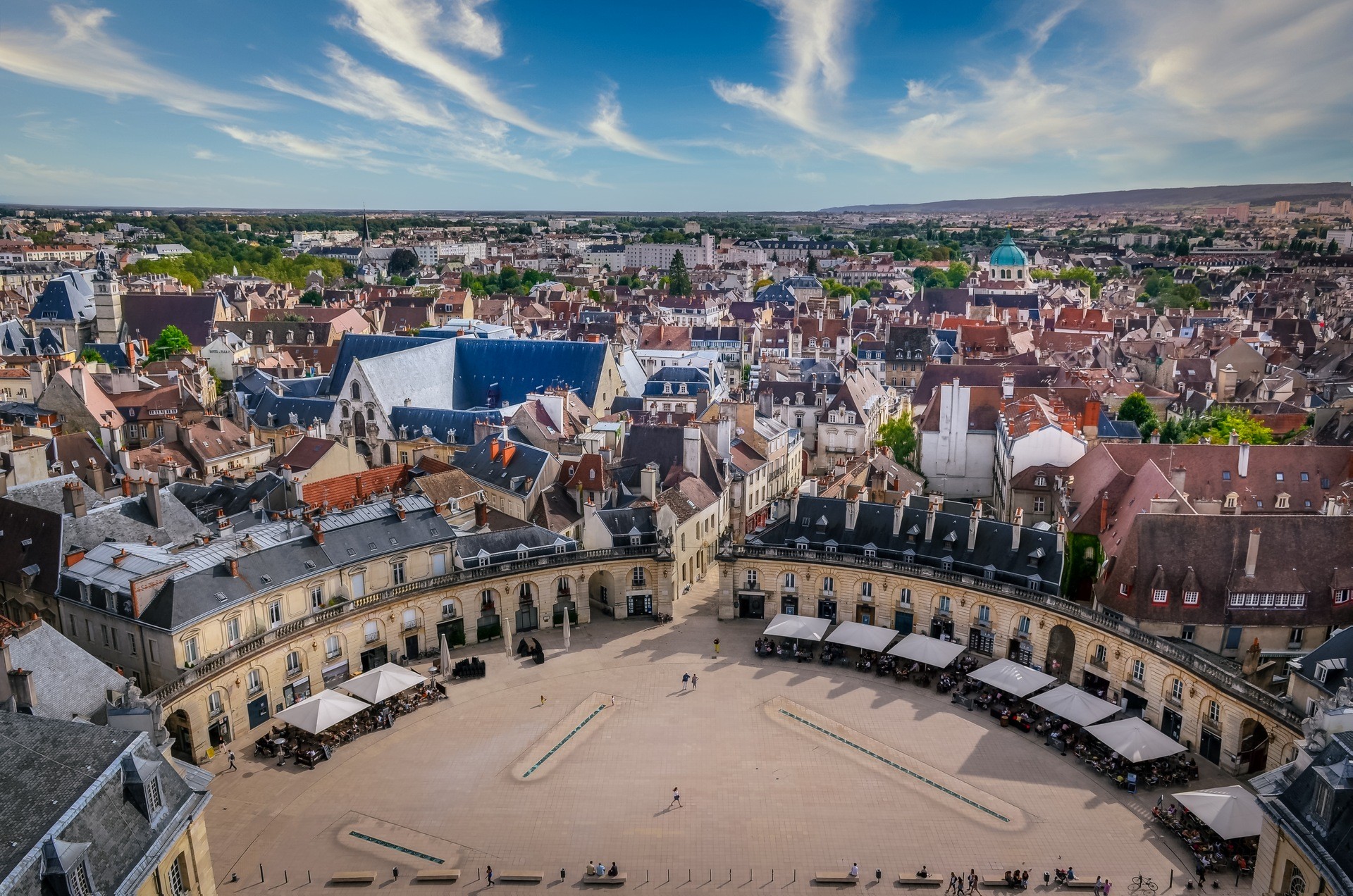 Monarch Air Group offers private jet charter services to and from Dijon, France.
Dijon is an industrial city and the regional headquarters of the Cote d'Or department in eastern France. It lies 194 miles southeast of Lyon and 199 miles north of Paris. It is one of France's most fascinating small cities, famous for its mustard. Many glazed rooftops, untouched medieval roadways, half-timbered homes, the Saint Benign Cathedral, and the Palace of the Dukes of Burgundy can be found in Dijon's historic center. Whether you're a history buff, a foodie, or just looking for a picturesque vacation spot, Dijon private jet charter has something for everyone.
Once you've chartered a private jet to Dijon, explore its historic city center. Dijon's old town is a labyrinth of winding cobblestone streets, colorful half-timbered buildings, and charming squares. Don't miss the iconic Place de la Libération, which is surrounded by grandiose buildings and home to the impressive Fontaine de la Place Royale.
Another worthy sight to visit with a private jet to Dijon is the Palace of the Dukes of Burgundy, a remarkable structure that originated in the 14th century and formerly served as the opulent home of the influential Dukes of Burgundy. Currently, the palace has been repurposed as the Musée des Beaux-Arts de Dijon, exhibiting an extensive assortment of artworks and relics, showcasing masterpieces by renowned artists such as Monet, Rembrandt, and Rubens.
When renting a private jet to Dijon, visit the Musée de la Moutarde. Speaking of mustard, this quirky museum is dedicated entirely to the history and production of Dijon mustard. Learn about the different varieties of mustard, see antique mustard-making equipment, and sample some of the delicious condiments yourself.
Another exciting activity to do when booking a private jet to Dijon is climbing the tower of the Notre Dame de Dijon. This stunning Gothic cathedral dates back to the 13th century and features intricate stonework and stunning stained glass windows. But the real highlight is the tower climb – make your way up the spiral staircase for breathtaking views over the city.
Moreover, with a private jet to Dijon, be sure to embark on a wine tour and discover why Burgundy is celebrated for its exceptional wines, with Dijon serving as an ideal starting point for exploring the neighboring vineyards. Experience a guided tour of the Côte d'Or wine region, indulge in the taste of some of the world's most exquisite wines, and gain an insight into the intricate process of winemaking.
The Dijon Bourgogne Airport is located just three miles south of Dijon's city center.
Dijon Private Jet Rental Cost
There are a variety of models in the private aviation market with varying costs. The prices for air charter service in Dijon can vary according to the destination, flight time, and the number of people on board. Additionally, you may contact our consultants to get an exact price for your private jet flight.
The size and type of aircraft, the length of the flight, and the destination can all affect the cost. The approximate cost of a private jet to Dijon can range anywhere from $2,000 to $17,000 for a billable flight hour or more.
Private Jet Airports near Dijon
1. DIJ, Dijon, Dijon
2. DLE, Tavaux, Dole
3. ZFJ, Rennes, Rennes
FAQs: Private Jet Flight to Dijon
Why Choose a Private Jet to Dijon with Monarch Air Group?
Your pleasure, comfort, and safety come first when you choose Monarch Air Group to charter a private jet to Dijon. Our first-class flights are made to your specifications and include privacy and time-saving amenities.
What Types of the Private Jets Can Use for Dijon?
When choosing a private aircraft, Monarch Air Group considers a number of aspects, such as the planned route, the estimated passenger amount, and the onboard facilities. So that we can match you with the top charter planes and services to Dijon, please provide as much information as possible. Our evaluation process ensures that you get the best private jet for your needs.
What are the Benefits of Flying a Dijon Private Jet?
Dijon private jet charters offer a variety of benefits over other transportation options. Our trustworthy private jet rental company offers reasonable and tailored travel choices based on your unique needs, the amount of time you have, and the available money.
Is it Possible to Travel with Pets to Dijon on a Private Jet?
You are welcome to bring your pet with you when renting a private jet to Dijon after getting in touch with us and learning about the city's policies on welcoming animals. Depending on the size of your companion, you should arrange a larger aircraft to assure their comfort and security during the travel.
Popular Destinations near Dijon by Private Jet
Geneva, Switzerland: Geneva is a popular destination for business and leisure travelers alike. The city is known for its picturesque lake, international organizations, and luxury shopping.
Paris, France: Paris is one of the world's most popular tourist destinations. Paris has something for everyone with iconic landmarks like the Eiffel Tower and Notre Dame Cathedral and world-class museums and galleries.
Cannes, France: Cannes is known for its luxury hotels, designer boutiques, and glamorous film festival.
Nice, France: Nice is another popular destination on the French Riviera, known for its stunning beaches, vibrant nightlife, and rich cultural heritage.
Our customers are transported by the most modern and stylish private aircraft. If you need assistance finding the answers to your questions on the frequently asked questions page of our private charter website, please get in contact with our friendly and professional crew.