Monarch Air Group provides private air charter in Detroit, MI. Our clients benefit from top-notch service, unrelenting dedication to safety, wide selection of aircraft, and years of experience in chartering private jets. To obtain a free quote, please use our online quoting tool provided below, or call toll-free 1-877-281-3051.
Charter a private jet to&from Detroit
Book a Private Jet Charter to and from Detroit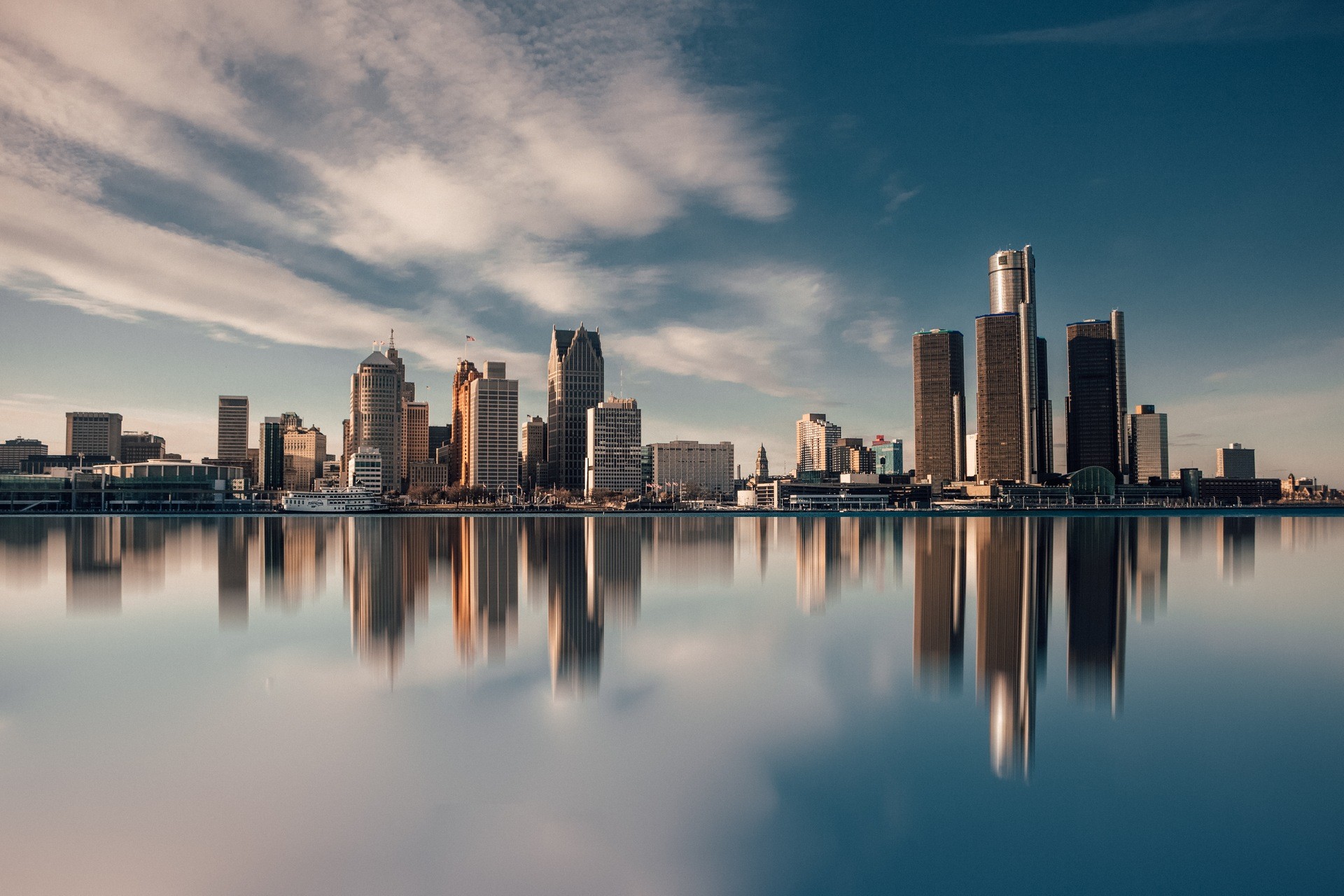 Monarch Air Group offers private jet charter services to and from Detroit, MI.
Detroit is a thriving city located in the state of Michigan, and it is one of the most popular destinations in the United States. With its bustling metropolis and rich cultural heritage, Detroit is a hub of activity and commerce, making it a popular destination for business and leisure travelers alike. With a private jet to Detroit, you enter the world-famous automotive center and a city of new developments, attractions, excellent museums, and theaters.
As the most exciting tourist destination in Michigan, Detroit has a lot to do and see technologically advanced buildings and historic charm. Renting a private jet to Detroit will take you on a stroll through the streets of the Heidelberg Project, founded by artist Thierry Gayton, who created an open-air gallery. You can also see the looted Michigan Theater building, which now serves as a parking lot.
The most popular attractions you can see on a private charter to Detroit are the Masonic Temple, the Henry Ford Company and Museum of the same name, the Renaissance Center, the Michigan Central train station, and many others.
The most commonly used airport for a private jet to Detroit is Detroit Metropolitan Wayne County Airport (DTW). This airport is located in the suburb of Romulus, Michigan and is one of the busiest airports in the country, serving over 35 million passengers annually. It has two modern terminals, several runways, and a large number of private jet charter companies operating from its facilities. This airport is well-equipped to handle private jet charter flights, offering a range of services and amenities to ensure a smooth and efficient experience for travelers.
Private jet charter to and from Detroit is a convenient and luxurious way to travel, offering the ultimate in comfort and flexibility. Whether you need a small, intimate aircraft for a family vacation or a large, luxurious business jet for an executive trip, you'll find the perfect aircraft for your needs with Monarch Air Group.
Detroit Private Jet Rental Cost
Private jet rentals to and from Detroit range from $2,000 an hour for a one-way trip on a light aircraft to $17,800 an hour or more for a heavy luxury business jet. For example, renting a light plane from Detroit to New York City will cost approximately USD 12,500. In addition, Monarch Air Group offers private air charter in Detroit with charter flights from Detroit, perfect for quick and comfortable travel.
Detroit Private Jet Airports
DET, KDET, Coleman A. Young International Airport, Detroit, MI
DTT, Detroit Metropolitan Area, Detroit, MI
YIP, KYIP, Willow Run Airport, Detroit, MI
PTK, KPTK, Oakland County International Airport, Pontiac, MI
ARB, KARB, Ann Arbor Municipal Airport, Ann Arbor, MI
KTTF, TTF, Custer Airport, Monroe, MI
YQG, CYQG, Windsor International Airport, Windsor, Canada
DTW, KDTW, Detroit Metropolitan Wayne County Airport, Detroit, MI
FNT, KFNT, Bishop International Airport, Flint, MI
YZR, CYZR, Sarnia Chris Hadfield Airport, Sarnia, Canada
Hotels in Detroit
Atheneum Suite Hotel, 1000 Brush Street, Detroit.
Roberts RiverWalk Hotel and Residence Detroit, 1000 River Place, Detroit.
Caesars Windsor Hotel & Casino, 377 Riverside Drive East, Windsor.
Atheneum Suite Hotel, 1000 Brush Street, Detroit.
D Tour:Motor City Casino, 2901 Grand River Avenue, Detroit.
DoubleTree Suites by Hilton Hotel Detroit Downtown – Fort Shelby, 525 West Lafayette Blvd, Detroit.
Milner Hotels, 1538 Centre Street, Detroit.
Detroit Marriott at the Renaissance Center, Renaissance Center – 400 Renaissance DR, Detroit.
Greektown Casino, 555 E Lafayette Blvd, Detroit.
Caesars Windsor Hotel & Casino, 377 Riverside Drive East, Windsor.
FAQs: Private Jet Flight to Detroit
Why choose a charter jet to Detroit with Monarch Air Group?
Possibilities to fly on vacation or to a business meeting on your itinerary and at a time that is convenient for you. A Detroit private jet charter is a great option if you want to get there quickly and comfortably. Give one of our agents a call about charter jet Detroit rentals.
How much does it cost to charter a private Jet to Detroit?
The cost of a Detroit private jet is determined by several factors. In most cases, it depends on your flight destination, aircraft type, specific amenities, and flight date. The cost also depends on the number of passengers. When planning your trip, you can get the necessary information on air charter Detroit by contacting our consultants. Moreover, you can use the charter flight cost calculator to get a rough estimate of the cost of your flight.
Here are some approximate prices for private flights to Detroit:
| Location To/From | Private Jet Size | Flight Cost |
| --- | --- | --- |
| New York | Light Jet | $12,650 |
| Los Angeles | Midsize Jet | $36,970 |
|  Miami | Super Midsize | $29,670 |
|  San Francisco | Heavy jet | $49,450 |
| Las Vegas | Ultra long range | $46,060 |
What types of private jets can use for Detroit charter flights?
Aircraft for Detroit charter flights are suitable for different types of travel. Taking into consideration your desired route and the number of passengers on board, we will find a plane that suits your needs and avoids unnecessary stops for refueling. We will find a business jet perfectly suited to your needs and desires.
What are the advantages of flying on a Detroit private jet?
Private jets are incredibly comfortable so that you can fully relax in flight. Also, private plane charters in Detroit can provide individual meals or other services as desired. With our extensive experience in travel planning, we will make sure that your vacation or business trip is exquisite in every detail.
Popular Destinations near Detroit by private jet
Cleveland—known for its unique character, it is the cultural heart of Ohio, along the shores of Lake Erie.
Akron—is famous as the highest point in Summit County, the largest metropolitan area in Ohio 39 miles south of Cleveland.
Grand Rapids – is a region of crystal clear waters and great outdoor activities on the Grand River, the second-largest city on Michigan's west coast.
Columbus—is a wonderful city with a rich history, offering all the benefits of a large metropolis for leisure or business.
Pittsburgh—is one of the cleanest cities in the U.S., home to over a million people, and an exceptional city with many tourist attractions.
Our clients travel on efficient and comfortable private jets. If you haven't found the answers to all your questions here, you can contact our experienced and reliable team at any time or visit our air charter FAQ page.