Monarch Air Group provides private air charter in Delphi, Greece. Our clients benefit from top-notch service, unrelenting dedication to safety, wide selection of aircraft, and years of experience in chartering private jets. To obtain a free quote, please use our online quoting tool provided below, or call toll-free 1-877-281-3051.
Charter a private jet to&from Delphi
About Delphi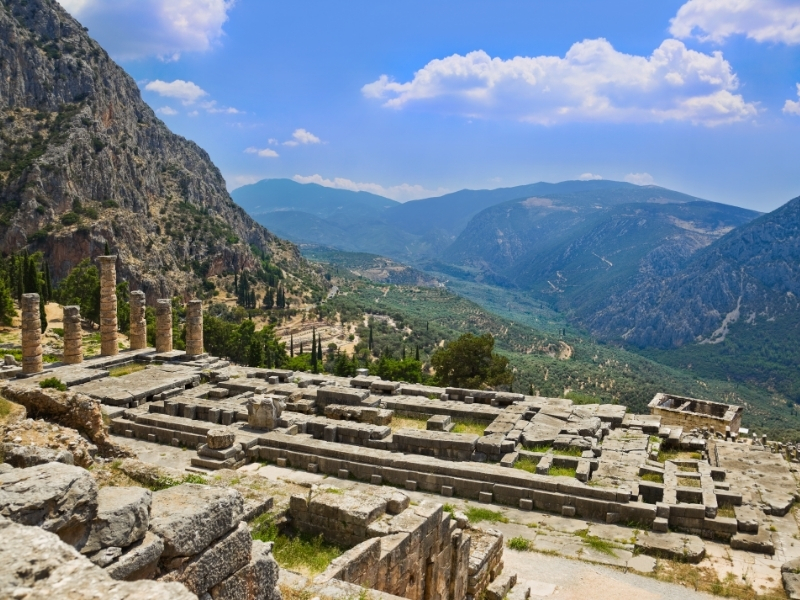 Monarch Air Group offers private jet charter services to and from Delphi, Greece.
Located on the Gulf of Corinth, Delphi is situated on Mount Parnassus. The city is famous for being one of the most historic sites in Greece. In ancient Greece, Delphi was the site of the sanctuary of Apollo and the shrine of his oracle. For visitors touring the sites of ancient Greece, Delphi ranks among one of the most popular destinations. The Sacred Way was once the route to the Temple of Apollo.
The Treasury of the Athenians is a replica of a Doric temple that was used to store offerings to Apollo. The original building is in the Delphi Museum. Built in the 4th Century B.C., the stone seating at the theatre once held performances for thousands. Nearby, the Pythian Games had seating for 500 spectators. The Delphi Archaeological Museum collection includes finds from local Delphi sites. Friezes, statues and objects that were used as offerings are some of the most popular artifacts located in the museum galleries.
Guided tours of Delphi are also popular for learning about the culture of ancient Greece. For a hands-on experience, learn how to make oil olive by attending an Olive Oil Workshop in a local village. You can enjoy an afternoon learning about the role of olive oil used in Greek cuisine and see firsthand how olives are grown, cultivated and transformed from a tree crop into delicious olive oil.
Airports that serve Delphi include Patras Araxos Airport, 62.3 miles (100 km); Skiathos International Airport, 72 miles (117 km); and Athens International Airport, 87 miles (140.6 km) from Delphi. Empty legs and transient aircraft are extremely popular in the region.
Delphi Map
Airports within 70 miles For Private Jets to Delphi
1. ZTH, Zakynthos International Airport, Zakinthos, Greece
2. GPA, Araxos Airport, Patras, Greece
3. EFL, Cephalonia International Airport, Cephalonia, Greece
4. VOL, Nea Anchialos National Airport, Volos, Greece
5. ATH, Athens International Airport Eleftherios Venizelos, Athens, Greece
6. JSI, Skiathos Island National Airport, Skiathos, Greece
7. SKU, Skyros Island National Airport, Skiros, Greece