Monarch Air Group offers a wide variety of private jet charter options to and from Cyprus. Our clients benefit from top-notch service, unrelenting dedication to safety, wide selection of aircraft, and years of experience in chartering private jets. To obtain a free quote, please use our online quoting tool provided below, or call toll-free 1-877-281-3051.
Charter a private jet to/from Cyprus
Book a Private Jet Charter to and from Cyprus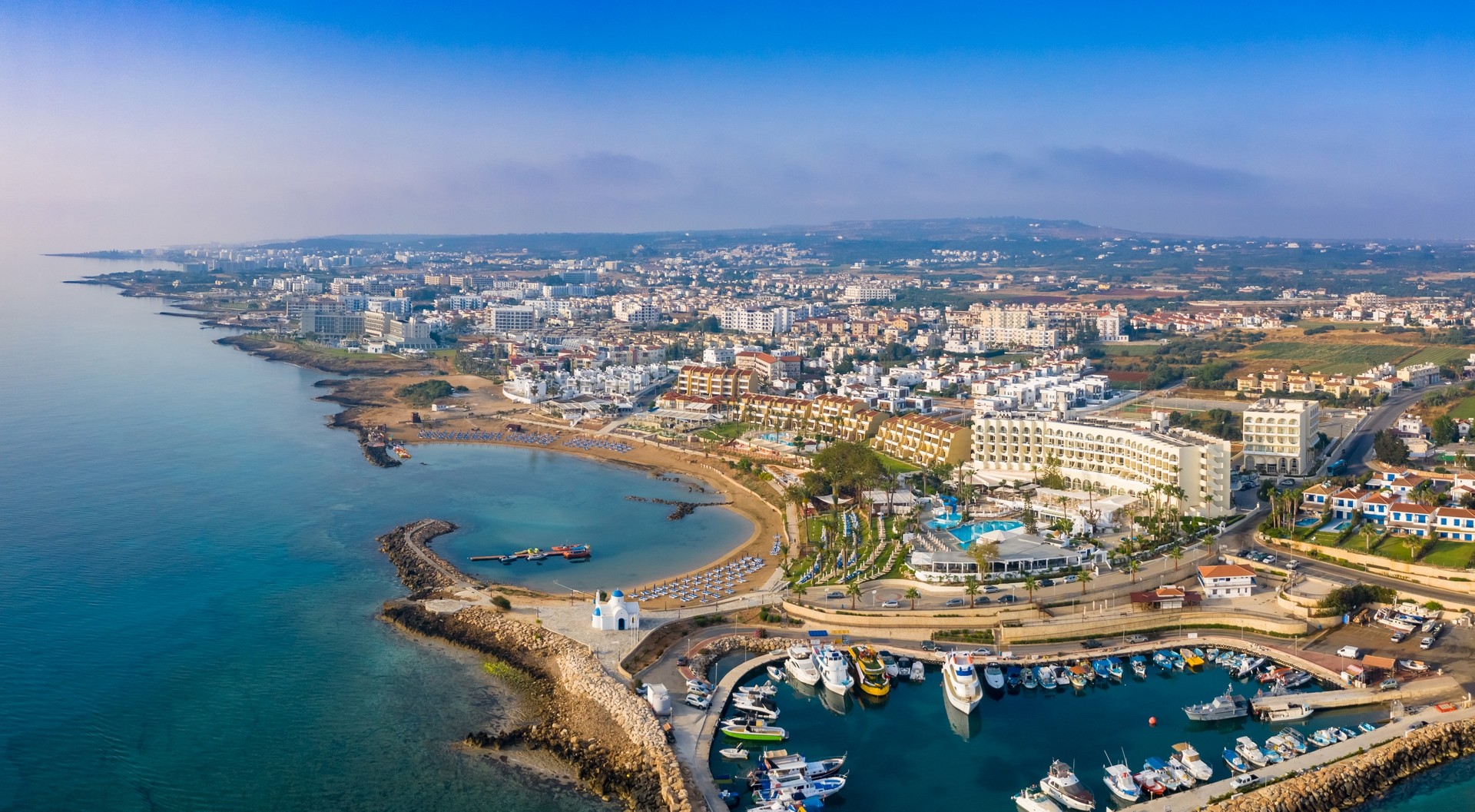 Monarch Air Group provides private jet charter flights to and from Cyprus.
Cyprus is the third largest and most populous island country in the Eastern Mediterranean Sea, off the coasts of Turkey and Syria. With its high Human Development Index and a prosperous economy, this island country is a member of the Commonwealth and is a prominent tourist destination in the Mediterranean, attracting over 2 million people from all parts of the world, albeit up to 50% of travelers come from Great Britain.
Cyprus has a rich history, art, prominent landmarks, fabulous cuisine, and cultural diversity. There are ruins of Stone Age settlements, temples from Ancient Greece, Byzantine monasteries, Roman theaters, Venetian fortresses, and majestic Gothic cathedrals. You should start your trip in the capital, Nicosia, a beautiful ancient city with many museums and restaurants with Balkan and Greek cuisine. Not far from here, the large and popular Cypriot resort of Limassol offers water parks, amusement parks, and modern hotels. In the northwest of the island, the town of Polis is a great place to visit the real authentic Cyprus. With a private charter to Cyprus, visit the many holidays and festivals, like the Limassol Carnival Festival, the country's most popular event.
Cyprus is home to two international airports and several heliports. The private jets to and from Cyprus is served by Paphos International Airport (PFO) and Larnaca International Airport (LCA), as well as by Ercan International Airport (ECN), which offers flights only to Turkey.
Our operators are standing by 24/7 to assist you in scheduling your next luxury air charter to Cyprus. Call us today for a free quote.
Airports for Private Jet near Cyprus
LCA, Larnaca International Airport, Larnarca
PFO, Paphos International Airport, Paphos
ECN, Ercan International Airport, Nicosia
FAQ for a Private Jet Charter Flights to Cyprus
Why choose a charter jet to Cyprus with Monarch Air Group?
Monarch Air Group provides private flights to and from Cyprus, offering luxury private jets at competitive prices and exclusive service conditions. Travel worldwide in any size aircraft, depending on your preference and budget. You can always choose from a wide range of Cyprus private jet charter services and decide for yourself when to take off, where to land, who to take with you, and what you want to see on your private jet. Please call one of our agents for a Cyprus charter jet.
How much does it cost to book a Cyprus private jet charter?
The cost of the Cyprus private jet is based on many factors, such as the duration of the flight, the specifics of the itinerary, and the model of the aircraft chosen. You can get a flight cost estimate by using a private jet charter cost estimator. All the prices you get from us are fully transparent and include all applicable taxes. If you cannot find the information you need on air charter Cyprus, you can ask our experts.
Here are some approximate prices for private flights to Cyprus:
Charter a Private Jet to Cyprus from London: from $21,990;
Charter Flights to Cyprus from Paris: from $23,560;
Private Charter Flights to Cyprus from Milan: from $19,080.
*Estimated price before taxes & fees.
What types of private jets can use for Cyprus charter flights?
Monarch Air Group provides clients VIP jets, airliners, heavy jets, light jets, or turboprops. The aircraft we offer depends on the specific route and the number of passengers. To ensure you have the best choice, book in advance so we can select the jet that best suits your needs and wishes. We will meet all your requirements to ensure that our services meet your expectations for Cyprus charter flights.
| Aircraft type | Passengers | Non-stop range | Cruising speed | Intended use |
| --- | --- | --- | --- | --- |
| Light Jet | up to 6 passengers | about 700 – 2000 miles | 476 to 518 mph | for comfortable short- to mid-range distances |
| Midsize Jet | up to 10 passengers | about 1300 – 1500 miles | 422 to 541 mph | to fly nonstop from coast to coast |
| Super midsize Jet | up to 10 passengers | about 3.500 – 4.000 miles | 490 to 590 mph | for longer flights |
| Heavy Jet | up to 18 passengers | about 6.000 miles | 480 to 551 mph | traveling overseas in luxury for an intercontinental flight |
| Turboprops | up to 10 passengers | about 600 – 1.900 miles | 220 to 360 mph | for short- to mid-range flights |
| Ultra-Long Range Jet | up to 19 passengers | about 2,800 – 7,685 miles | 460 to 594 mph | for long-haul travels |
| Helicopters | up to 28 passengers | about 250 – 600 miles | 150 to 175 mph | for passenger and cargo transportation |
What are the advantages of flying on a Cyprus private jet?
Renting a private jet has some undeniable advantages over commercial flights. We want your journey to be as comfortable and convenient as possible, and we will provide you with the necessary level of privacy and the flexibility to adapt your flight to your schedule. Also, with private plane charter Cyprus we can arrange hotel transfers, individual on-board meals, or group charter flights.
Popular destinations in/near Cyprus by private jet
Larnaca – with its white sands and hidden coves to the mountains, is known as the pearl of the Mediterranean.
Beirut – is one of the most diverse and fascinating capitals in the world, with so much to offer to all Lebanon's visitors.
Damascus – a UNESCO World Heritage Site, is the capital of Syria and one of the oldest cities in the world.
Our clients travel on efficient and comfortable private jets. If you haven't found the answers to all your questions, you can contact our experienced and reliable team at any time or visit our air charter FAQ page.