Monarch Air Group provides private air charter in Crown Point, Indiana. Our clients benefit from top-notch service, unrelenting dedication to safety, wide selection of aircraft, and years of experience in chartering private jets. To obtain a free quote, please use our online quoting tool provided below, or call toll-free 1-877-281-3051
Charter a private jet in Crown Point, IN:
About Crown Point, Indiana, United States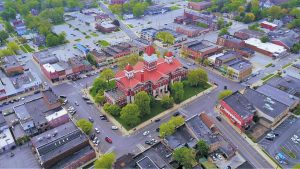 Monarch Air Group offers plenty of private jet charter options to and from Crown Point, Indiana, United States.
With a growing population of about 29,625 residents, Crown Point is the county seat of and a vibrant city in Lake County. The city most noted for its amazing schools, wonderful neighborhoods, world-class health care, thriving economy, and an abundance of business and entertainment options. Crown Point is a strong community of growth and prosperity. Apart from a cute small town feel, the city boasts the conveniences of the big city dwelling.
The two nearest major airports to Crown Point are Chicago Midway International Airport located 49 miles from the city center and Chicago O'Hare International Airport situated 71 miles from Crown Point. Both airports serve international and domestic flights.
Crown Point, IN Airports within 70 miles
1. AUZ, Municipal Airport, Aurora, United States
2. BEH, Ross Field, Benton Harbor, United States
3. CGX, Merrill C Meigs (closed), Chicago, United States
4. CHI, Chicago FSS, Chicago, United States
5. DPA, Dupage County, Chicago, United States
6. GYY, Gary/Chicago International, Gary (IN), United States
7. IKK, Greater Kankakee, Kankakee, United States
8. JMH, Marriott Heliport, Schaumburg, United States
9. JOT, Municipal, Joliet, United States
10. KKT, Kentland, Kentland, United States
11. LOT, Lewis Lockport, Lockport, United States
12. LPO, Municipal, Laporte, United States
13. MDW, Midway, Chicago, United States
14. MGC, Michigan City Arpt, Michigan City, United States
15. NBU, NAS, Glenview, United States
16. NLE, Jerry Tyler Memorial, Niles, United States
17. PLY, Plymouth, Plymouth, United States
18. PWK, Pal-Waukee, Chicago, United States
19. RCR, Fulton County, Rochester, United States
20. RNZ, Rensselaer, Rensselaer, United States
Hotels in Crown Point, IN
1. At Your Bark-N-Call Bed & Bath, Inc., 1157 Erie Court, Crown Point
2. White Hawk Country Club, 1001 White Hawk Drive, Crown Point
3. Crown Point Sports Complex, 1313 East North Street, Crown Point
4. Pizzeria Leoni, 1117 Merrillville Road, Crown Point
5. Prime Steakhouse, 109 West Joliet Street, Crown Point
6. Lakeshore Public Media, 8625 Indiana Street, Merrillville
7. Three Monkeys Pub, 21 West 112th Avenue, Crown Point
8. D & L Wood Products, 615 North Indiana Avenue, Crown Point
9. Crown Point Family Fun Center, 1301 Merrillville Road, Crown Point
10. Promise Dance Academy Inc, 113 West Joliet Street, Crown Point
11. Treasure Hunt Resale Shop, 928 South Court Street Ste. B, Crown Point