Monarch Air Group provides private air charter in Columbia, SC. Our clients benefit from top-notch service, unrelenting dedication to safety, wide selection of aircraft, and years of experience in chartering private jets. To obtain a free quote, please use our online quoting tool provided below, or call toll-free 1-877-281-3051.
Charter a private jet in Columbia, SC
Private Jet Charter to and from Columbia, SC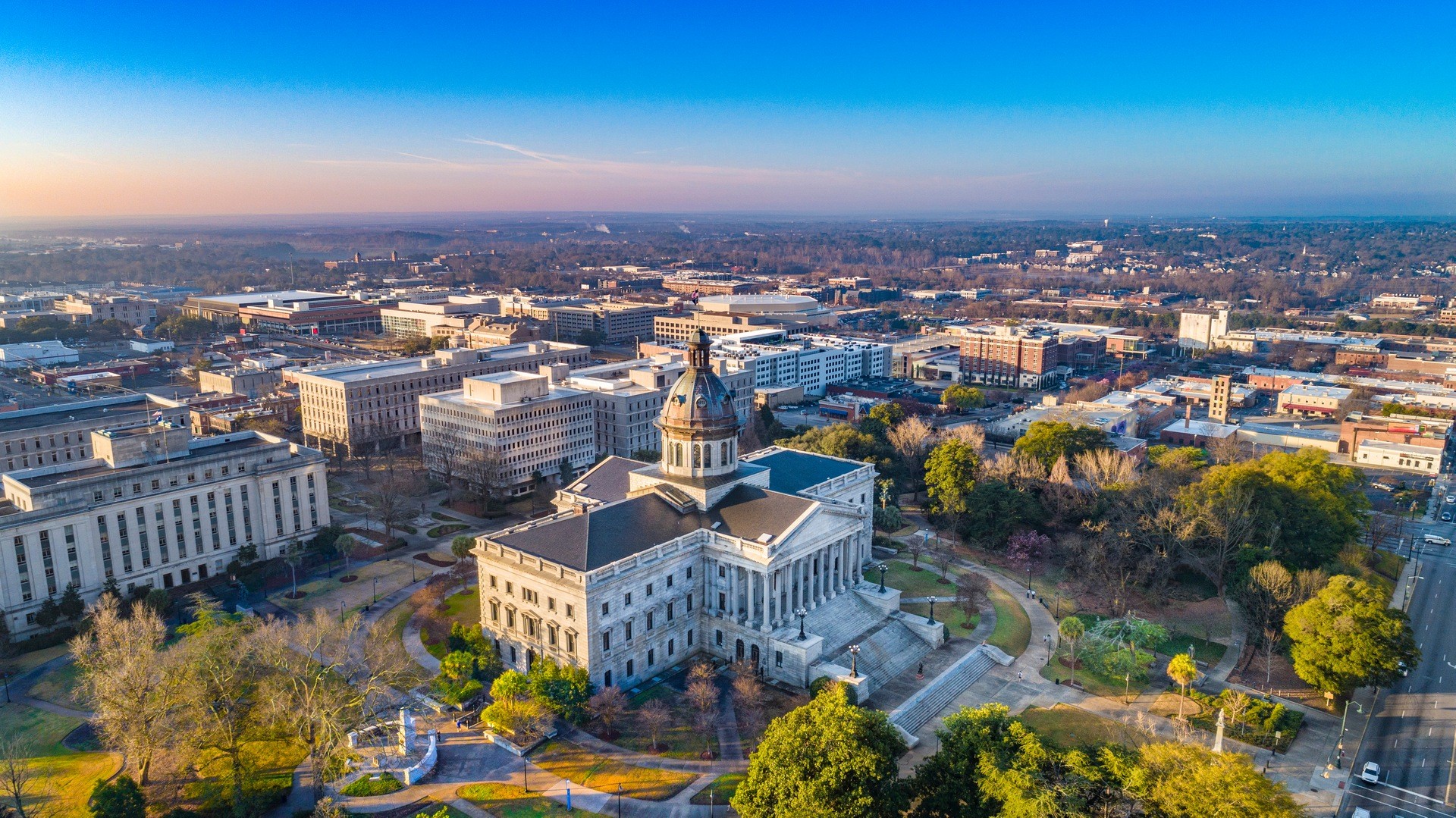 Monarch Air Group offers private jet charter services to and from Columbia, SC, USA.
Columbia, the largest city and capital of South Carolina, was established on March 26, 1786, as a hub for education, commerce, and government in the state. It was named after the famous explorer Christopher Columbus. Today, Columbia boasts the Columbia Metropolitan Airport and a wealth of cultural attractions, including beautiful museums, fine arts theaters, performing arts centers, and numerous festivals. Visitors can also enjoy a wide range of recreational activities when renting a private jet to Columbia.
Once you've chartered a private jet to Columbia, visit the South Carolina State House, an impressive display of neoclassical architecture constructed in the late 19th century. Guided tours allow visitors to explore the building and learn about the state's rich history and political processes.
In addition, book a private jet to Columbia and visit the Columbia Museum of Art. It showcases a diverse collection of artwork from around the globe, specifically focusing on American and South Carolinian art. Throughout the year, the museum hosts special events and exhibitions for visitors to enjoy. Also, be sure to catch a show at the Koger Center for the Arts. This state-of-the-art performing arts center hosts various events, including concerts, plays, and dance performances.
Meanwhile, when chartering a private jet to Columbia, just outside the city lies the sprawling Congaree National Park, where visitors can marvel at some of the oldest and tallest trees in the country and a diverse array of wildlife such as deer, otters and bobcats. Explorers can enjoy hiking along the park's many trails or opt for a guided canoe tour to immerse themselves in the park's natural beauty truly. In addition, the Three Rivers Greenway provides a stunning pathway for walking or biking along the Congaree, Saluda, and Broad Rivers, offering breathtaking views of the region's natural beauty.
The primary commercial airport serving Columbia, the state capital of South Carolina, is Columbia Metropolitan Airport (CAE). About five miles southwest of Columbia, in Lexington County, is where you'll find the airport.
Columbia Private Jet Rental Cost
Columbia private jet rental ranges from $2,000 – $17,000 per billable flight hour or more. Turboprop jets cost from $1,800 to $2,400 per hour, light jets cost from $2,400 to $3,900, mid-size or super-midsize jets cost from $4,200 to $8,100 per flight hour, while heavy and ultra-long range jets per flight hour cost from $7,200 to $17,800.
Airports for Private Jet near Columbia
CAE, KCAE, Columbia Metropolitan Airport
CUB, KCUB, Jim Hamilton – L.B. Owens Airport
SC2, Winnsboro Airport
SUM, Sumter Municipal Airport
FAQ: Private Jet Flights to Columbia
Why choose a charter jet to Columbia with Monarch Air Group?
When Monarch Air Group arranges your private jet flight to Columbia, we prioritize your comfort, security, and enjoyment. Our customized private flight trips are also tailored to your needs and include extras to make your travel more enjoyable.
What Types of the Private Jets Can Use for Columbia?
The price, number of passengers, needed range, and route are key factors in Columbia's private aircraft selection. In addition, our company provides unique, tailored private aircraft charters to ensure maximum privacy and time savings for a stress-free and joyful travel experience.
What are the Benefits of Flying a Columbia Private Jet?
Flying a private plane to Columbia has some advantages over other modes of transportation. Our trustworthy private jet rental company offers flexible, reasonable travel alternatives based on your preferences, available time, and financial restraints.
Can I Bring My Pet on a Private Jet to Columbia?
Pets are welcome on flights to Columbia provided by Monarch Air Group. However, we recommend informing us ahead of time to ensure that the city's pet travel requirements are met. To ensure your pet's safety and comfort, choose an aircraft with a pet-friendly cabin.
Popular Destinations near Columbia by Private Jet
Located in eastern Georgia, Augusta is a vibrant city known for hosting the prestigious Masters Golf Tournament. It is also home to the Augusta Canal National Heritage Area, which offers scenic boat tours, hiking trails, and historical sites.
As the largest city in North Carolina, Charlotte is a bustling metropolis that serves as a hub for finance and business in the southeastern United States. Visitors can enjoy a range of attractions, including the NASCAR Hall of Fame and the Charlotte Museum of History.
Situated on the coast of South Carolina, Charleston is a charming city steeped in history and culture. It boasts stunning architecture, world-class restaurants, and picturesque beaches. Visitors can explore the city's many historic sites, including Fort Sumter National Monument and the Nathaniel Russell House.
As the capital of Georgia, Atlanta is a sprawling city with a rich history and a diverse range of attractions. It is home to the Martin Luther King Jr. National Historic Site, the Georgia Aquarium, and the World of Coca-Cola, among many other cultural and entertainment options.
We provide top-tier private jets that are both modern and comfortable, focusing on all of your travel needs. For more information, visit our website's "Frequently Asked Questions" section. Furthermore, our team is always available to answer any questions you may have.