Monarch Air Group provides private air charter in Cincinnati, OH. Our clients benefit from top-notch service, unrelenting dedication to safety, wide selection of aircraft, and years of experience in chartering private jets. To obtain a free quote, please use our online quoting tool provided below, or call toll-free 1-877-281-3051.
Charter a private jet to&from Cincinnati, OH
Book a Private Jet Charter to and from Cincinnati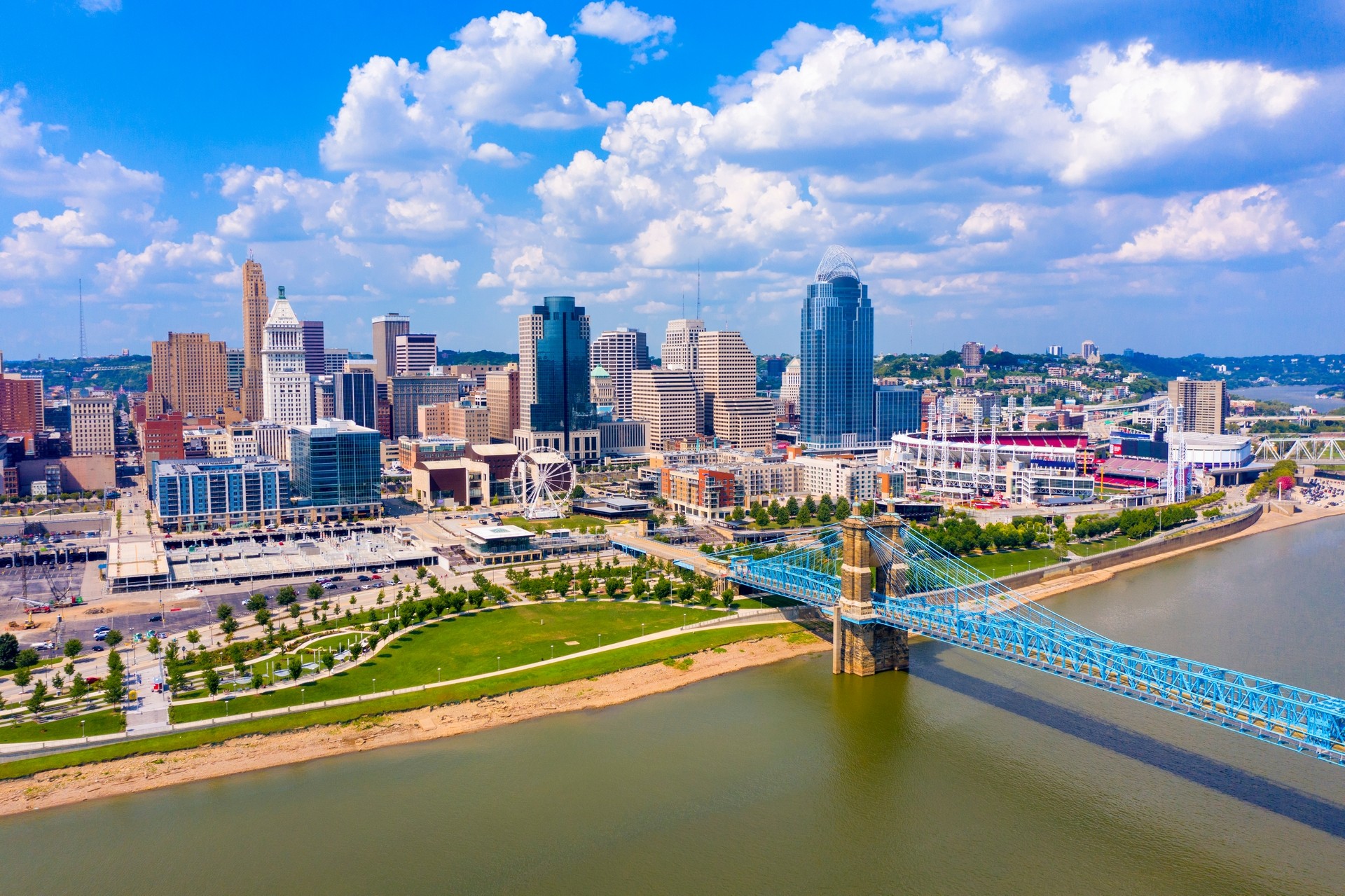 Monarch Air Group offers private jet charter services to and from Cincinnati, OH USA.
Often called the Queen City of the West, Cincinnati is the third largest city in Ohio located on the north bank of the Ohio River. It is the third most populous city in the state, with about 300,000 people. Cincinnati is on the border of three states, Kentucky, Ohio, and Indiana. The city is home to the head offices of Procter & Gamble, General Electric's Aviation, Toyota North America, and others, making a private jet charter to Cincinnati popular with business travelers.
Cincinnati is one of the oldest cities in the United States, preserving the region's rich cultural and historical heritage. With its great culture the city is home to the state's major commerce, arts and entertainment, and business culture. When traveling by private jet to Cincinnati, consider visiting the Museum of Art with over 67,000 artifacts from different times, the Over-the-Rhine Historic District, Music Hall, and Carew Tower. Also, you can relax in many parks, wander the trails, and attend educational programs and various activities. Cincinnati boasts many sports teams, including the Cincinnati Bengal's and the Cincinnati Reds.
Cincinnati Municipal Lunken Airport (LUK, KLUK) is 3 miles from downtown Cincinnati. It serves private aircraft and fleets of local corporations. The airport averages over 31,000 aircraft operations annually and is suitable for charter flights to and from Cincinnati.
Airports for Private Jet near Cincinnati
CEV, Mettle Field, Connersville, United States.
CVG, Cincinnati/northern Kentucky, Covington, KY, United States.
DAY, James Cox Dayton Intl, Dayton, Oh, United States.
FFO, Patterson Afb, Dayton, United States.
FFT, Capital City, Frankfort, KY, United States.
HAO, Hamilton, Hamilton, United States.
HLB, Hillenbrand, Batesville, United States.
ILN, Clinton Field, Wilmington, United States.
LUK, Cincinnati Municipal-Lunken Field, Cincinnati, OH, United States.
MDN, Jefferson Proving Grd, Madison, United States.
MGY, Dayton-Wright Brothers Airport, Dayton, United States.
MWO, Hook Field, Middletown, Ohio, United States.
OXD, Miami University, Oxford, Canada.
RID, Richmond Municipal Airport, Richmond, IN, United States.
SGH, Springfield, Springfield, United States.
Hotels in Cincinnati
The Cincinnatian Hotel, 601 Vine Street, Cincinnati.
Cincinnati Marriott at RiverCenter, 10 West Rivercenter Boulevard, Covington.
Hotel Kingsgate Marriott Conference Center at the University of Cincinnati, 151 Goodman Drive, Cincinnati.
Garfield Suites Hotel, 2 Garfield Place, Cincinnati.
The Cincinnatian Hotel, 601 Vine Street, Cincinnati.
Cincinnati Marriott at RiverCenter, 10 West Rivercenter Boulevard, Covington.
Holiday Inn Express Hotel Bellevue – Newport On The Levee, 109 Landmark Drive, Bellevue.
Hyatt Regency Cincinnati, 151 West 5th Street, Cincinnati.
The Cincinnatian Hotel, 601 Vine Street, Cincinnati.
Garfield Suites Hotel, 2 Garfield Place, Cincinnati.
FAQ for a Private Jet Charter Flights to Cincinnati
Why choose a charter jet to Cincinnati with Monarch Air Group?
Monarch Air Group provides private flights to and from Cincinnati with years of experience in worldwide logistics services, unparalleled customer service, and schedule flexibility. Our team will meet all your requirements to ensure that our services meet your expectations for Cincinnati private jet charters. We offer luxury private jets to suit your needs based on the number of passengers and departure seats. Call one of our agents for a Cincinnati charter jet charter.
How much does it cost to book a Cincinnati private jet charter?
The cost of chartering a Cincinnati private jet is determined by several factors. First, planes are usually hired by the hour, and you can use the entire jet when you air charter Cincinnati. Therefore, you pay the same price for the plane, whether a single-passenger jet or a jet filled. Our charter expert will give you the exact rate. Moreover, you can get a rough flight cost estimate using the private jet charter cost estimator.
Here are some approximate prices for private flights to Cincinnati:
Charter a Private Jet to Cincinnati from Miami: from $11,900;
Charter Flights to Cincinnati from New York: from $7,190;
Private Charter Flights to Cincinnati from Dallas: from $10,810.
*Estimated price before taxes & fees.
What types of private jets can use for Cincinnati charter flights?
The private jet market ranges from turboprops to heavy jets. Each plane differs in size, range, and space inside the cabin. If you're traveling from one end of the U.S. to the other, a super-midsize plane is often the best option. At the same time, a long international trip will require a heavy aircraft. Finally, we'll find a business jet perfect for Cincinnati charter flights.
| Aircraft type | Passengers | Non-stop range | Cruising speed | Intended use |
| --- | --- | --- | --- | --- |
| Light Jet | up to 6 passengers | about 700 – 2000 miles | 476 to 518 mph | for comfortable short- to mid-range distances |
| Midsize Jet | up to 10 passengers | about 1300 – 1500 miles | 422 to 541 mph | to fly nonstop from coast to coast |
| Super midsize Jet | up to 10 passengers | about 3.500 – 4.000 miles | 490 to 590 mph | for longer flights |
| Heavy Jet | up to 18 passengers | about 6.000 miles | 480 to 551 mph | traveling overseas in luxury for an intercontinental flight |
| Turboprops | up to 10 passengers | about 600 – 1.900 miles | 220 to 360 mph | for short- to mid-range flights |
| Ultra-Long Range Jet | up to 19 passengers | about 2,800 – 7,685 miles | 460 to 594 mph | for long-haul travels |
| Helicopters | up to 28 passengers | about 250 – 600 miles | 150 to 175 mph | for passenger and cargo transportation |
What are the advantages of flying on a Cincinnati private jet?
Renting a private jet has some undeniable advantages over commercial flights. Our services are highly personalized, so you can choose the airports on your schedule on a plane designed for comfort. Also, private plane charter Cincinnati offers the option of arranging hotel transfers, individual onboard meals, or group charter flights. A dedicated specialist is available 24/7 to help you with any questions.
Popular destinations near Cincinnati by private jet
Dayton – known as the birthplace of aviation in Ohio, is a fast-growing area and a great place to do business.
Lexington – attracts tourists from all over the world and gets rave reviews from private aviation customers.
Louisville – is Kentucky's largest city, with many green spaces and great places for families.
Columbus – is a city with a rich history and diverse culture, which offers all the advantages of a large metropolis.
Indianapolis – offers sophisticated cultural buildings, luxury restaurants, and numerous sporting and business activities.
Our clients travel on efficient and comfortable private jets. If you haven't found the answers to all your questions, you can contact our experienced and reliable team at any time or visit our air charter FAQ page.