Monarch Air Group provides private air charter in Chattanooga, TN. Our clients benefit from top-notch service, unrelenting dedication to safety, wide selection of aircraft, and years of experience in chartering private jets. To obtain a free quote, please use our online quoting tool provided below, or call toll-free 1-877-281-3051.
Charter a private jet in Chattanooga
Private Jet Charter to and from Chattanooga, Tennessee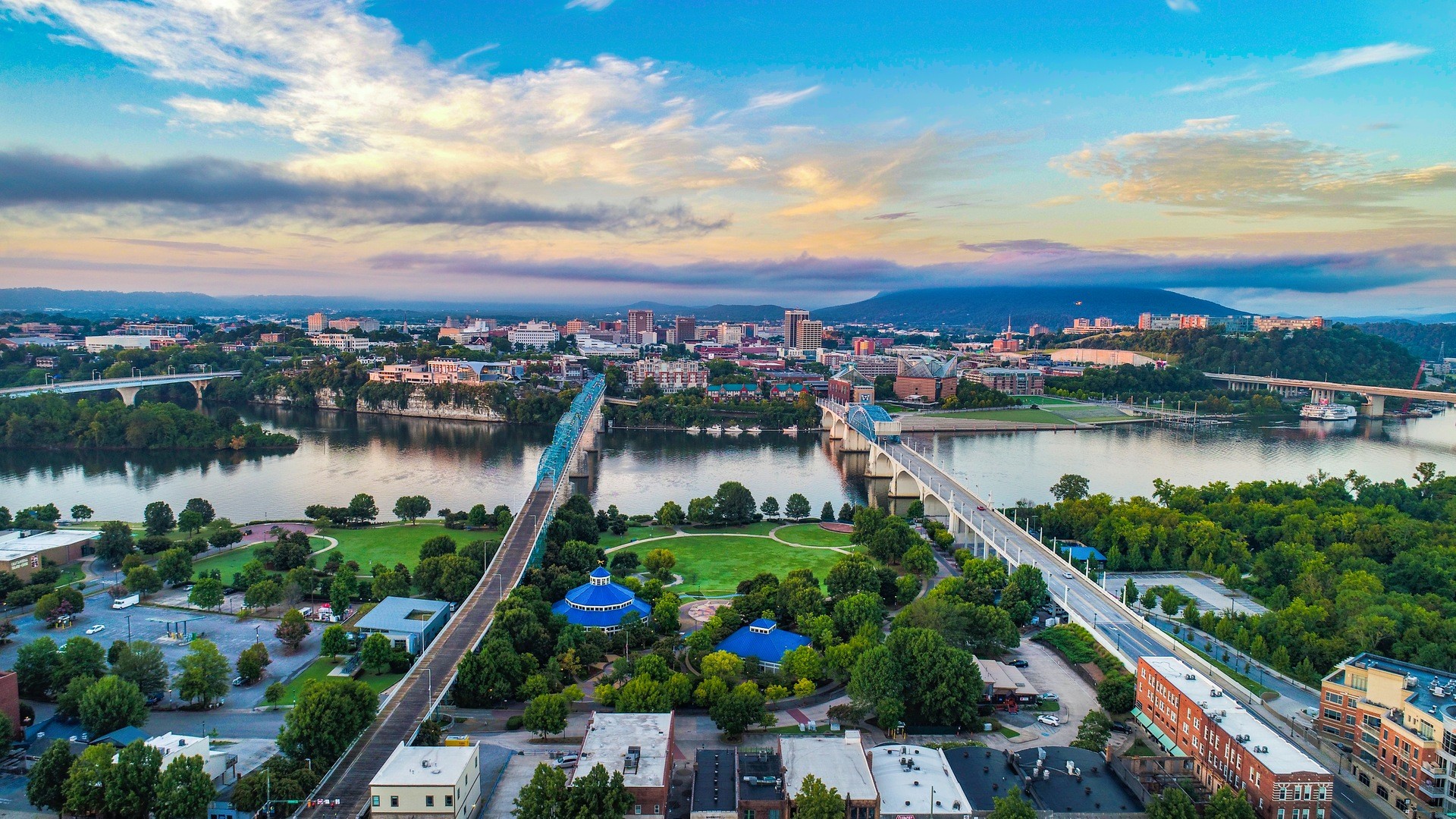 Monarch Air Group provides private jet charter flights in and out of Chattanooga, Tennessee, USA.
Chattanooga, located in southeastern Tennessee along the Tennessee River, close to the Georgia border, is a vibrant city. Boasting a population of approximately 167,674 residents, it is the fourth-largest city in Tennessee. Serving as the seat of Hamilton County, the city is officially known as the "Scenic City" while also being affectionately referred to by several unofficial nicknames such as "Chattown," "River City," "Gig City," and "Nooga." Whether you're an outdoor enthusiast, history buff, or art lover, Chattanooga private jet charter has something for everyone.
Once you've chartered a private jet to Chattanooga, dive into an underwater world at the Tennessee Aquarium, one of the nation's premier aquariums. Home to a diverse array of marine life, including penguins, sharks, and colorful coral reefs, this facility offers an immersive experience for all ages. Explore the River Journey and Ocean Journey buildings, where you can witness captivating aquatic exhibits and even touch stingrays at the aquarium's interactive exhibits.
Book a private jet to Chattanooga and make a trip to Lookout Mountain. Ascend the mountain via the Incline Railway, one of the world's steepest passenger railways, for breathtaking panoramic views of the city and surrounding landscapes. Explore the fascinating Rock City Gardens, where ancient rock formations and enchanting gardens await. Take advantage of the awe-inspiring Ruby Falls, an underground waterfall cascading 145 feet beneath the surface.
With a private jet to Chattanooga, step back to the historic Chattanooga Choo Choo, once a bustling train station. Today, it has been transformed into a unique hotel and entertainment complex. Explore the beautifully restored terminal building, dine in one of the charming restaurants, and even spend the night in a vintage train car-turned-hotel room. Remember to take a ride on the beautifully restored antique carousel.
Chattanooga Metropolitan Airport (CHA / KCHA) is 10 miles from the city center and serves the area.
Chattanooga Private Jet Rental Cost
Chattanooga private jet rental ranges from $2,000 to $17,000 per billable flight hour. Turboprop jets cost from $1,800 to $2,400 per hour, light jets cost from $2,400 to $3,900, mid-size or super-midsize jets cost from $4,200 to $8,100 per flight hour, while heavy and ultra-long range jets per flight hour cost from $7,200 to $17,800.
Airports for Private Jet near Chattanooga, TN
CHA, KCHA, Chattanooga Metropolitan Airport
APT, KAPT, Marion County Airport
DNN, KDNN, Dalton Municipal Airport
UOS, KUOS, Franklin County Airport
KBGF, BGF, Winchester Municipal Airport
MMI, KMMI, McMinn County Airport
FAQ: Private Jet Flights to Chattanooga, TN
Why choose a charter jet to Chattanooga with Monarch Air Group?
If you allow Monarch Air Group to handle all aspects of your trip to Chattanooga, your comfort and security will always come first. Our private airplanes are equipped with cutting-edge technology to enhance your flight experience. Your trip should be pleasurable, special, and unforgettable.
What Types of the Private Jets Can Use for Chattanooga?
The Monarch Air Group chooses a private aircraft for a flight to Chattanooga after considering several factors. The passengers, price, route, and necessary range are all included. Our company offers different aircraft types and your comfort, safety, and enjoyment are our top priorities when providing charter services.
What are the Benefits of Flying Chattanooga Private Jet?
Traveling via private aircraft offers several benefits. When you arrange a private jet to Chattanooga, you can choose the people and places you wish to see. Depending on the number of passengers and available seats for departure, we might be able to provide you with a private aircraft. Our travel agent is available around-the-clock, seven days a week to assist you with your travel needs.
Can I Bring My Pet on a Private Jet to Chattanooga?
Monarch Air Group is pleased to offer pet-friendly Chattanooga flights because we respect and value all animals. However, it is essential to consider the specific requirements and restrictions of each flight. The safety of your fellow passengers is our top priority.
Popular Destinations near Chattanooga by Private Jet
Cleveland is a city located in the state of Ohio, United States. It is the county seat of Cuyahoga County and is situated on the southern shore of Lake Erie. With over 380,000 people, Cleveland is the second-largest city in Ohio. It is known for its vibrant arts and cultural scene, including the renowned Cleveland Orchestra, Cleveland Museum of Art, and the Rock and Roll Hall of Fame.
Russell Cave National Monument is located in northeastern Alabama, USA. It preserves an archaeological site that offers insights into the prehistoric Native American cultures that once inhabited the area. The cave served as a shelter for thousands of years, and evidence suggests human occupation dating back more than 10,000 years.
Dalton is a city located in the state of Georgia. It is known as the "Carpet Capital of the World" due to its prominent carpet manufacturing industry. Dalton has a population of around 34,000 people and is situated in the foothills of the Blue Ridge Mountains. The city's economy is centered around the flooring industry, with numerous carpet mills and related businesses operating there.
Our private aircraft is equipped with modern technology to improve flight efficiency and safety. To personalize your experience, we strive to provide exceptional customer service. Please visit our "Frequently Asked Questions" section or contact us for additional information.