Monarch Air Group provides private air charter in Cape Coral, FL. Our clients benefit from top-notch service, unrelenting dedication to safety, wide selection of aircraft, and years of experience in chartering private jets. To obtain a free quote, please use our online quoting tool provided below, or call toll-free 1-877-281-3051.
Charter a private jet in Cape Coral
Book a Private Jet Charter to and from Cape Coral, Florida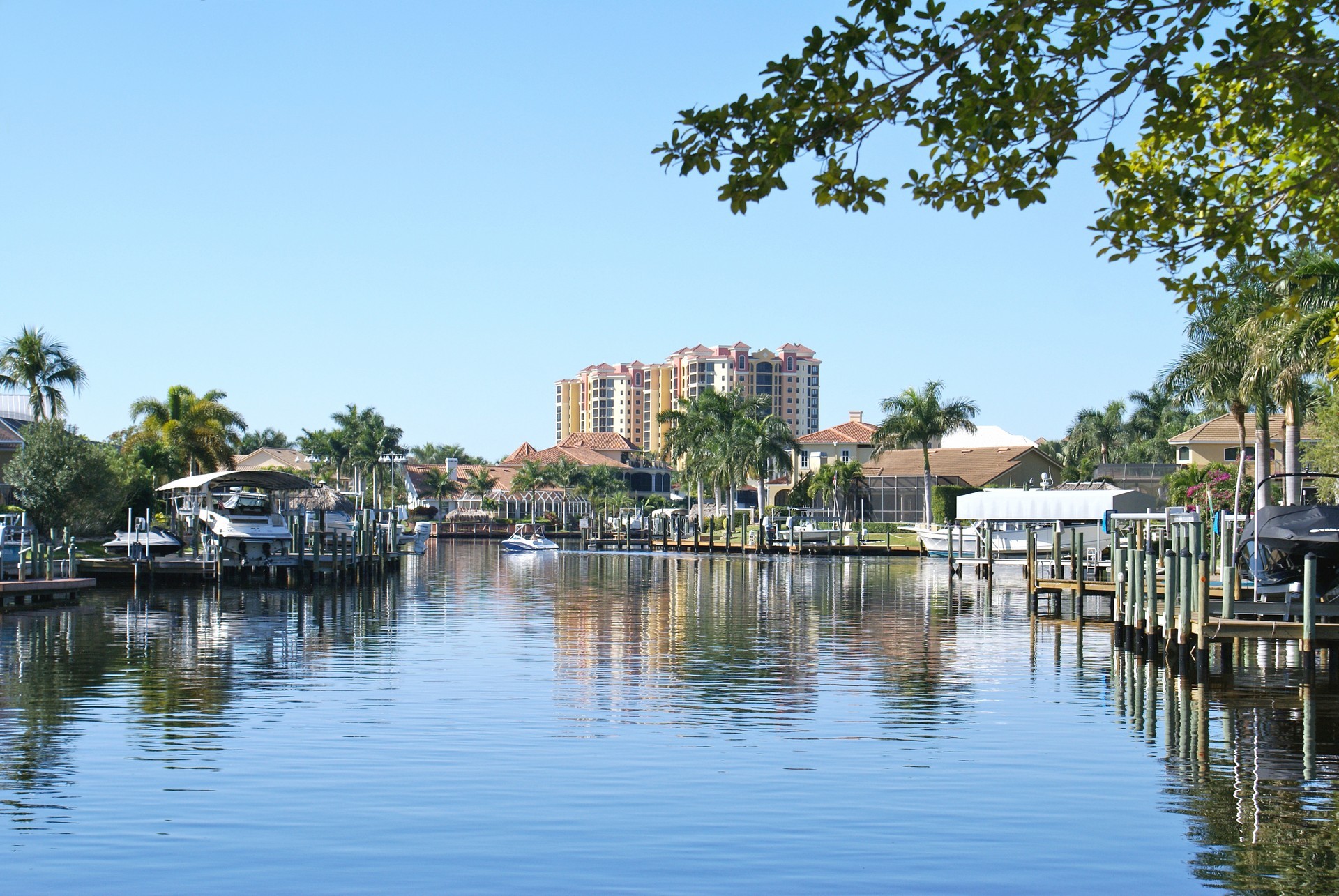 Monarch Air Group provides private jet charter flights in and out of Cape Coral, Florida, USA.
Nicknamed "Waterfront Wonderland", Cape Coral is a resort city in southwestern Florida, near the mouth of the Caloosahatchee River, southwest of Fort Myers. The population of the town is about 154,305 people. With a total area of 120 square miles, it is the largest city between Miami and Tampa. A Cape Coral private jet will get you to your destination quickly. The city's economy is mainly based on health care, local government services, retail, and real estate/construction.
Famous Gulf Coast beaches, family-friendly activities, and green golf courses make Cape Coral private jet charter an attractive travel option. It is a lively and friendly community with a unique charm. A variety of water sports greatly enhance the quality of life in Cape Coral. What's more, the golf courses, tennis courts, sports parks, and nature preserves that a Cape Coral charter flight offers are a bonus.
Book a private flight to Cape Coral to see the most popular attractions, which include Sun Splash Family Waterpark, Cape Coral Yacht Club, Mike Greenwell's Bat-A-Ball & Family Fun Park, Palmetto-Pine Country Club, Cape Coral Historical Museum, HeadPinz Family Entertainment Center, and much more.
The nearest airports are Southwest Florida International Airport (RSW / KRSW), located 14 miles from the city, and Charlotte County Airport (PGD / KPGD), 30 miles from the city, which are perfect for charter jet Cape Coral.
Cape Coral Private Jet Airports within 70 miles
APF, Naples, Naples, United States.
FMY, Page Field, Fort Myers, United States.
IMM, Immokalee, Immokalee, United States.
MRK, Marco Island, Marco Island, United States.
PGD, Charlotte County, Punta Gorda, United States.
RSW, Southwest Florida Reg, Fort Myers, United States.
RTD, Rotunda, Rotunda, United States.
SRQ, Sarasota-Bradenton International Airport, Sarasota, FL, United States.
VNC, Venice Municipal, Venice, FL, United States.
Hotels in Cape Coral
Hideaway Waterfront Resort & Hotel, 4601 Southeast 5th Avenue
Marina Village Resort, 5951 Silver King Boulevard
FAQ for a Private Jet Charter Flights to Cape Coral
Why choose a private jet to Cape Coral with Monarch Air Group?
Monarch Air Group provides private flights to and from Cape Coral, accompanying you through the entire process of booking your private jet. You need to provide us with your private jet information, and we will arrange everything for you. We will provide you with a personalized selection of the best aircraft for your Cape Coral private jet charter. Call one of our agents for a Cape Coral private jet charter.
How much does it cost to book a Cape Coral private jet charter?
Several factors determine the cost of a Cape Coral private jet rental. The price can vary depending on the chosen aircraft model and the specifics of the itinerary. You can contact our experts if you can't find the information you need on air charter Cape Coral. Explore a wide range of possible destinations worldwide and travel most comfortably. What's more, you can get a rough flight cost estimate by using a private jet charter cost estimator.
Here are some approximate prices for private flights to Cape Coral:
Charter a Private Jet to Cape Coral from NYC: from $18,750;
Charter Flights to Cape Coral from DC: from $13,000;
Private Flights to Cape Coral from LA: from $32,300.
*Estimated price before taxes & fees.
What types of private jets can use for Cape Coral charter flights?
Monarch Air Group offers a wide range of solutions for your individual or group charter needs, depending on the range and number of passengers. Each of the aircraft we offer meets the strict standards of private aviation. We value your time, so our consultants will ensure you have Cape Coral charter flights in the shortest possible time.
| Aircraft type | Passengers | Non-stop range | Cruising speed | Intended use |
| --- | --- | --- | --- | --- |
| Light Jet | up to 6 passengers | about 700 – 2000 miles | 476 to 518 mph | for comfortable short- to mid-range distances |
| Midsize Jet | up to 10 passengers | about 1300 – 1500 miles | 422 to 541 mph | to fly nonstop from coast to coast |
| Super midsize Jet | up to 10 passengers | about 3.500 – 4.000 miles | 490 to 590 mph | for longer flights |
| Heavy Jet | up to 18 passengers | about 6.000 miles | 480 to 551 mph | traveling overseas in luxury for an intercontinental flight |
| Turboprops | up to 10 passengers | about 600 – 1.900 miles | 220 to 360 mph | for short- to mid-range flights |
| Ultra-Long Range Jet | up to 19 passengers | about 2,800 – 7,685 miles | 460 to 594 mph | for long-haul travels |
| Helicopters | up to 28 passengers | about 250 – 600 miles | 150 to 175 mph | for passenger and cargo transportation |
What are the advantages of flying on a Cape Coral private jet?
Renting a private jet has some undeniable advantages over commercial flights. When renting a private jet, you can choose precisely when you want to fly and with whom. This means you can be closer to your destination and fly to distant destinations. Another significant benefit is that landing time is significantly reduced. Also, with private plane charters in Cape Coral, hotel transfers, ground transportation, or individual onboard meals are available.
Popular destinations near Cape Coral by private jet
Tampa – is a modern business center with excellent business opportunities and fascinating historical sites.
Destin – is famous for its beautiful beaches and excellent golf courses.
Pensacola – is a seaside town with safe, sandy beaches and various activities perfect for kids.
Fort Lauderdale – is a popular tourist destination with gorgeous natural scenery, fine restaurants, and luxury hotels.
Our clients travel on efficient and comfortable private jets. If you haven't found the answers to all your questions, you can contact our experienced and reliable team at any time or visit our air charter FAQ page.