Monarch Air Group provides private air charter in Caceres, Spain. Our clients benefit from top-notch service, unrelenting dedication to safety, wide selection of aircraft, and years of experience in chartering private jets. To obtain a free quote, please use our online quoting tool provided below, or call toll free 1-877-281-3051.
Charter a private jet to&from Caceres
About Caceres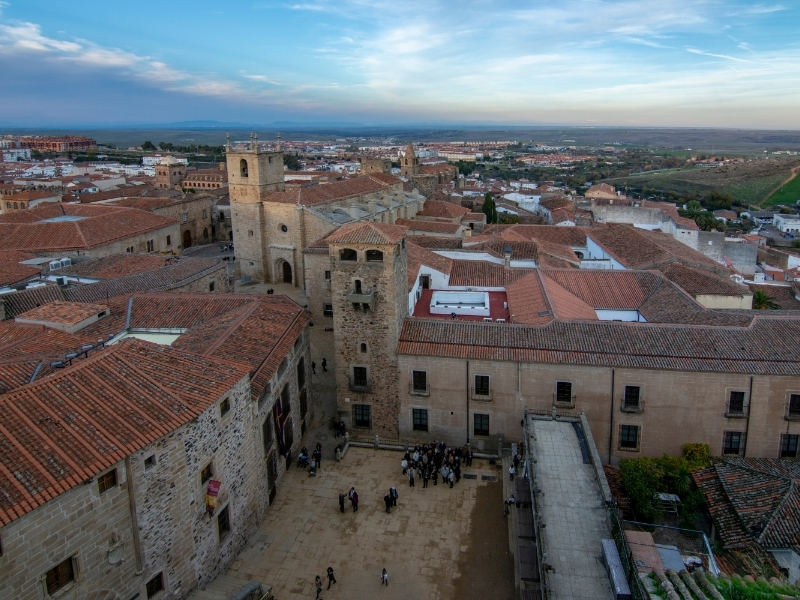 Monarch Air Group offers private jet charter services to and from Caceres, Spain.
Cáceres is a city in western Spain's Extremadura region. Although founded by ancient Romans, reflections of many civilizations are visible in the town's architecture. Castillo de Montánchez was built on high ground during the times of Moorish Spain. Here you can see the remnants of walls built by the Moors in the 12th Century to protect the city.
A guided tour of Real Monasterio De Santa Maria de Guadalupe takes visitors back centuries ago when the church was constructed after a small piece of wood was discovered by a farmer. No ordinary piece of wood, villagers believed that it resembled the Virgin Mary and that the sacred symbol brought them victory in battle. You can still see this famous artifact in the church. To explore the history of Caceres' Old Town, walk along the cobblestone medieval streets. Here you can retrace centuries of stories told by the city's architecture, cuisine and the modern people who thrive in the rich culture of this Spanish city.
Badajoz Airport (LEBZ) is located approximately 75 miles (121 km) from the Cáceres city center. Empty legs and transient aircraft are extremely popular in the region.
Caceres Map
Airports within 70 miles For Private Jets to Caceres
1. SVQ, Seville Airport, Seville, Spain
2. LEC, -Cuatro Vientos Airport, Madrid, Spain
3. LIS, Lisbon Portela Airport, Lisbon, Portugal
4. MAD, Madrid-Barajas Airport, Madrid, Spain
5. XRY, Jerez Airport, Jerez, Spain
6. OPO, Francisco de Sá Carneiro Airport, Porto, Portugal
7. FAO, Faro Airport, Faro, Portugal
8. BJZ, Badajoz Airport, Badajoz, Spain
9. SLM, Salamanca-Matacán Airport, Salamanca, Spain
10. VLL, Valladolid Airport, Valladolid, Spain