Monarch Air Group provides private air charter in Budapest, Hungary. Our clients benefit from top-notch service, unrelenting dedication to safety, wide selection of aircraft, and years of experience in chartering private jets. To obtain a free quote, please use our online quoting tool provided below, or call toll-free 1-877-281-3051.
Charter a private jet to&from Budapest, Hungary
About Budapest, Hungary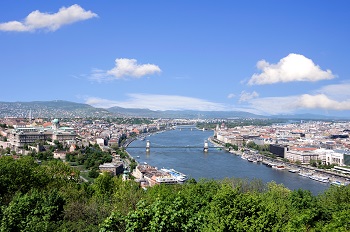 Monarch Air Group handles private charter flights to and from Budapest, Hungary.
You can fly in and out of Budapest on one of over 15,000 aircraft types. The Budapest Franz Liszt International Airport (BUD) is located within just ten miles from the city and it is the largest of 5 international airports of the country. The most popular aircraft types include light jets (Premier IA, Citation CJ3, Citation Encore), midsize jets (Hawker 800 XP, Learjet 60XR), and large jets (Legacy 600, Falcon 2000, Challenger 604).
About Budapest and Places to Visit
Budapest is the largest city and the capital of Hungary. It's the commercial, political, transportation, industrial, and cultural center of Hungary. Originally Budapest was built as 2 cities Buda and Pest on both sides of the Danube River. These 2 districts still have their contrast – with older and more attractive Buda and more commercial Pest. Nicknamed "Queen of the Danube", the city of Budapest has regal bridges, beautiful architecture, and graceful tree-lined boulevards.
Budapest is rich in UNESCO World Heritage places, including the Buda Castle District, the Danube embankments, Heroes' Square, Andrassy Avenue with the Millennium Underground Railway. The most popular attractions include the Royal Palace, Gellert Hill, Hangarian National Gallery, Chain Bridge, Great Synagogue and Jewish Museum, Memento Park, Vidam Park, Fisherman's Bastion, Budapest Sports Arena, Great Circus, and Budapest Puppet Theater.
Budapest Airports within 70 miles
BUD, Ferihegy, Budapest, Hungary
LUE, Lucenec, Lucenec, Slovakia
Hotels in Budapest
Millennium Court, Budapest – Marriott Executive Apartments, Budapest, Piarista utca 4
Hilton Budapest City, Budapest, Váci út 1-3
Sofitel Budapest Chain Bridge, Budapest, Széchenyi István tér 2
Best Western Plus Hotel Ambra, Budapest, Kis Diófa utca 13
Prestige Hotel Budapest****Superior, Budapest, Vigyázó Ferenc utca 5
Four Seasons Hotel Gresham Palace Budapest, Budapest, Széchenyi István tér 5-6
Lánchíd 19 Design Hotel Budapest, Budapest, Lánchíd utca 19
Marriott Budapest Hotel, Budapest, Apáczai Csere János utca 4
The Ritz-Carlton, Budapest, Budapest, Erzsébet tér 9
Corinthia Hotel Budapest, Budapest, Erzsébet körút 43
Courtyard Budapest City Center, Budapest, József körút 5
Boscolo Budapest, Autograph Collection, Budapest, Erzsébet körút 9
InterContinental Budapest, Budapest, Apáczai Csere János utca 12-14
Bo33 Hotel****Family & Suites, Budapest, Szövetség utca 33
Aria Hotel Budapest, Budapest, Hercegprímás 5
Kempinski Hotel Corvinus Budapest, Budapest, Erzsébet tér 7
FAQ for flying private to/from Budapest
Why choose charter jet Budapest?
Budapest is a metropolis of adventure and cosmopolitan capital that shatters all preconceived notions of vacationing. It is a popular destination for private jets and thrill-seekers. Regardless of the objective, Budapest private jet provides the highest level of service on board and a quick trip in high comfort. With air charter Budapest, it gives you great flexibility and convenience, as well as on-time arrival, and unlimited freedom for travel.
How much does it сost to charter a private jet to Budapest?
In the private aviation market, there are different models of different costs. Private jet charters serve hundreds of airports and provide a great deal of flexibility for business travelers. Prices for private plane charter Budapest may vary depending on destination, flight time, and the number of people on board. To get an accurate price for your desired private jet flight, please submit the flight request form, or call our agents 24/7 at 1-877-281-3051.
Here are some approximate prices for private jet charter flights to or from Budapest:
Private jet flights from Budapest to Los Angeles: Heavy jet – starting at $ 109,260;
Hire a private jet from Budapest to Prague: midsize jet – starting at $ 9,660;
Private jet flights from Budapest to London: turboprop – starting at $ 17,420;
Hire a private jet from Budapest to Paris: midsize jet – starting at $ 14,950;
Hire a private jet from Budapest to Amsterdam: light jet – starting at $ 21,280.
What is the best aircraft for Budapest charter flights?
No matter the size of your group or the amount of luggage you have, we can arrange the right Budapest air charter for you. Modern airports in Hungary are well-equipped to take private jets, giving you maximum flexibility in your aircraft choice. When choosing a private jet charter in Budapest it is necessary to consider the number of passengers on board, the non-stop flight distance, and your personal preferences.
| Aircraft type | Passengers | Non-stop range | Cruising speed | Intended use |
| --- | --- | --- | --- | --- |
| Light Jet | up to 6 passengers | about 700 – 2000 miles | 476 to 518 mph | for comfortable short- to mid-range distances |
| Midsize Jet | up to 10 passengers | about 1300 – 1500 miles | 422 to 541 mph | to fly nonstop from coast to coast |
| Super midsize Jet | up to 10 passengers | about 3.500 – 4.000 miles | 490 to 590 mph | for longer flights |
| Heavy Jet | up to 18 passengers | about 6.000 miles | 480 to 551 mph | traveling overseas in luxury for intercontinental flight |
| Turboprops  | up to 10 passengers | about 600 – 1.900 miles | 220 to 360  mph | for short- to mid-range flights |
| Ultra-Long Range Jet | up to 19 passengers | about 2,800 – 7,685 miles | 460 to 594 mph | for long-haul travels |
| Helicopters | up to 28 passengers | about 250 – 600 miles | 150 to 175 mph | for passenger and cargo transportation |
What is the advantage of flying on a Budapest private jet?
Traveling by private jet has many advantages. Private jets can usually fly directly to the place where you need to conduct business. As a result, it saves you money on ground transportation and often on lodging costs as well. Every aspect of your air charter Budapest trip is tailored to your unique tastes and purpose of travel.
How to book a Budapest empty leg flight?
Empty legs are a popular way for private aviation customers to save money on an executive class jet charter. These are the return "legs" of flights on which passengers have chartered a one-way ticket only. For more information, please submit the
flight request form
.
Popular Destinations near Budapest by Private Jet
Private aviation clients travel in luxurious, efficient, and comfortable private jets. If you don't find answers to all your important questions here, you can contact our experienced and reliable team at any time or visit the private jet charter FAQ page.