Monarch Air Group provides private air charter in Bristol, UK. Our clients benefit from top-notch service, unrelenting dedication to safety, wide selection of aircraft, and years of experience in chartering private jets. To obtain a free quote, please use our online quoting tool provided below, or call toll free 1-877-281-3051.
Charter a private jet to&from Bristol, UK
About Bristol, UK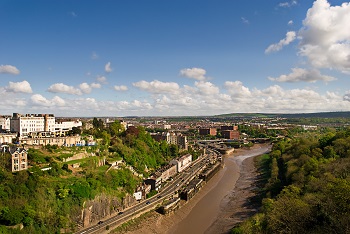 Monarch Air Group offers private jet charter services to and from Bristol, UK. Situated on the River Avon about 10 km (6 miles) from the Bristol Channel, Bristol is the largest city in the southwest of England and an important historic port. There are many tourist attractions, historic buildings, boats, and great restaurants.
The most famous attractions include the Bristol Clifton Observatory, the Clifton Suspension Bridge, the Avon Valley Steam Railway, the Bristol Hippodrome, the Empire and Commonwealth Museum, the City Museum and Art Gallery, the Industrial Museum, the Colston Hall, the Bristol Old Vic, the Cabot Tower, Bristol Blue Glass and others. Bristol's city center has three world-class shopping centers, countless back-street boutiques visitors and provides to its visitors fantastic shopping opportunities in the South West.
The city of Bristol hosts many festivals and events throughout the year, which include kite flying, balloon fiestas, theatrical performances, art exhibitions, open-air concerts and street carnivals, reflecting the city's diversity and style. Bristol is a dynamic city, which has a vibrant nightlife with one of the best live music scenes in the country. The city is served by the Bristol International Airport, which is located just 8 miles south of Bristol city center and directly west of Bath.
Bristol Airports within 70 miles
1. ABB, RAF Station, Abingdon, United Kingdom
2. ADV, Andover, Andover, United Kingdom
3. BEX, RAF Station, Benson, United Kingdom
4. BOH, Bournemouth International, Bournemouth, United Kingdom
5. BRF, Bradford, Bradford, United Kingdom
6. BRS, Bristol, Bristol, United Kingdom
7. BZZ, Raf Brize Norton, Oxford, United Kingdom
8. CWL, Cardiff-wales Arpt, Cardiff, United Kingdom
9. EWY, Greenham RAF, Newbury, United Kingdom
10. EXT, Exeter, Exeter, United Kingdom
11. FFD, RAF Station, Fairford, United Kingdom
12. FZO, Filton, Bristol, United Kingdom
13. GLO, Gloucestershire, Gloucester, United Kingdom
14. GUN, Gunter AFB, Montgomery, United Kingdom
15. GXH, NAF, Mildenhall, United Kingdom
16. LYE, RAF Station, Lyneham, United Kingdom
17. MWS, Mount Wilson, Mount Wilson, United Kingdom
18. OXF, Oxford (Kidlington), Oxford, United Kingdom
19. SOU, Southampton Airport, Eastleigh near Southampton, United Kingdom
20. SWI, Gypsy, Swindon, United Kingdom
Hotels in Bristol
1. Bristol Marriott Royal Hotel, College Green, Bristol
2. DoubleTree by Hilton Hotel Bristol City Centre, Redcliffe Way, Bristol
3. Radisson Blu Hotel, Broad Quay, Bristol
4. Holiday Inn Bristol City Centre, Bond Street South, Bristol
5. Bristol Marriott Hotel City Centre, 2 Lower Castle Street, Bristol
6. Holiday Inn Express, Townsend House, Pump Lane, Bristol
7. Hilton Garden Inn Bristol City Centre, Temple Way, Bristol
8. The Bristol Hotel, Prince Street, Bristol
9. Hotel du Vin & Bistro Bristol, The Sugar House, Narrow Lewins Mead, Bristol
10. Avon Gorge Hotel, Sion Hill, Bristol
11. Novotel, Victoria Street, Bristol
12. Future Inns, Cabot Circus, Bond St South, Bristol
13. The Grand Hotel Bristol, Broad Street, Bristol
14. Premier Inn Bristol City Centre Haymarket, Avon House, The Haymarket, Bristol
15. Number 38 Clifton, 38 Upper Belgrave Road, Bristol