Monarch Air Group provides private air charter in Bregenz. Our clients benefit from top-notch service, unrelenting dedication to safety, wide selection of aircraft, and years of experience in chartering private jets. To obtain a free quote, please use our online quoting tool provided below, or call toll-free 1-877-281-3051.
Charter a private jet in Bregenz:
About Bregenz, Austria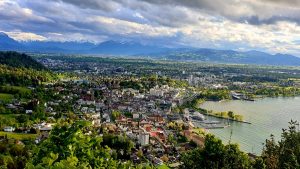 Monarch Air Group offers a great variety of private jet charter options to and from Bregenz, Austria.
Situated on the eastern shores of the Lake Constance, Bregenz is the capital city of Vorarlberg. Bregenz is a homeland for the world-famous festival Bregenzer Festspiele held in summer every year. The city is also known for its cultural institutions, including the spectacular art galleries and world-class museums, making Bregenz a popular destination among museum hoppers.
The top-visited tourist attractions in Bregenz are the Art House, Martins Tower, Pfaenderbahn, St. Gallus Church, Pfander, Vorarlberg Museum, Kunsthaus Bregenz, Bregenzerwald Cheese Road, Casino Bregenz, Frauenmuseum, Mehrerau Monastery, and St. Nepomuk Chapel, among the others.
The city is served by St. Gallen-Altenrhein Airport located 29 km from the city center, and Bodensee Airport, Friedrichshafen located 42 km from the city. Both airports provide international flights.
Bregenz Airports within 70 miles
1. ACH, Altenrhein, Altenrhein, Switzerland.
2. FDH, Friedrichshafen, Friedrichshafen, Germany.
3. HOH, Hohenems, Hohenems, Austria.
4. QLX, Lauterach, Lauterach, Austria.
5. SMV, Samedan, St Moritz, Switzerland.
6. ZRH, Zurich-Kloten, Zurich, Switzerland.
Hotels in Bregenz
1. Hotel Weisses Kreuz, Römerstraße 5, Bregenz.
2. Hotel Schwärzler, Landstraße 9, Bregenz.
3. Hotel Germania, Am Steinenbach 9, Bregenz.
4. MentalSpa-Hotel Fritsch am Berg****, Buchenberg 10, Lochau.
5. SENTIDO Seehotel Am Kaiserstrand, Am Kaiserstrand 1, Lochau.
6. JUFA Hotel Bregenz am Bodensee, Mehrerauerstraße 5, Bregenz.
7. Sternen Hotel, Sternenplatz 4, Wolfurt.
8. Messmer Hotel am Kornmarkt, Kornmarktstraße 16, Bregenz.
9. Hotel Bodensee GmbH, Kornmarktstraße 22, Bregenz.
10. Deuringschlößle Hotel u. Restaurant GmbH, Ehregutaplatz 4, Bregenz.
11. Hotel Nagel, Bregenzer Straße 193A, Lindau (Bodensee).
12. Hotel am See, Uferstraße 1, Hard.
13. Hotel Schönblick, Dorf 6, Eichenberg.