Monarch Air Group provides private air charter in Brazil. Our clients benefit from top-notch service, unrelenting dedication to safety, wide selection of aircraft, and years of experience in chartering private jets. To obtain a free quote, please use our online quoting tool provided below, or call toll-free 1-877-281-3051.
Charter a private jet to Brazil
Book a Private Jet Charter to and from Brazil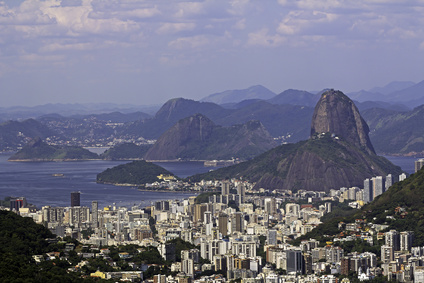 Monarch Air Group offers a wide variety of private jet charter options to and from Brazil.
The country of wild, rhythm-filled metropolises, spectacular white-sand beaches, breathtaking waterfalls, coral-packed tropical islands, and verdant rainforests, Brazil is one of the most popular tourist attractions in the world that draw more than 5 million people annually. It is the fifth largest country in the world by population and area, and the largest country in Latin America and South America. The country's economy is the ninth largest in the world by nominal GDP.
The top-rated tourist attractions include the Cristo Redentor in Rio de Janeiro, Sugar Loaf in Rio de Janeiro, Iguacu Falls, Carnaval, Copacabana, Amazon Rain Forests, Brasilia's Modernist Architecture, Salvador's Pelourinho, Ouro Preto, Pernambuco Beaches, Belo Horizonte, Art Museums of Sao Paulo, and many others.
Brazil is home to around 2,500 airports. The largest and busiest one is Sao Paulo-Guarulhos International Airport, which serves up to 20 million passengers annually. Other busy airports are the Presidente Juscelino Kubitschek International Airport, Congonhas Airport, Galeao International Airport, Tancredo Neves-Confins International Airport, and Viracopos International Airport.
Brazil Airports within 70 miles
1. JTI, Jatai, Jatai, Brazil.
2. NOK, Nova Xavantina, Nova Xavantina, Brazil.
FAQ for flying private to Brazil
Why choose charter jet Brazil with Monarch Air Group?
The services of business aviation remain in high demand from year to year. Brazil is one of the most popular destinations for private jet flights. Our company for many years engaged in providing services Brazil private jet charter and can provide you with maximum comfort during the flight. Local airports can accommodate aircraft of all classes. Please call one of our agents to arrange your charter jet to Brazil.
How much does it cost to book a Brazilian private jet charter?
The price of a Brazilian private jet depends on some factors such as the number of passengers, aircraft type, food and beverage preferences, etc. The exact price of an air charter Brazil will be known after detailed consultation with our specialists. One of our specialists will get in touch with you and elaborate on the information on the flight dates and route. Also, you can use the charter flight calculator on our website.
Here are some approximate prices for private jet charter flights to Brazil:
Charter a Private Jet from London to Rio De Janeiro: heavy jet – starting at $ 135,820;
Charter Flights from Miami to Rio De Janeiro: super-midsize jet – starting at $ 87,750;
Private Charter Flights from Los Angeles to Rio De Janeiro: heavy jet – starting at $ 148,290.
Which airplane should I choose for Brazil charter flights?
Aircraft for air charter service in Brazil is chosen according to the requirements of the customers. We are always ready to tell you in detail about each aircraft, the flight itself, and the environment in which it takes place. All this allows us to guarantee impeccable service and favorable conditions for aircraft rentals. To inquire about the aircraft you are interested in, please submit the flight request form, or call our agents 24/7 at 1-877-281-3051.
| Aircraft type | Passengers | Non-stop range | Cruising speed | Intended use |
| --- | --- | --- | --- | --- |
| Light Jet | up to 6 passengers | about 700 – 2000 miles | 476 to 518 mph | for comfortable short- to mid-range distances |
| Midsize Jet | up to 10 passengers | about 1300 – 1500 miles | 422 to 541 mph | to fly nonstop from coast to coast |
| Super midsize Jet | up to 10 passengers | about 3.500 – 4.000 miles | 490 to 590 mph | for longer flights |
| Heavy Jet | up to 18 passengers | about 6.000 miles | 480 to 551 mph | traveling overseas in luxury for an intercontinental flight |
| Turboprops | up to 10 passengers | about 600 – 1.900 miles | 220 to 360  mph | for short- to mid-range flights |
| Ultra-Long Range Jet | up to 19 passengers | about 2,800 – 7,685 miles | 460 to 594 mph | for long-haul travels |
| Helicopters | up to 28 passengers | about 250 – 600 miles | 150 to 175 mph | for passenger and cargo transportation |
What are the advantages of flying on a Brazilian private jet?
There are some distinct advantages of renting a private jet over commercial flights. Modern business jets are well equipped and suited to the different needs of customers. A kitchen, mini-bar, separate lavatory, and work area with all the necessary equipment, internet, and entertainment systems may be installed onboard. In addition, you can take advantage of a group charter flight, and choose a plane that suits you. For more information on private plane charter Brazil, please contact our consultants.
Popular Destinations in Brazil by Private Jet
Brasilia – is located in west-central Brazil, the capital and a major economic center with excellent opportunities for leisure or business.
Curitiba – has an impressive infrastructure, rich cultural heritage, and demonstrates conservation efforts.
Rio de Janeiro – is Brazil's second-largest city, surrounded by magnificent mountains with many attractions and activities for private charter passengers.
Sao Paulo – visit by private charter Brazil's famous cultural and entertainment center, the capital of the state of Sao Paulo with its vibrant nightlife, annual festivals, and great places to relax.
Our clients travel on efficient and comfortable private jets. If you haven't found the answers to all your questions here, you can contact our experienced and reliable team at any time or visit our air charter FAQ page.