Monarch Air Group provides private air charter in Bratislava, Slovakia. Our clients benefit from top-notch service, unrelenting dedication to safety, a wide selection of aircraft, and years of experience in chartering private jets. To obtain a free quote, please use our online quoting tool provided below, or call toll-free at 1-877-281-3051.
Charter a private jet to&from Bratislava, Slovakia
About Bratislava, Slovakia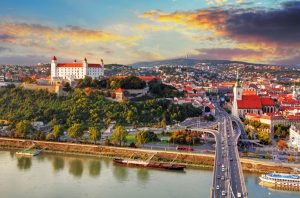 Monarch Air Group offers private jet charter services to and from Bratislava, Slovakia.
Situated on the river Danube, about 60 km East of Vienna, Bratislava is the capital and the largest city of Slovakia. It is the economic, administrative, cultural and business center of the country. With a population of 450,000, Bratislava is an old European city with well-preserved architecture, cliff-top castles glorious alpine scenery.
The center of Bratislava is also called the Old Town of Bratislava, which has many historical places of interest to see. The most popular tourist attractions are the Grassalkovich Palace, the St.Martin's Cathedral, the Church of St.Elisabeth, the Devin Castle, the Bratislava Castle, the Mirbach Palace, the New Bridge, the Palffy Palace, the National Theatre, Slavin, the Slovak Radio Building, the Bratislava City Gallery, and the Slovak National Gallery. The most popular outdoor activities are walking in the woods, especially in well-known Koliba with its radio tower, or close in-city forests in Horsky Park, Devinska Kobyla, and Zelezne Studienka.
Bratislava Airports within 70 miles
1. BTS, M. R. Stefanika, Bratislava, Slovakia.
2. PZY, Piestany, Piestany, Slovakia.
3. UHE, Kunovice, Uherske Hradiste, Czech Republic.
4. VDD, Vienna Danubepier Hov, Vienna, Austria.
5. VIE, Schwechat International, Vienna, Austria.
6. XWC, Suedbahnhof Rail, Vienna, Austria.
7. XWW, Westbahnhof Rail, Vienna, Austria.
Hotels in Bratislava
1. DoubleTree by Hilton Hotel Bratislava, Trnavská cesta 27/A, Bratislava.
2. Radisson Blu Carlton Hotel, Hviezdoslavovo námestie 185/3, Bratislava.
3. Grand hotel River park, Dvořákovo nábrežie 7528/6, Bratislava.
4. Holiday Inn Bratislava, Bajkalská 748/25A, Bratislava.
5. Crowne Plaza, Hodžovo námestie 568/2, Bratislava.
6. Sheraton Bratislava Hotel, Pribinova 12, Ružinov.
7. LOFT Hotel Bratislava, Štefánikova 864/4, Bratislava.
8. Marrol's Boutique Hotel, Tobrucká 6953/4, Bratislava.
9. Austria Trend Hotel Bratislava, Vysoká 7490/2A, Bratislava.
10. Danubia Gate, Dunajská 2314/26, Bratislava.
11. SKARITZ Hotel & Residence, Michalská 382/4, Bratislava.
12. Hotel Devín, Riečna 162/4, Bratislava.
13. Falkensteiner Hotel Bratislava, Pilárikova 7372/5, Bratislava.
14. Mercure Bratislava Centrum Hotel, Zabotova street 2, Bratislava 1, Bratislava.
15. Hotel Arcadia, Františkánska 424/3, Staré Mesto.
16. Hotel ibis Bratislava Centrum, Zamocka 38, Bratislava.
17. Hotel Avance, Medená 7426/9, Bratislava.
18. Tulip House Boutique Hotel, Štúrova 15/10, Bratislava.
19. Hotel Michalská brána, Baštová 347/4, Staré Mesto.
20. Apollo Hotel, Dulovo námestie 1, Bratislava.