Monarch Air Group provides private air charter in Bologna, Italy. Our clients benefit from top-notch service, unrelenting dedication to safety, wide selection of aircraft, and years of experience in chartering private jets. To obtain a free quote, please use our online quoting tool provided below, or call toll-free 1-877-281-3051.
Charter a private jet to&from Bologna, Italy
Private Jet Charter to and from Bologna, Italy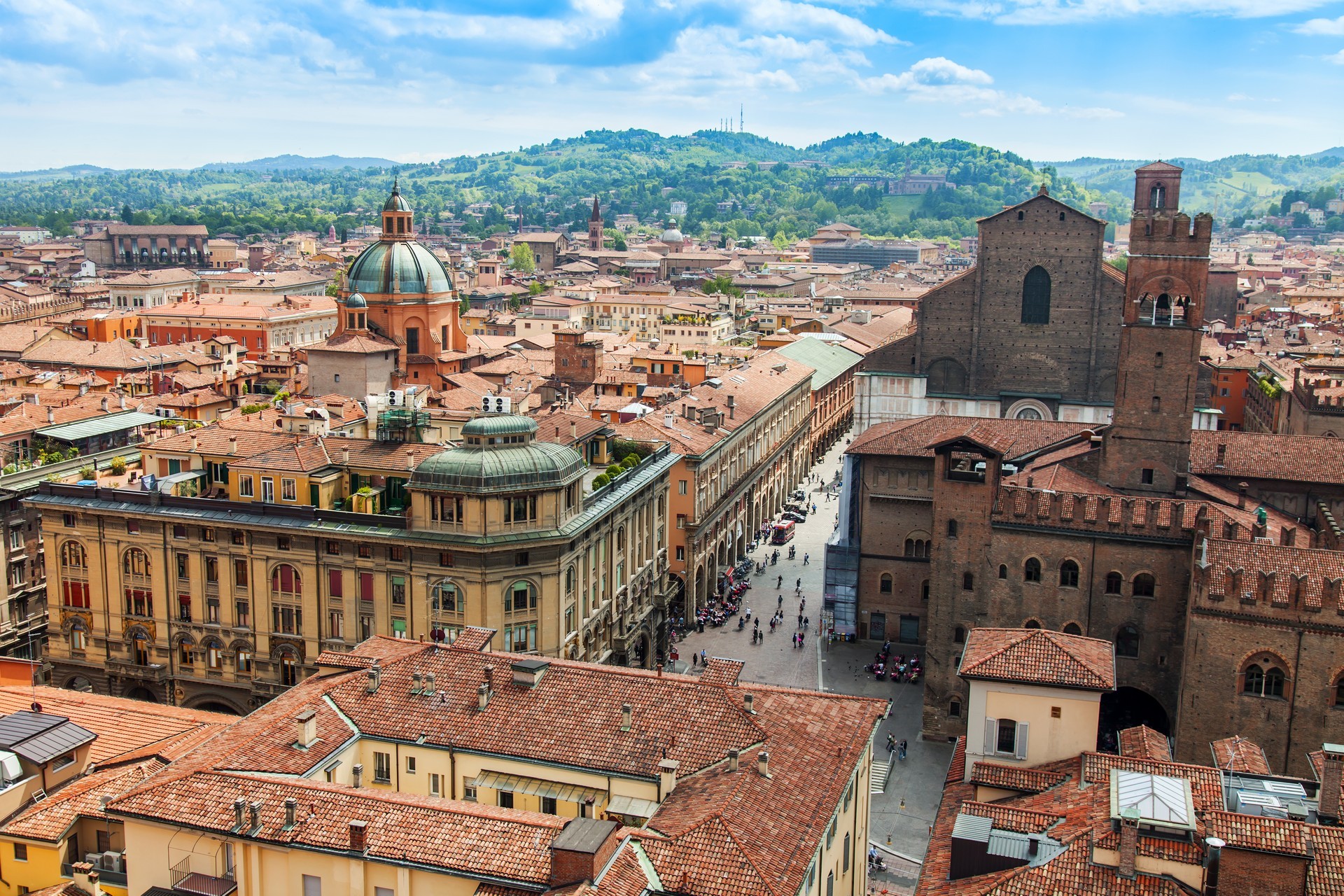 Monarch Air Group offers private jet charter services to and from Bologna, Italy.
Bologna is situated within fifty miles of five airports including Bologna Airport (BLQ), which is located within the city itself. The other nearby airport is Reggio Emilia Airport (LIDE). The most popular aircraft types are light jets (the Premier IA, Citation CJ3 and Piaggio Avanti), midsize jets (the Hawker 850 XP, Citation VII and Gulfstream G150) and large jets (the Falcon 2000 LX, Challenger 604 and Gulfstream 450).
About Bologna and Places to See
Nestled in northern Italy, embraced by the Apennines, Bologna stands proudly as the capital of the Emilia-Romagna region. Positioned 94 miles southwest of Venice, 32 miles south of Ferrara, and 234 miles north of Rome, this vibrant city allures visitors with its abundant history, distinctive culture, and time-honored traditions. Bologna private jet charter stands as an irresistible travel destination, beckoning tourists from around the globe.
Once you've chartered a private jet to Bologna, start your journey in the heart of Bologna at Piazza Maggiore, a lively square that has been the city's social and cultural center for centuries. Marvel at the impressive Basilica di San Petronio, one of the largest churches in the world, and soak in the atmosphere as locals and tourists mingle in the bustling cafes and shops that surround the square.
For panoramic views of the city, climb the iconic Asinelli Tower, the tallest of Bologna's medieval towers. It's a challenging climb with over 500 steps, but the breathtaking vistas of the cityscape make it all worthwhile. Take a moment to catch your breath and admire the red-tiled roofs and historical landmarks that stretch as far as the eye can see. In addition, with a private jet to Bologna, visit the Basilica di Santo Stefano. Known as the Seven Churches, the Basilica di Santo Stefano is a complex of interconnected religious buildings that date back to the 5th century. Admire the unique architectural styles, hidden courtyards, and tranquil cloisters as you wander through this spiritual oasis.
The University of Bologna is the oldest university in the Western world, and its historic buildings and charming courtyards are a testament to its prestigious past. Book a private jet to Bologna and explore the Archiginnasio, the former main building of the university, which now houses an impressive library and a fascinating anatomical theater. Immerse yourself in the knowledge and history that permeates every corner of this academic institution.
Bologna is famous for its porticoes, covered walkways that line the city's streets and stretch for kilometers. Rent a private jet to Bologna and stroll along the longest portico in the world, the Portico di San Luca, which leads up to the hilltop Basilica di San Luca. As you ascend, enjoy panoramic views of the city and marvel at the architectural marvel that connects the city to its beloved sanctuary.
Situated in the Emilia-Romagna region of Italy, approximately 3.7 miles northwest of the city center, Bologna Guglielmo Marconi Airport is an international airport that caters to the bustling city of Bologna.
Bologna Private Jet Rental Cost
Bologna's private jet rental ranges from $2,000 – $17,000 per billable flight hour or more. Turboprop jets cost from $1,800 to $2,400 per hour, light jets cost from $2,400 to $3,900, mid-size or super-midsize jets cost from $4,200 to $8,100 per flight hour, while heavy and ultra-long range jets per flight hour cost from $7,200 to $17,800.
Airports for Private Jet near Bologna
BLQ, LIPE, Bologna Guglielmo Marconi Airport
FAQ: Private Jet Flights to Bologna
Why choose a charter jet to Bologna with Monarch Air Group?
When you contact Monarch Air Group to plan your one-of-a-kind trip to Bologna, your enjoyment and comfort will always take priority. Our private aircraft are outfitted with cutting-edge technology to enhance your flight experience. Your journey should be memorable, pleasurable, and unique.
What Types of the Private Jets Can Use for Bologna?
When selecting a private aircraft for travel to Bologna, Monarch Air Group considers a number of crucial factors. Included are the route, price, required range, and passenger count. When providing charter services, your safety, comfort, and enjoyment of the journey are our top priorities.
What are the Benefits of Flying Bologna Private Jet?
Traveling via private aircraft offers several advantages. When you charter a private jet to Bologna, you may choose the people and locations you wish to see. According to the number of passengers and the number of available departure seats, we may be able to provide you with an opulent private aircraft. Our travel consultant is available to assist you with any travel-related needs seven days a week, twenty-four hours a day.
Can I Bring My Pet on a Private Jet to Bologna?
As Monarch Air Group values and cherishes all animals, we are pleased to offer pet-friendly flights to Bologna. However, it is essential to understand each flight's specific requirements and restrictions. We prioritize the safety and comfort of your traveling companions.
Popular Destinations near Bologna by Private Jet
Located about 62 miles southeast of Bologna, Florence is renowned for its remarkable Renaissance art and architecture, including the famous Duomo, Uffizi Gallery, and Ponte Vecchio.
Approximately 50 miles east of Bologna, Ravenna is renowned for its Byzantine mosaics and historical monuments. Visit the UNESCO World Heritage sites, including the Basilica of San Vitale and the Mausoleum of Galla Placidia.
Ferrara boasts a rich heritage dating back to the Middle Ages and Renaissance. The historic center of Ferrara has been recognized as a UNESCO World Heritage Site since 1995. It is renowned for its well-preserved medieval and Renaissance architecture, reflecting its past glory.
Our private aircraft are equipped with cutting-edge technology to ensure the efficacy and safety of your flight. We strive to provide exceptional customer service and all the necessary details for a unique experience. Please consult our "Frequently Asked Questions" section or contact us for additional information.