Monarch Air Group provides private air charter in Beverly Hills, CA. Our clients benefit from top-notch service, unrelenting dedication to safety, wide selection of aircraft, and years of experience in chartering private jets. To obtain a free quote, please use our online quoting tool provided below, or call toll-free 1-877-281-3051.
Charter a private jet to/from Beverly Hills
Private Jet Charter to and from Beverly Hills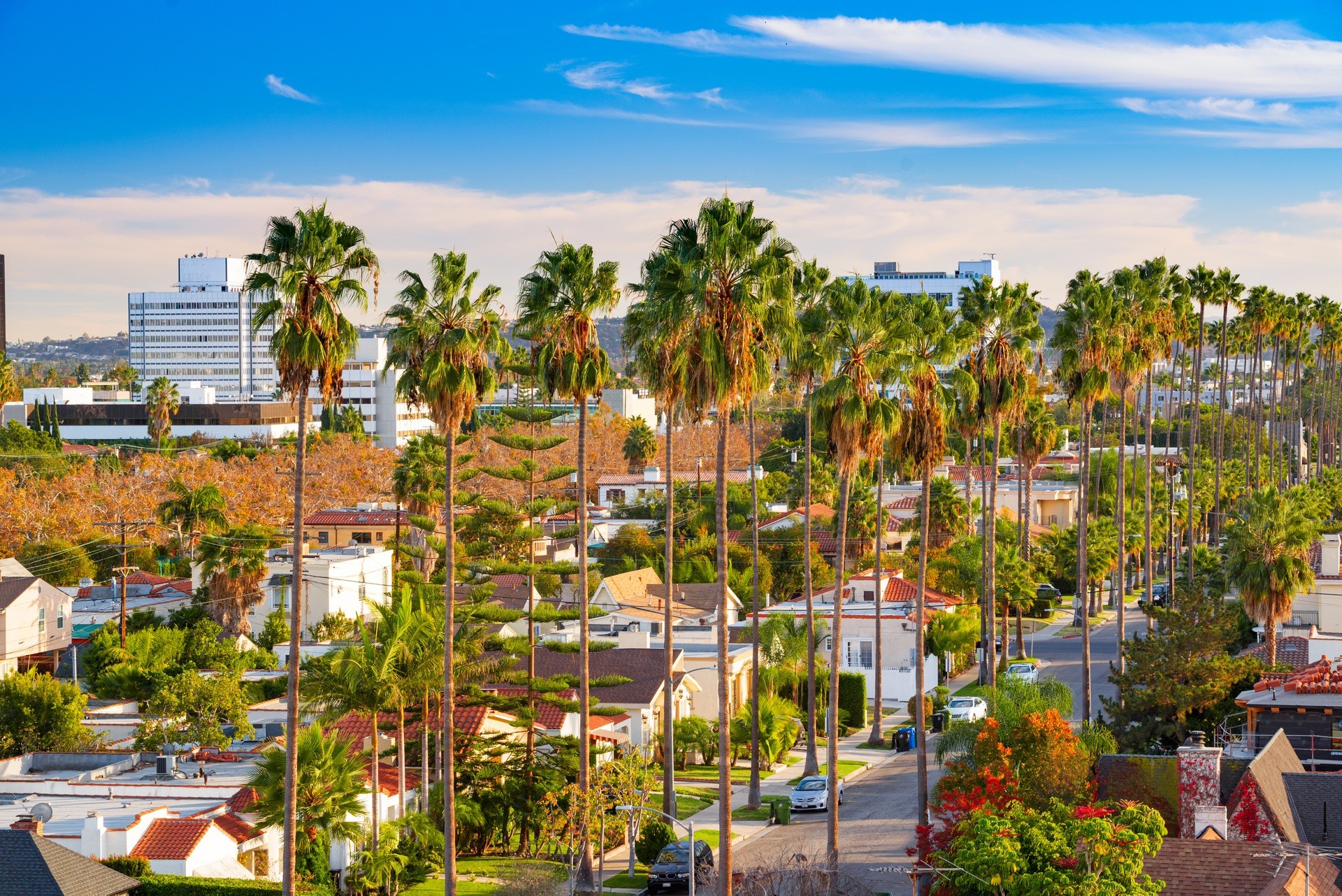 Monarch Air Group provides private jet charter flights to and from Beverly Hills, California.
Beverly Hills, the epitome of luxury and sophistication, is a world-renowned destination that exudes glamour at every turn. Located in the heart of Los Angeles, California, this iconic city boasts pristine streets lined with palm trees, opulent mansions, high-end boutiques, and a thriving cultural scene. Whether you're a visitor or a local, Beverly Hills private jet flight offers a treasure trove of experiences to indulge your senses and create lasting memories.
No visit to Beverly Hills is complete without a stroll down Rodeo Drive, the world-famous shopping destination. Home to luxurious designer boutiques such as Gucci, Prada, and Louis Vuitton, Rodeo Drive offers a blend of high fashion, exquisite jewelry, and chic accessories. Even if shopping isn't on your agenda, the window displays alone are a sight to behold. Book a private jet to Beverly Hills and capture the essence of Beverly Hills' elegance as you take in the iconic storefronts and spot a celebrity or two.
Once you've chartered a private jet to Beverly Hills, step back in time with a visit to the historic Greystone Mansion and Gardens. This majestic estate, once home to the Doheny family, showcases stunning architecture and beautifully manicured gardens across 18.3 acres. Take a guided tour to learn about its rich history and marvel at the opulence of the interior. The gardens provide a serene oasis, perfect for a stroll or a peaceful picnic, offering breathtaking city views.
Perched atop the Santa Monica Mountains, the Getty Center is a world-class cultural destination that combines art, architecture, and natural beauty. With a private jet to Beverly Hills explore the vast collection of European paintings, sculptures, and decorative arts, including masterpieces by Van Gogh, Monet, and Rembrandt. The stunning hilltop campus, designed by renowned architect Richard Meier, offers panoramic views of Los Angeles. Don't forget to wander through the tranquil gardens, dotted with sculptures and fountains, providing a serene escape from the bustling city.
Indulge in a moment of tranquility amidst the glitz when renting a private jet to Beverly Hills. Once there, immerse yourself in the serenity of Beverly Gardens Park. This stunning park, spanning 1.9 miles along Santa Monica Boulevard, will captivate you with its verdant greenery, vibrant flower beds, and noteworthy landmarks, including the renowned Beverly Hills Sign and the iconic Lily Pond. Stroll along the picturesque pathways at your leisure, partake in a refreshing jog, or embrace the charm of a bike ride while basking in the breathtaking scenic beauty that envelops you.
Beverly Hills is also a culinary paradise, offering an array of gourmet restaurants, trendy cafes, and chic bars. The dining scene caters to every palate, with a diverse range of cuisines served by award-winning chefs. Rent a private jet to Beverly Hills and indulge in delectable dishes crafted from the finest ingredients, accompanied by a superb selection of wines from around the world.
With a private jet to Beverly Hills attend several iconic events throughout the year. The Beverly Hills Film Festival, held annually, attracts industry professionals and film enthusiasts from around the world. The Beverly Hills Art Show showcases the works of talented artists, while the Beverly Hills Food & Wine Festival tantalizes taste buds with culinary delights. These events add a touch of excitement and cultural flair to the already vibrant city.
Burbank (BUR) Airport is the closest airport to Beverly Hills and is 9 miles distant. Los Angeles (LAX) is 9.1 miles away, Long Beach (LGB) is 23.1 miles away, Santa Ana (SNA) is 41.4 miles away, and Ontario/San Bernardino (ONT) is 46.2 miles away.
Beverly Hills Private Jet Rental Cost
Beverly Hills private jet rental range from $2,000 – $17,000 per billable flight hour or more. Turboprop jets cost from $1,800 to $2,400 per hour, light jets cost from $2,400 to $3,900, mid-size or super-midsize jets cost from $4,200 to $8,100 per flight hour, while heavy and ultra-long range jets per flight hour cost from $7,200 to $17,800.
Airports for Private Jet near Beverly Hills
SMO, KSMO, Santa Monica Airport
JGX, Glendale
VNY, KVNY, Van Nuys Airport
HHR, KHHR, Hawthorne Municipal Airport
WHP, KWHP, Whiteman Airport
CPM, KCPM, Compton/Woodley Airport
EMT, KEMT, El Monte Airport
BUR, KBUR, Bob Hope Airport
LAX, KLAX, Los Angeles International Airport
LGB, KLGB, Long Beach Airport
SNA, KSNA, John Wayne Airport
ONT, KONT, LA/Ontario International Airport
FAQ: Private Jet Flights to Beverly Hills
Why choose a charter jet to Beverly Hills with Monarch Air Group?
Your comfort and enjoyment will always come first when you get in touch with Monarch Air Group to arrange your unique trip to Beverly Hills. Modern technology is installed in our private aircraft to improve your flight experience. Your travel ought to be enjoyable, memorable, and special.
What Types of the Private Jets Can Use for Beverly Hills?
Monarch Air Group takes into account several important considerations while choosing a private aircraft for travel to Beverly Hills. The route, cost, necessary range, and number of passengers are all included. Your safety, comfort, and enjoyment of the trip are our main considerations when delivering charter services.
What are the Benefits of Flying Beverly Hills Private Jet?
Private aircraft travel has a number of benefits. You may pick the people and places you want to see when you charter a private aircraft to Beverly Hills. We might be able to offer you a luxurious private aircraft, depending on the number of passengers and the number of available departure seats. Our travel specialist is on call seven days a week, twenty-four hours a day, to help you with any need relating to travel.
Can I Bring My Pet on a Private Jet to Beverly Hills?
Monarch Air Group is glad to provide pet-friendly flights to Beverly Hills since we love and cherish all animals. Understanding the particular requirements and limitations of each flight is crucial, though. Your traveling companions' security and comfort are our top priorities.
Popular Destinations near Beverly Hills by Private Jet
Situated adjacent to Beverly Hills, Hollywood is renowned for its iconic landmarks like the Hollywood Walk of Fame, TCL Chinese Theatre, and the Hollywood Sign. You can explore the vibrant atmosphere, visit movie studios, or catch a show at the Dolby Theatre.
Just a short drive west of Beverly Hills, Santa Monica is known for its beautiful beaches, the Santa Monica Pier, and the lively Third Street Promenade. Enjoy the beach, indulge in shopping, dining, or simply take a stroll along the pier.
The Griffith Observatory is located in Griffith Park, just east of Beverly Hills and offers breathtaking views of the Los Angeles skyline. Explore exhibits about space and astronomy, and if you're up for a hike, you can trek to the iconic Hollywood Sign from here.
Modern technology is installed in our private aircraft to assure the effectiveness and safety of your journey. We work hard to give you first-rate customer care and all the information required for a unique experience. For more information, please refer to our "Frequently Asked Questions" section or get in touch with us.