Monarch Air Group provides private air charter in Berlin, Germany. Our clients benefit from top-notch service, unrelenting dedication to safety, wide selection of aircraft, and years of experience in chartering private jets. To obtain a free quote, please use our online quoting tool provided below, or call toll-free 1-877-281-3051.
Charter a private jet to&from Berlin, Germany
About Berlin, Germany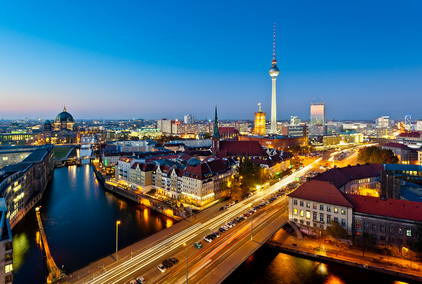 Monarch Air Group provides private jet charter flights to and from Berlin, Germany.
Located in northeastern Germany, Berlin is the capital city and the largest city of Germany. It is politics, media, culture, and science center in the Europe region. For the last 100 years, Berlin has undergone great changes. Most of the city's buildings and streets have been restored, rebuilt or rejuvenated including Unter den Linden, the Museumsinsel, the Tiergarten Park, and German Parliament Building. Nowadays Berlin is a prosperous, modern, and amazing place for business and leisure travelers alike.
The most popular tourist attractions are the Europa Center on the Zoologischer Garten, Reichstag, the Kollhoff Tower on the Potsdamer Platz, the Hamburger Bahnhof, the Brandenburg Gate, the Fernsehturm on the Alexanderplatz, and the Siegessaule (Victory Column) in the Tiergarten area.
There are about 50 theaters and 150 museums, some of them are the Neues Museum, the Altes Museum, the Alte Nationalgalerie, the Jewish Museum, the Deutsches Theater, the Berlin Philharmonic Orchestra, and the Berlin State Opera. Berlin is home to numerous festivals and events around the year including the Christopher Street Day gay and lesbian parade in June, and the Jazz Berlin Fest in November.
Berlin Airports within 70 miles
THF, Tempelhof International Airport, Berlin, Germany
BER, Berlin Brandenburg Airport, Berlin, Germany
TXL, Berlin Tegel Airport, Berlin, Germany
SXF, Berlin Schönefeld Airport, Berlin, Germany
FAQ for flying private to/from Berlin

Why choose a private jet charter in Berlin?

Berlin is the cultural and historical center of Germany and home to some of the world's leading corporations. Regardless of the destination, a Berlin private jet, provides fast and discreet travel in high comfort, for those who are interested in the best solutions for air travel. Using a private jet combines several advantages—flexibility and an unlimited degree of freedom for your journey.

How much does it cost to book a private jet charter in Berlin?

There are a variety of models in the private aviation market with varying costs. The price for air charter service Berlin can vary depending on the destination, flight time, and the number of people on board. Please submit the

flight request form

, or call our agents 24/7 at 

1-877-281-3051

.

Here are some approximate prices for private jet charter flights to or from Berlin:

Private Jet from Berlin to London: light jet – starting at $ 11,750;
Private Jet Between Berlin—Paris: midsize jet – starting at $ 14,870;
Charter a Private Jet from New York to Berlin: super-midsize jet – starting at $ 72,570;
Private Jet from Berlin to Barcelona: light jet – starting at $ 14,290;

What are the advantages of chartering a private jet in Berlin?

Traveling by private jet, you are guaranteed a lot of important advantages. The Berlin charter flights are tailored entirely to your schedule and your personal needs. In addition, it may be a reservation for hotel rooms, restaurant tables, or transfer services. You can get even more information by contacting our consultants.

How much luggage can I take for Berlin private jet?

The size and number of items of baggage you can take on a private plane charter Berlin depend on the type of aircraft you have chosen. For business class flights, it is possible to take bulky baggage. Please let us know about such things in advance to ensure that everything goes smoothly.

Which aircraft is the best choice for Berlin private charter flights?

When choosing a plane for an air charter in Berlin, you should consider your budget, the number of passengers on board, the non-stop range, and your personal preferences. Modern aircraft models, with very good value for money, are perfect for a variety of flights. There are thousands of possible options available today for Berlin private jet charter.

| Aircraft type | Passengers | Non-stop range | Cruising speed | Intended use |
| --- | --- | --- | --- | --- |
| Light Jet | up to 6 passengers | about 700 – 2000 miles | 476 to 518 mph | for comfortable short- to mid-range distances |
| Midsize Jet | up to 10 passengers | about 1300 – 1500 miles | 422 to 541 mph | to fly nonstop from coast to coast |
| Super midsize Jet | up to 10 passengers | about 3.500 – 4.000 miles | 490 to 590 mph | for longer flights |
| Heavy Jet | up to 18 passengers | about 6.000 miles | 480 to 551 mph | traveling overseas in luxury for intercontinental flight |
| Turboprops  | up to 10 passengers | about 600 – 1.900 miles | 220 to 360  mph | for short- to mid-range flights |
| Ultra-Long Range Jet | up to 19 passengers | about 2,800 – 7,685 miles | 460 to 594 mph | for long-haul travels |
| Helicopters | up to 28 passengers | about 250 – 600 miles | 150 to 175 mph | for passenger and cargo transportation |

Who will be the crew on the flight?

Depending on the aircraft model you choose, you may also be able to express your wishes on the number of crew. In most cases, it is two pilots and an attendant during the vacation period. On longer flights, there may be a few extra crew members.

How to book a Berlin charter flight?

Berlin

empty leg flights

are an exceptional opportunity to retain all the benefits of private aviation customers. What's more, by booking a one-way empty leg flight, you can substantially save on your costs. Please call a consultant for personalized advice on empty leg flights in Berlin.

Popular Destinations near Berlin by Private Jet

Private aviation clients travel in luxurious, efficient, and comfortable private jets. If you haven't found all the answers to your important questions here, you can contact our experienced and reliable team at any time or visit our private jet charter FAQ page.