Monarch Air Group provides private air charter in Belize. Our clients benefit from top-notch service, unrelenting dedication to safety, wide selection of aircraft, and years of experience in chartering private jets. To obtain a free quote, please use our online quoting tool provided below, or call toll-free 1-877-281-3051.
Charter a private jet in Belize:
Book a Private Jet Charter to and from Belize, Central America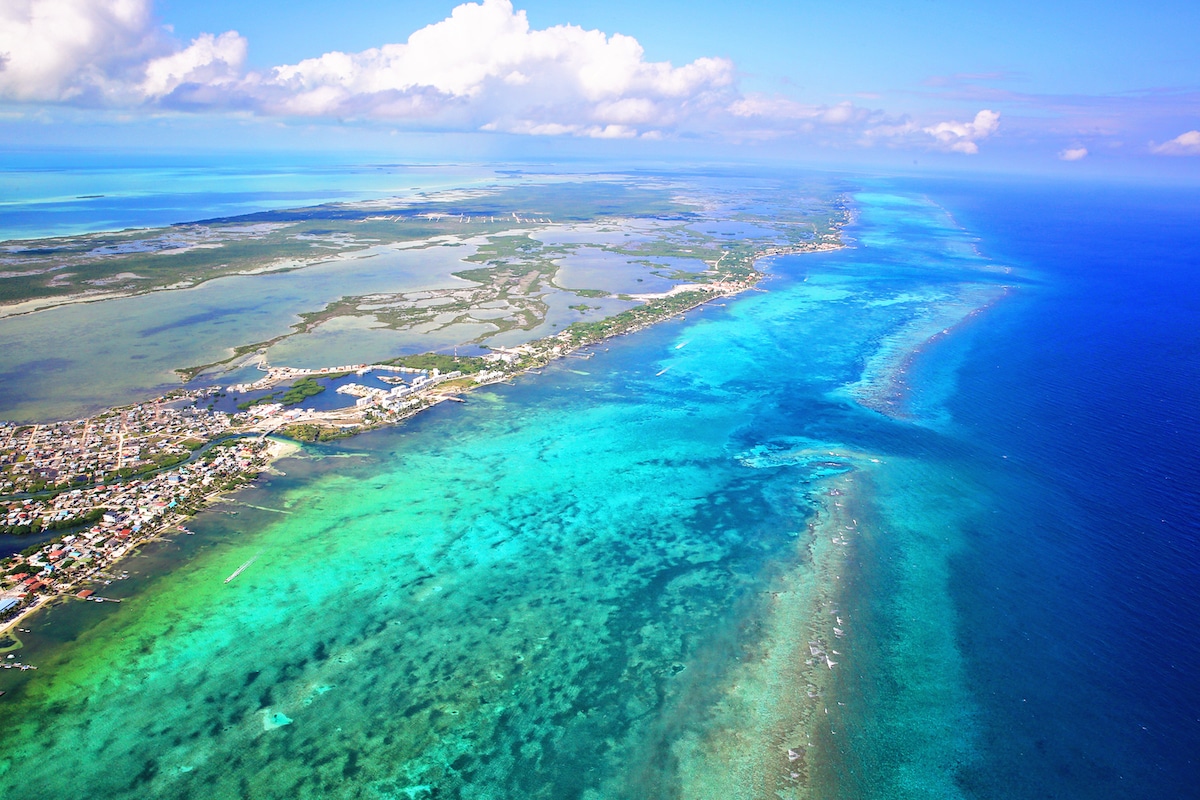 Monarch Air Group offers a wide variety of private jet charter options to and from Belize, Central America.
Belize is the least populated country in Central America, bordered on the east by the Caribbean Sea, on the west and south by Guatemala, and on the north by Mexico. Private flights to/from Belize have begun to gain popularity in recent years, mainly through eco-tourism. The country has strong ties to both the Caribbean and Latin American regions. Belize is a member of the Community of Latin American and Caribbean States (CELAC), the Central American Integration System (SICA), and the Caribbean Community (CARICOM).
Belize is renowned for its rich culture, punta music, coral reefs, and September Celebrations, including the Battle of St. George's Caye Day and Independence Day. With many things to do and see, Belize is one of the most popular tourist destinations in Central America. So take the plunge and see what mysteries this country hides with a private jet charter to Belize. People from around the world come to Belize to experience scuba diving, snorkeling, hiking, helicopter touring, helicopter touring, and exploring Maya ruins.
Belize's most prominent and busiest airports are Philip S.W. Goldson Intl Airport, Dangriga Airport, San Pedro Airport, Placencia Airport, and Independence Airport. All of them are great for private jets to/from Belize of various sizes.
Belize Private Jet Airports
BGK, Big Creek, Big Creek, Belize
BZE, Philip S.W.Goldson Int, Belize City, Belize
CUK, Caye Caulker, Caye Caulker, Belize
CYC, Caye Chapel, Caye Chapel, Belize
DGA, Dangriga, Dangriga, Belize
INB, Independence, Independence, Belize
MCR, Melchor De Menco, Melchor De Menco, Guatemala
MDB, Melinda, Melinda, Belize
MZE, Manatee, Manatee, Guatemala
NOH, Chicago NAS, Chicago, Belize
ORZ, Orange Walk, Orange Walk, Belize
PLJ, Placencia, Placencia, Belize
SPR, San Pedro, San Pedro, Belize
SVK, Silver Creek, Silver Creek, Belize
TZA, Municipal, Belize City, Belize
Hotels in Belize
Hamanasi Adventure and Dive Resort, Hopkins
Coco Plum Island Resort, Coco Plum Cay
The Phoenix Resort, San Pedro
Sleeping Giant Lodge, Belmopan
Turneffe Flats, Turneffe Island
Athens Gate, San Pedro
Belizean Dreams, Hopkins
El Pescador Resort, San Pedro
Pelican Reef Villas Resort, San Pedro
Black Rock Lodge, Black Rock
Table Rock Jungle Lodge, Cristo Rey
Chabil Mar, Placencia
Xanadu Island Resort, San Pedro
Iguana Reef Inn, Caye Caulker
White Sands Cove Resort, San Pedro
Mystic River Resort, Negroman
Colinda Cabanas, Caye Caulker
FAQ for a Private Jet Charter Flights to Belize
Why choose a charter jet to Belize with Monarch Air Group?
Monarch Air Group offers a variety of solutions to meet your Belize private jet charter needs. With a private flight, you can access airports unavailable on commercial flights without waiting in security lines or baggage claim areas. Furthermore, charter flights allow passengers to be as productive as they wish. Give one of our agents a call about charter jet Belize rentals.
How much does it cost to book a Belize private jet charter?
Several factors determine the cost of a charter Belize private jet. These include the specifics of the itinerary, the urgency of the order, and the model of aircraft chosen. The price can be significantly lower for group charter or empty leg flights. You could contact our experts if you did not find the necessary information on air charter Belize. Alternatively, you can get a rough flight cost estimate by using a private jet charter cost estimator.
Here are some approximate prices for private flights to Belize:
Charter a Private Jet to Belize from LA: from $31,220;
Charter Flights to Belize from Teterboro: from $31,220;
Private Flights to Belize from Vegas: from $29,560.
*Estimated price before taxes & fees.
What types of private jets can use for Belize charter flights?
Our company has access to an extensive aircraft network, allowing us to charter private jets on demand anywhere in the world. We can provide VIP jets, airliners, and heavy, light, or turboprop aircraft. With so many options, you can select the plane that will be perfect for Belize charter flight requirements.
| Aircraft type | Passengers | Non-stop range | Cruising speed | Intended use |
| --- | --- | --- | --- | --- |
| Light Jet | up to 6 passengers | about 700 – 2000 miles | 476 to 518 mph | for comfortable short- to mid-range distances |
| Midsize Jet | up to 10 passengers | about 1300 – 1500 miles | 422 to 541 mph | to fly nonstop from coast to coast |
| Super midsize Jet | up to 10 passengers | about 3.500 – 4.000 miles | 490 to 590 mph | for longer flights |
| Heavy Jet | up to 18 passengers | about 6.000 miles | 480 to 551 mph | traveling overseas in luxury for an intercontinental flight |
| Turboprops | up to 10 passengers | about 600 – 1.900 miles | 220 to 360 mph | for short- to mid-range flights |
| Ultra-Long Range Jet | up to 19 passengers | about 2,800 – 7,685 miles | 460 to 594 mph | for long-haul travels |
| Helicopters | up to 28 passengers | about 250 – 600 miles | 150 to 175 mph | for passenger and cargo transportation |
What are the advantages of flying on a Belize private jet?
Renting a private jet has several undeniable advantages over commercial flights. Business travelers enjoy the privacy and security of the cabin and the ability to arrange hotel transfers or individual in-flight meals. In addition, we conduct a third-party safety audit of each aircraft before departure. Our specialist is available to you 24 hours, seven days a week, to address any concerns you may have.
Popular destinations near Belize by private jet
Belize City – is home to a wide variety of historical, cultural, and architectural attractions.
San Pedro – offers a casual atmosphere, many lively bars, and restaurants as one of the best tourist places.
Corozal – is close to the Mexican border and gets rave reviews from private aviation clients.
San Ignacio – near the border with Guatemala, is an excellent base for lovers of outdoor activities and those who want to visit the famous Mayan ruins.
Our clients travel on efficient and comfortable private jets. If you haven't found the answers to all your questions, you can contact our experienced and reliable team at any time or visit our air charter FAQ page.