Monarch Air Group provides private air charter in Belfast, UK. Our clients benefit from top-notch service, unrelenting dedication to safety, wide selection of aircraft, and years of experience in chartering private jets. To obtain a free quote, please use our online quoting tool provided below, or call toll-free 1-877-281-3051.
Charter a private jet to&from Belfast, UK
Private Jet Charter to and from Belfast, UK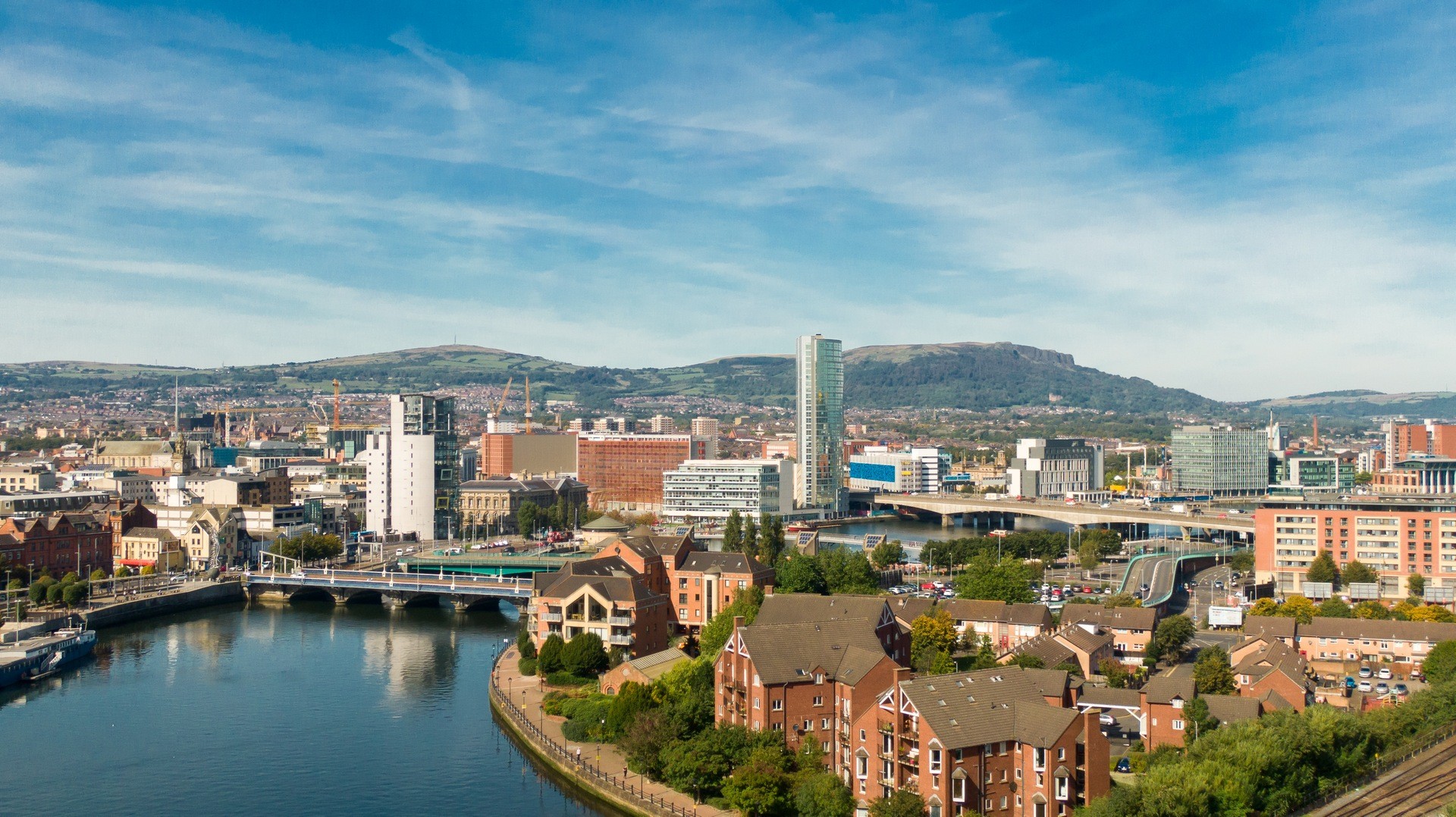 Monarch Air Group provides private jet charter flights to and from Belfast, UK.
Belfast, the capital and largest city of Northern Ireland, holds a prominent position as the seat of devolved government and legislation through the Northern Ireland Assembly. Its origins can be traced back to the 12th century when it was established as a fort by the Normans, and in the early 17th century, it became a hub for various industries such as tobacco production, the Irish linen industry, shipbuilding, and rope-making. In the present day, Belfast stands as the epicenter of political and industrial activities in Northern Ireland. It has also evolved into an important center for culture, education, commerce, and tourism. Whether you're a history buff, a food enthusiast, or an outdoor adventurer, there are some must-see attractions and activities when renting a private jet to Belfast.
Once you've chartered a private jet to Belfast, immerse yourself in the story of the world's most famous ship at the Titanic Belfast Museum. Housed in a striking building that resembles the Titanic's bow, this interactive museum takes you on a journey through the ship's construction, tragic sinking, and its lasting legacy. Explore the nine interactive galleries and walk the decks of a virtual Titanic as you delve into the captivating history.
With a private jet to Belfast, relax amidst natural beauty at the Botanic Gardens, a tranquil oasis in the heart of the city. Admire the stunning Victorian glasshouse, explore the diverse plant collections, and enjoy a peaceful stroll through the gardens. Adjacent to the gardens, you'll find the Ulster Museum, where you can delve into Northern Ireland's history, art, and natural sciences.
Indulge in luxury by chartering a private jet to Belfast and prepare for an immersive experience in the vibrant Cathedral Quarter, the beating heart of Belfast's cultural scene. This lively district is celebrated for its enchanting narrow cobbled streets, mesmerizing street art, and bustling pubs, establishing itself as a dynamic hub of creativity and entertainment. Delve into a captivating journey as you uncover a myriad of art galleries, theaters, and live music venues that adorn the area. And, of course, make it a priority not to miss the revered Duke of York pub, a beloved local institution that has carved its place in Belfast's history.
Situated to the northwest of Belfast in Northern Ireland, Belfast International Airport serves as the primary air gateway for the city of Belfast.
Belfast Private Jet Rental Cost
Belfast private jet rental range from $2,000 – $17,000 per billable flight hour or more. Turboprop jets cost from $1,800 to $2,400 per hour, light jets cost from $2,400 to $3,900, mid-size or super-midsize jets cost from $4,200 to $8,100 per flight hour, while heavy and ultra-long range jets per flight hour cost from $7,200 to $17,800.
Airports for Private Jet near Belfast
BHD, EGAC, George Best Belfast City Airport
BFS, EGAA, Belfast International Airport
FAQ: Private Jet Flights to Belfast
Why choose a charter jet to Belfast with Monarch Air Group?
By choosing Monarch Air Group for your private flight to Belfast, you can rest assured that your safety and comfort take center stage. We prioritize your well-being, so our private aircraft are thoughtfully equipped with luxurious amenities that elevate your travel experience. From start to finish, we are committed to providing an exceptional, pleasurable and memorable journey.
What Types of the Private Jets Can Use for Belfast?
When it comes to selecting a private jet for your travel to Belfast, Monarch Air Group takes into account a range of essential factors. These include the required range, cost, passenger capacity, and itinerary details. Our dedicated team evaluates these elements meticulously to prioritize your safety, satisfaction, and comfort throughout our charter services. With a firm commitment to delivering a secure and enjoyable journey, we strive to exceed your expectations at every step.
What are the Benefits of Flying a Belfast Private Jet?
Opting for private flights to Belfast brings forth many advantages over alternative modes of transportation. As a trusted provider of private jet rentals, we recognize the significance of catering to your unique preferences, budgetary constraints, and scheduling needs. With our commitment to flexible travel options, we strive to ensure that your journey is tailored to your exact requirements, allowing for a seamless and personalized experience.
Can I Bring My Pet on a Private Jet to Belfast?
At Monarch Air Group, we take great pleasure in providing pet-friendly flights to Belfast as we value and cherish your beloved furry family members. However, it is essential to know the specific transportation constraints and criteria for each journey. We go above and beyond to accommodate the needs of your furry companions, ensuring their safety and comfort throughout the entire flight experience. Rest assured, we prioritize the well-being of your pets just as much as we do for our human passengers.
Popular Destinations near Belfast by Private Jet
In Belfast, the Titanic Quarter is a thriving waterfront area that pays homage to the city's maritime history and the ill-fated RMS Titanic. Explore the Titanic Belfast museum, stroll along the Titanic Walkway, and enjoy the waterfront entertainment options.
Located about an hour's drive southeast of Belfast, Castle Ward is a National Trust property famous for its unique architectural fusion of Classical and Gothic styles. It served as the backdrop for Winterfell, the Stark family's home in the TV series "Game of Thrones."
Holywood is a charming town located on the shores of Belfast Lough in County Down, Northern Ireland. It is just a short distance from Belfast, making it easily accessible for visitors. The town is known for its beautiful coastal scenery, with views of the lough and the surrounding hills. Holywood has a rich history, with landmarks such as Holywood Priory, a medieval monastery, and Redburn Country Park, offering picturesque walking trails. The town also boasts an array of shops, cafes, restaurants, and a vibrant arts scene. It is a popular residential area and a delightful destination to explore.
Dundrum is a picturesque village on the east coast of Northern Ireland in County Down. Nestled at the foot of the Mourne Mountains, it offers stunning natural beauty and a tranquil ambiance. One of the village's main attractions is Dundrum Castle, a medieval fortress perched on a hilltop, providing panoramic views of Dundrum Bay and the surrounding countryside. Visitors can also enjoy the beautiful sandy beach, popular for walking, picnicking, and water sports. Dundrum is renowned for its seafood, and excellent restaurants are serving fresh local catches.
Modern technology is installed in our private aircraft to guarantee the dependability and effectiveness of your journey. Our top priority is making sure you're satisfied, and we constantly work to go above and beyond. For more information, please consult our "Frequently Asked Questions" section or get in touch with us. Our goal is to give you excellent service and all the information you need for an unforgettable vacation.