Monarch Air Group provides private air charter in Bath, United Kingdom. Our clients benefit from top-notch service, unrelenting dedication to safety, wide selection of aircraft, and years of experience in chartering private jets. To obtain a free quote, please use our online quoting tool provided below, or call toll-free 1-877-281-3051.
Charter a private jet to&from Bath, United Kingdom
Private Jet Charter to and from Bath, United Kingdom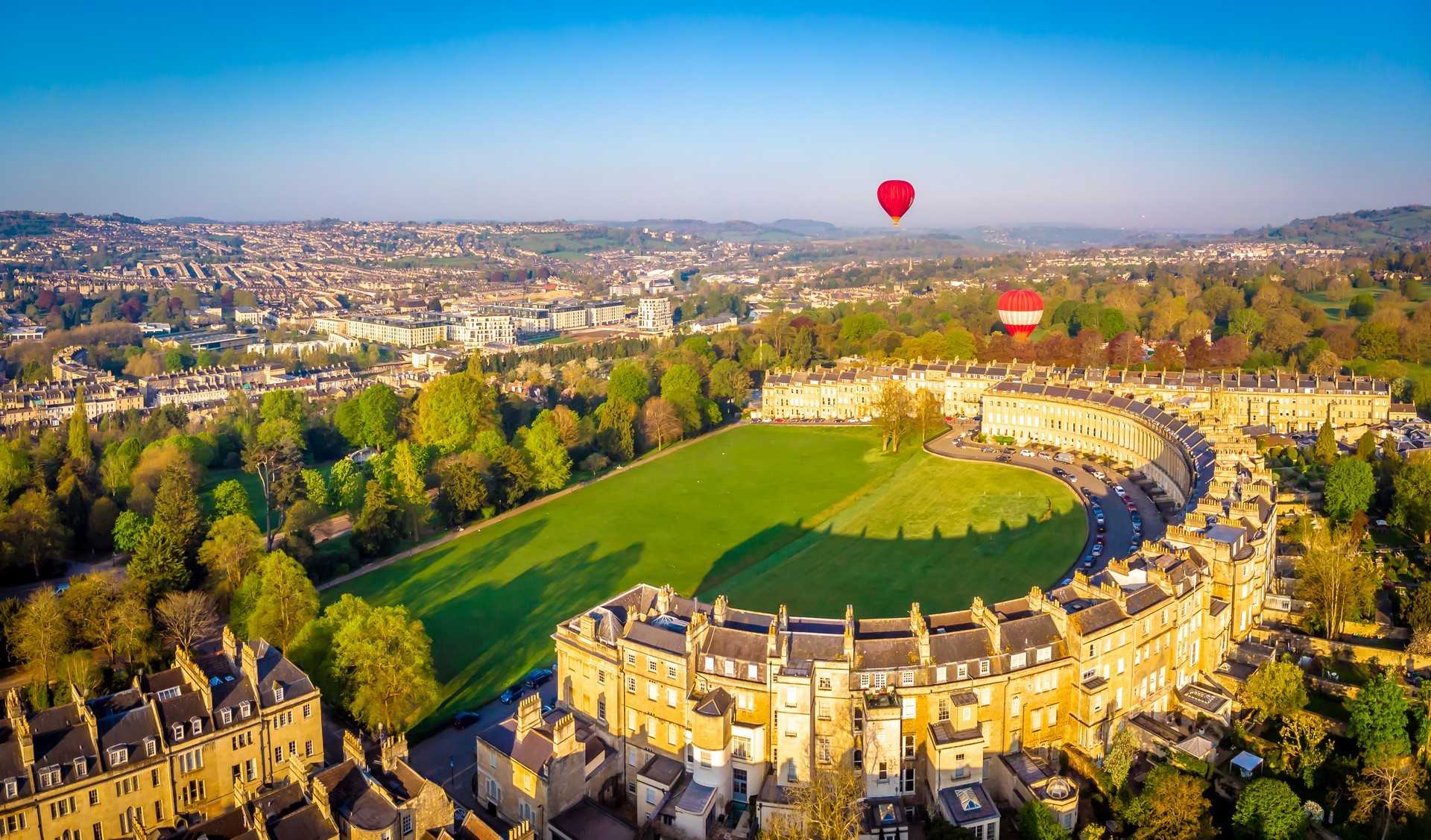 Monarch Air Group provides private jet charter flights in and out of Bath, UK.
Bath is a tourist town on the River Avon in southwest England, situated in the rolling green fields of Somerset, 13 miles southeast of Bristol, and 97 miles west of London. The Romans first built it as a spa resort in AD 43, giving it the Latin name Aquae Sulis, which translates to "the waters of Sulis." Bath private jet charter is one of the most popular vacation destinations in the UK and a major center for tourism, attracting over 5 million people each year. Bath is noted for the abundance of 18th-century Georgian architecture and its natural hot springs.
Tourism, information and communication technology, heavy and light engineering, printing, education, publishing, retail, and health are the key economic drivers in Bath. The University of Bath, one of the best-regarded and most reputable educational institutions in the nation, is located in Bath. Another reason to book a private jet to Bath is that it's one of England's most stunning, opulent, and ancient cities and has been designated a UNESCO World Heritage Site.
When renting a private jet to Bath, visit the Roman Baths, which are Bath's most well-known landmarks. Roman in origin, the well-preserved baths are a magnificent example of prehistoric design. You can visit the hot springs, see the ruins, and even sample the mineral-rich water. In addition, view the Royal Crescent. This famous Bath monument dates back to the Georgian era. The 18th-century crescent-shaped row of homes is a superb illustration of Georgian design. A guided tour of the homes is available, or guests can just enjoy the scenery.
Once you've chartered a private jet to Bath, explore Bath Abbey. Situated in the center of the city, Bath Abbey is a magnificent example of Gothic architecture. The inside of the abbey, which features stunning stained-glass windows and a vaulted ceiling, is accessible to visitors. You can also walk along the Kennet and Avon Canal, which is a beautiful waterway that runs through Bath. Visitors can take a walk along the towpath, admire the views, and even take a boat trip along the canal.
Lyneham Airport (LYE), Bristol Airport (BRS), and Bristol Filton Airport all provide service to Bath. (FZO).
Bath Private Jet Rental Cost
The cost of renting a private jet to Bath could vary greatly based on aircraft size and type, trip duration, and other factors. For example, the cost of renting a turbo prop jet, such as a Pilatus PC-12, from Paris to Bath for a one-way trip can start from around 8,100 USD. For a light jet, such as an Eclipse 500, the cost can range from 8,700 USD for a one-way trip.
Private Jet Airport near Bath
BRS, EGGD, Bristol Airport
FZO, EGTG, Bristol Filton Airport
LYE, Lyneham Airport
UPV, EGDJ, RAF Upavon
DQT, Boscombe Down
YEO, Yeovilton Airport
DGX, EGDX, MOD St Athan
FAQs: Private Jet Flight to Bath
Why Choose a Private Jet to Bath with Monarch Air Group?
When you contact Monarch Air Group to plan your private jet to Bath, we prioritize your convenience, comfort, and safety. Our lavish flights are designed with privacy and time-saving conveniences to match your specific needs.
How Much Does it Cost to Charter a Private Jet to Bath?
Several factors, including the type of aircraft, the flight route, and the location, determine the cost of a private jet to Bath. The price per flight hour can range between $2,000 and $17,000.
What Types of the Private Jets Can Use for Bath?
Monarch Air Group selects the finest private aircraft based on a number of factors, including the number of passengers, the distance to be traveled, and the amenities requested onboard. Please provide as much information as possible so that we can provide you with the most suitable aircraft and support for your Bath charter flight. Our selection procedure guarantees that you receive the most suitable private aircraft for your requirements.
What are the Benefits of Flying a Bath Private Jet?
Private jet charters to Bath have several advantages over other modes of transportation. Our dependable private jet rental business offers prompt and adaptable travel options based on your specific needs, budget, and schedule.
Is it Possible to Travel with Pets to Bath on a Private Jet?
You may bring your pet to Bath, but only after contacting us and learning about the city's pet admission requirements. Depending on the size of your pet, you may need to book a larger aircraft to ensure their safety and comfort throughout the journey.
Popular Destinations Near Bath by Private Jet
London: London is a popular destination for business and leisure travelers alike. It is home to some of the world's most famous landmarks, including Big Ben, the London Eye, and Buckingham Palace. The flight time from Bath to London is around 30-40 minutes by private jet.
Geneva: Geneva is a picturesque city located in Switzerland, known for its stunning natural scenery and high-end shopping. The flight time from Bath to Geneva is around 1 hour and 40 minutes by private jet.
Edinburgh: Edinburgh is the capital city of Scotland, famous for its rich history, culture, and architecture. The flight time from Bath to Edinburgh is around 1 hour and 15 minutes by private jet.
Dublin: Dublin is the capital of Ireland and a vibrant city with a rich cultural heritage. It is famous for its lively pubs, historic buildings, and friendly people. The flight time from Bath to Dublin is around 1 hour and 15 minutes by private jet.
Our clients travel on luxurious, contemporary private aircraft. If you cannot locate the answers to your questions on our page of frequently asked questions about private charters, please do not hesitate to contact our friendly and knowledgeable crew.