Monarch Air Group provides private air charter in Austin, TX. Our clients benefit from top-notch service, unrelenting dedication to safety, wide selection of aircraft, and years of experience in chartering private jets. To obtain a free quote, please use our online quoting tool provided below, or call toll-free 1-877-281-3051.
Charter a private jet to&from Austin
Book a Private Jet Charter to and from Austin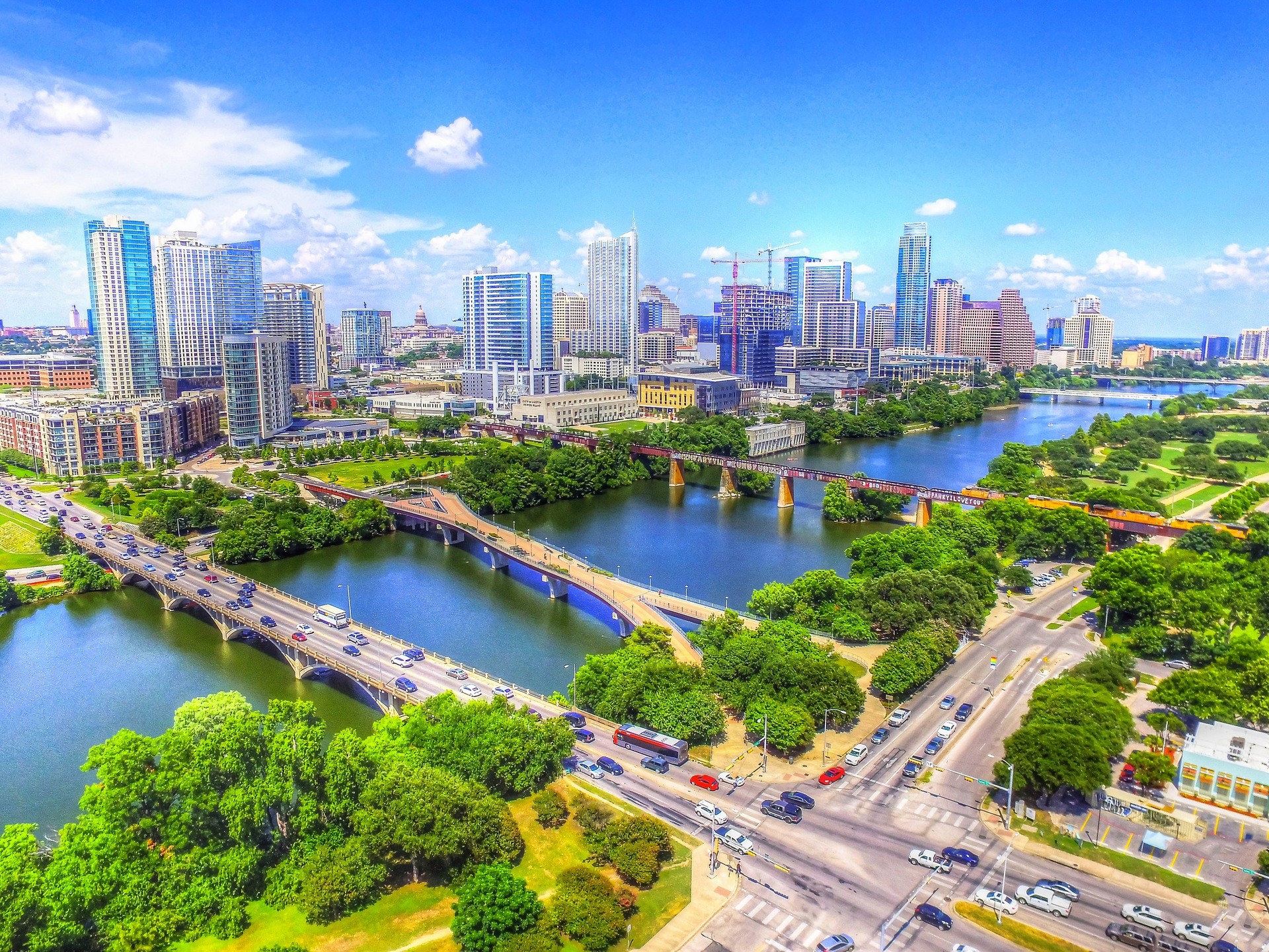 Monarch Air Group offers international and domestic charter flight services to and from Austin, Texas.
There are over 28 airports, which are located within a 50 miles radius of the city itself. The major airports in Austin for private travel are Austin-Bergstrom International Airport (AUS) and Austin Executive Airport (EDC). Please, check out Monarch Air Group fleet page.
Places to See in Austin
Austin is Texas' most beautiful city, with lakes, hills, and valleys. It is located in the central part of the state and is the administrative center of Travis County and the state capital. The city was founded in 1839 and is the 4th most populous city in Texas and 11th in the United States. As a center of political and administrative activity, it attracts private jet charter Austin year-round.
Austin is perfect for water activities, including boating, swimming, water skiing, wakeboarding, and parasailing. With its mild winter climate, the city attracts many private jet Austin visitors from the northern states and is served by two major international airports. Nicknamed "The Live Music Capital of the World," Austin is home to many musicians and music venues.
A popular destination for Austin charter flight travelers is the Texas State Capitol Building. Austin's other popular tourist attractions are the Austin Museum of Art, Austin Convention Center, the Texas Capitol, Longhorn Caverns, the LBJ Library and Museum, and the Congress Avenue Bridge.
The major airports for charter jet Austin are Austin-Bergstrom International Airport (AUS) and Austin Executive Airport (EDC).
Austin Private Jet Airports within 70 miles
AUS, KAUS, Austin-Bergstrom International Airport
Hotels in Austin
1. Hotel San Jose, 1316 South Congress Avenue, Austin.
2. Hilton Garden Inn, 500 N Interstate 35, Austin.
3. W Austin, 200 Lavaca Street, Austin (Texas).
4. The Driskill Hotel, 604 Brazos Street, Austin.
5. Hotel Saint Cecilia, 112 Academy Drive, Austin.
6. KimberModern, 110 The Circle, Austin.
7. The Lobby Lounge, 98 San Jacinto Boulevard, Austin.
8. Austin's Inn at Pearl Street, 809 W Martin L King Jr Blvd, Austin.
9. Casulo Hotel, 3017 South I H 35, Austin.
10. InterContinental Hotel Stephen F. Austin, 701 Congress Avenue, Austin.
FAQ for a Private Jet Charter Flights to Austin
Why choose a private jet to Austin with Monarch Air Group?
Monarch Air Group provides private plane charter Austin, TX, has access to a diverse selection of private jet to Austin options, and focuses on safety and reliability. Our team will get you the perfect Austin private jet charter, depending on the number of passengers and departure location. Call one of our agents for airplane rental Austin. We will meet your requirements to ensure our services meet your expectations for private jet rental to Austin.
How much does it cost to book an Austin private jet charter?
The cost of an Austin private jet hire is determined by several factors, like the model of the chosen Austin jet and the complexity of the itinerary. If you can't find the information you need on an Austin air charter, you can ask our experts. The prices we offer for charter flights Austin are transparent and calculated individually for each client. Moreover, you can get an estimate of the flight cost by using a private jet charter cost estimator.
Here are some approximate prices for private flights to Austin:
Charter a Private Jet to Austin from NYC: from $25,590;
Charter Flights to Austin from DC: from $23,060;
Private Flights to Austin from Miami: from $21,160.
*Estimated price before taxes & fees.
What types of private jets can use for Austin charter flights?
Monarch Air Group will advise you and give you the right choice of Austin jets to suit your requirements. Your choice depends on your range, comfort level, and several passengers. For more information, check out our aircraft guide for Austin charter flights.
| Aircraft type | Passengers | Non-stop range | Cruising speed | Intended use |
| --- | --- | --- | --- | --- |
| Light Jet | up to 6 passengers | about 700 – 2000 miles | 476 to 518 mph | for comfortable short- to mid-range distances |
| Midsize Jet | up to 10 passengers | about 1300 – 1500 miles | 422 to 541 mph | to fly nonstop from coast to coast |
| Super midsize Jet | up to 10 passengers | about 3.500 – 4.000 miles | 490 to 590 mph | for longer flights |
| Heavy Jet | up to 18 passengers | about 6.000 miles | 480 to 551 mph | traveling overseas in luxury for an intercontinental flight |
| Turboprops | up to 10 passengers | about 600 – 1.900 miles | 220 to 360 mph | for short- to mid-range flights |
| Ultra-Long Range Jet | up to 19 passengers | about 2,800 – 7,685 miles | 460 to 594 mph | for long-haul travels |
| Helicopters | up to 28 passengers | about 250 – 600 miles | 150 to 175 mph | for passenger and cargo transportation |
What are the benefits of flying an Austin private jet?
Renting an Austin jet charter has several undeniable advantages over commercial flights. With a private jet charter Austin TX, we guarantee all customers the privacy and professionalism you expect from your flight. Also, with private plane charter Austin, you can order a personalized in-flight meal, hotel shuttle, or group charter flight. Our charter flight specialists are available 24 hours a day to provide you with a full range of private aircraft rental services.
Popular destinations near Austin by private jet
El Paso – in the far west corner of Texas- boasts incredible evening sunset views over the Franklin Mountains.
Dallas – has more stores per capita than any other American city.
Houston – is one of the most popular places to visit in Texas.
San Antonio – on the plains of South Texas, is known for its abundance of restaurants and nightlife.
Our clients travel on efficient and comfortable private jets. If you haven't found the answers to all your questions, you can contact our experienced and reliable team at any time or visit our air charter FAQ page.