Monarch Air Group provides private air charter in Anchorage, AK. Our clients benefit from top-notch service, unrelenting dedication to safety, wide selection of aircraft, and years of experience in chartering private jets. To obtain a free quote, please use our online quoting tool provided below, or call toll-free 1-877-281-3051.
Charter a private jet to&from Anchorage
Book a Private Jet Charter to Anchorage, Alaska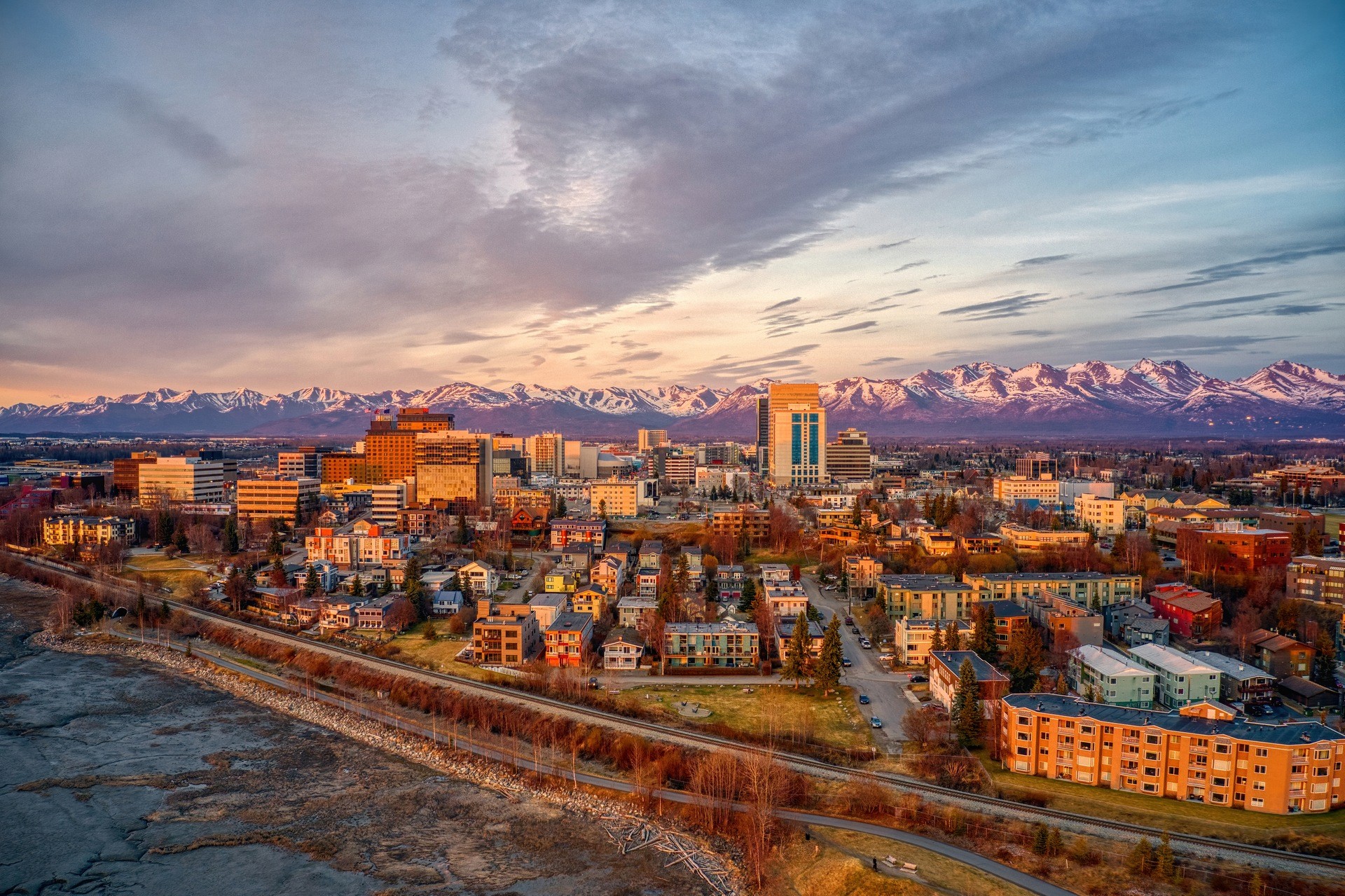 Monarch Air Group provides private jet charter flights in and out of Anchorage, Alaska, USA.
Anchorage is the largest city in Alaska and the most important tourist center in the region. Even though there are almost no attractions, its majestic nature will undoubtedly impress you. Consider taking a private jet charter flight to Anchorage if you're looking for a way to get out of the city and explore some of Alaska's stunning landscapes.
Starting in July and continuing until the end of August, Alaska experiences its busiest tourist season. During this time the weather is really pleasant. Average daytime temperatures can reach 30 degrees Celsius, while overnight lows rarely dip below 10 degrees Celsius. However, many visitors rent a private jet to Anchorage in winter because it's a popular time to view the northern lights, enjoy the quiet of the snowy parks, and explore the city's museums.
Anchorage's four nature reserves are among the city's most fascinating attractions. It's no exaggeration to say that Denali National Park is the largest national park in the world. The roughly 25,000 square kilometers of wilderness are a dream fulfilled for outdoor adventurers. Gold rush-era museums can also be found in quaint towns preserved since the gold rush's peak.
When booking a private jet to Anchorage, take a kayaking trip. A trip across the lakes of Alaska in a single-seater kayak is thrilling. Paddle close to a massive iceberg and marvel at the stunning shimmering ice, or simply take in the wide expanses and raw grandeur of northern nature.
With a private jet charter to Anchorage, you can experience a whale safari. Here, you may observe the enormous gray sea giants who visit the chilly waters of the Gulf of Alaska to feed. In addition, don't miss the chance to visit a deer farm. When you enter the enclosure, a group of horned beggars comes running up to you, eager for treats. These animals are quite tame and friendly.
If you want to learn about the unique traditions and language of Alaska Natives, book a private jet flight to Anchorage and visit the Alaska Native Heritage Center, one of the major attractions. Other famous places of interest worth visiting include Prince William Sound, the Iditarod Trail Sled Dog Race, Tony Knowles Coastal Trail, Chugach National Forest, Alaska Native Heritage Center, Kincaid Park, Alaska Center for the Performing Arts, Visit Anchorage Log Cabin Visitor Information Center, and much more.
Ted Stevens Anchorage International Airport (ANC / PANC) is 6 miles from the heart of Anchorage and is the closest airport.
Cost to charter a private jet to or from Anchorage
The cost of a private jet to Anchorage will vary depending on the size of the private jet, duration, flight time, and other factors. Here are some price options for private jets to or from Anchorage.
To/From Location
Seattle
Portland
Van Nuys
Aircraft Type
Light Jet
Midsize Jet
Light Jet
Estimated Price
(One-Way)
$29,500 – $36,500
$34,200 – $42,50
$47,500 – $59,500
Flight Duration
4hr 25min
3hr 55min
6hr 55min
Anchorage Private Jet Airports within 70 miles
ANC, Ted Stevens Anchorage International Airport, Anchorage.
AQY, Alyeska, Alyeska.
BCV, Birchwood Airport, Alaska United States.
BGQ, Big Lake, Big Lake.
BVU, Beluga, Beluga.
EDF, Elmendorf Afb, Anchorage.
ENA, Kenai, Kenai.
FRN, Bryant AAF, Fort Richardson.
JLA, Quartz Creek, Cooper Lodge.
MRI, Merrill Field, Anchorage.
PAQ, Municipal, Palmer.
SKW, Intermediate, Skwentna.
SXQ, Soldotna, Soldotna.
TYE, Tyonek, Tyonek.
WOW, Willow, Willow.
WWA, Wasilla, Wasilla.
FAQs: Private Jet Flights to Anchorage
Why choose a private jet to Anchorage with Monarch Air Group?
Monarch Air Group offers on-demand private jet charters in Anchorage, AK, for business or leisure. Customers can count on professional service, attention to detail, and a personalized approach for Anchorage private jet rentals. Contact us today for Anchorage private charter flights with all the benefits of private aviation.
How much does it cost to book an Anchorage private jet charter?
An Anchorage jet rental price depends on factors like flight time, destination, and aircraft type. On a private aircraft, you will pay between $2,000 and $11,000 for an hour of flight time.
What types of private jets can use for Anchorage charter flights?
Monarch Air Group has access to different aircraft categories, from turboprops to luxury VIP airliners. When choosing an aircraft for Anchorage air charter service, our experts consider the number of passengers, baggage, and flight range. Therefore, the best way to find the best model among Anchorage jets is to contact us.
What are the advantages of flying on an Anchorage private jet?
Private jet charters in Anchorage allow you to arrive at the airport of departure shortly before takeoff, avoid the long check-in lines, and use the unoccuied airports. We can also assist with hotel reservations, ground transportation, and transfers.
Popular destinations near Anchorage by private jet
Juneau – is Alaska's charming capital city with picturesque surroundings from the mountains.
Seward – is a breathtaking town, a must on any Alaskan itinerary.
Homer – is known for its vibrant arts community and the world-famous Homer Spit.
Our clients travel on efficient and comfortable private jets. If you have yet to find the answers to all your questions here, you can contact our experienced and reliable team at any time or visit our air charter FAQ page.