Monarch Air Group provides private air charter in Amsterdam, Netherlands. Our clients benefit from top-notch service, unrelenting dedication to safety, wide selection of aircraft, and years of experience in chartering private jets. To obtain a free quote, please use our online quoting tool provided below, or call toll-free 1-877-281-3051.
Charter a private jet to&from Amsterdam, Netherlands
Book a Private Jet Charter to and from Amsterdam, Netherlands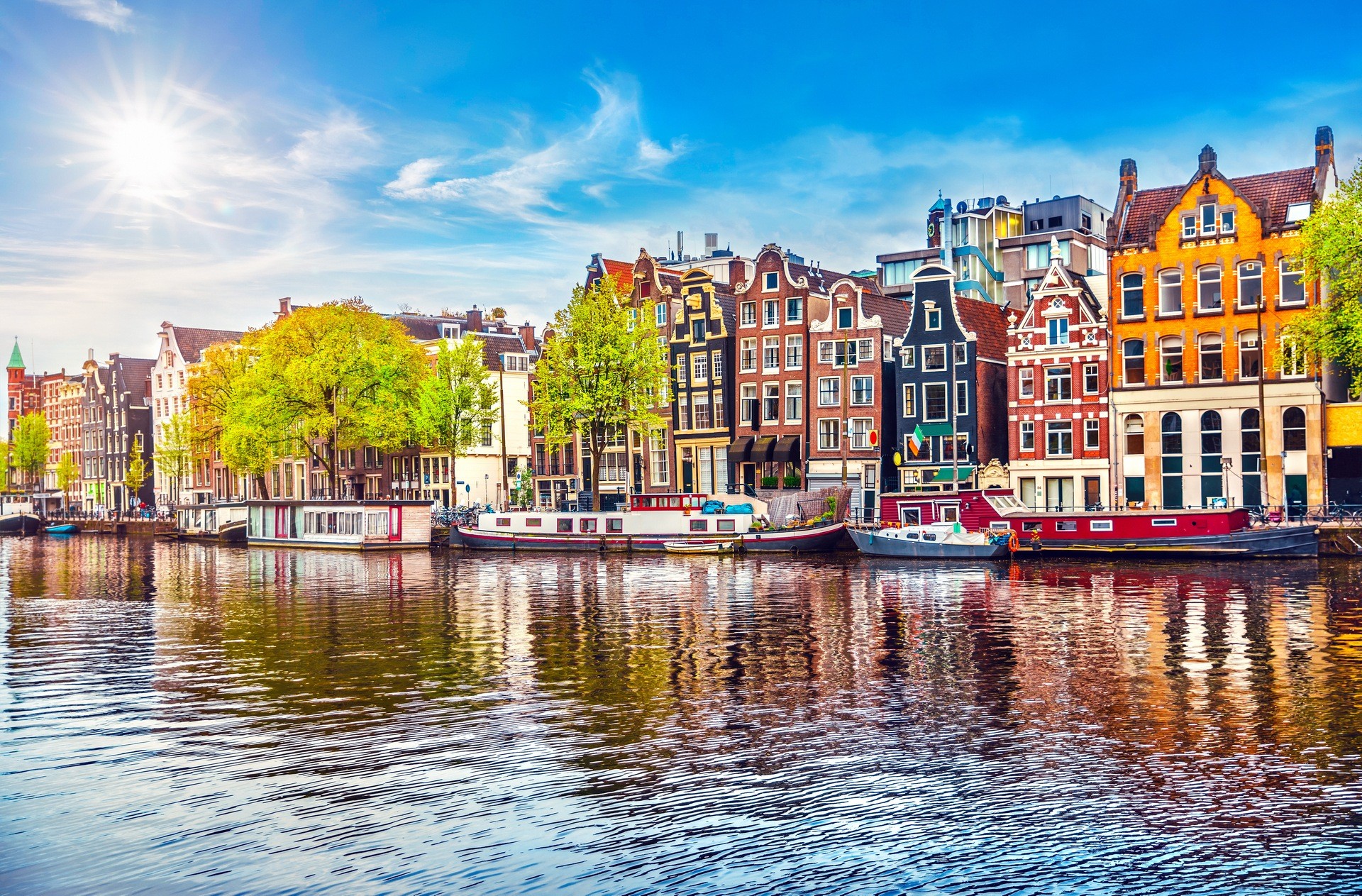 Monarch Air Group provides private jet charter services to and from Amsterdam, Netherlands.
Amsterdam is the capital and largest city of the Netherlands, situated in the western part of the country. Amsterdam was founded as a small fishing village in the 13th century and developed as one of the most potent trade centers in the world by the 17th century.
Amsterdam is the center of the country's largest metropolitan area with its chief port. It is also a center of financial, commercial, industrial, and cultural activity, which is why charter flights to Amsterdam are popular. Being one of the great retail centers of Europe, the city of Amsterdam has one of the world's oldest stock exchanges and is well known as a prominent center for the diamond-cutting industry.
Amsterdam is home to the headquarters of several large international companies, including Philips, Royal Bank of Scotland, Heineken, Fonterra, DotNetNuke, Teleplan, ING Group, and AkzoNobel. By flying a private jet to Amsterdam, you get to the cultural capital of the Netherlands with a wide range of cultural, recreational, historical, and architectural sights, including famous art collections, beautiful museums, charming canals, and festivals and events.
Book a private flight to Amsterdam to visit the most popular tourist attractions, like Van Gogh Museum, the Rijksmuseum, Stedelijk Museum, Oude Kerk, Anne Frank's House, Amsterdam Historical Museum, Royal Palace, Magere Brug, Begijnhof, Jordaan, Leidseplein, Rembrandtplein, Heineken brewery, and Red Light District. There are also beautiful canals that are a symbol of the city of Amsterdam.
Amsterdam hosts many events and festivals throughout the year, including the International Documentary Film Festival, Holland Festival, World Press Photo Contest, Amsterdam International Fashion Week, Queen's Day, and Art Amsterdam. A private jet charter to Amsterdam is a popular choice that ensures an unforgettable experience. With its rich historical and cultural heritage, friendly atmosphere, and ethnically diverse population, Amsterdam attracts about 3.5 million visitors yearly.
Amsterdam charter jet can be served by Amsterdam Airport Schiphol (AMS), Soesterberg Airport (UTC) and Valkenburg Airport (LID).
Amsterdam Private Jet Airports
AMS, EHAM, Amsterdam Airport Schiphol
RTM, EHRD, Rotterdam The Hague Airport
LEY, EHLE, Lelystad Airport
FAQ for Private Jet Charter Flights to Amsterdam
Why choose a private jet to Amsterdam with Monarch Air Group?
Monarch Air Group provides private flights to and from Amsterdam to hard-to-reach airports, 24 hours a day, 365 days a year. You benefit from a personalized service for your business and personal travels. Specify the number of passengers, your trip, dates, and travel time. That way, you can get to your final destination on a direct flight with no transfers. Call one of our agents for charter jet Amsterdam.
How much does it cost to book an Amsterdam private jet charter?
Several factors determine the cost of an Amsterdam private jet charter. These include the chosen aircraft's model and the itinerary's specifics. If you have not found the information you need for the Amsterdam air charter, you can contact our specialists. Special requests may involve additional costs. Possible charges for other services will be billed as an additional fee. Moreover, you can get a rough estimate for your flight by using a private jet charter cost estimator.
Here are some approximate prices for private flights to Amsterdam:
Charter a Private Jet to Amsterdam from London will cost from $7,820;
Charter Flights from Amsterdam to Nice will cost from $10,090;
Private Flights to Amsterdam from NYC will cost from $77,840;
*Estimated price before taxes & fees.
What types of private jets can use for Amsterdam charter flights?
Monarch Air Group will offer you the most appropriate aircraft for your journey on that day. The choice depends on the distance flown, the comfort level required, and the number of passengers. Our team will meet all your requirements to ensure our service meets your expectations for Amsterdam charter flights.
| Aircraft type | Passengers | Non-stop range | Cruising speed | Intended use |
| --- | --- | --- | --- | --- |
| Light Jet | up to 6 passengers | about 700 – 2,000 miles | 476 to 518 mph | for comfortable short- to mid-range distances |
| Midsize Jet | up to 10 passengers | about 1,300 – 1,500 miles | 422 to 541 mph | to fly nonstop from coast to coast |
| Super midsize Jet | up to 10 passengers | about 3,500 – 4,000 miles | 490 to 590 mph | for longer flights |
| Heavy Jet | up to 18 passengers | about 6,000 miles | 480 to 551 mph | traveling overseas in luxury for an intercontinental flight |
| Turboprops | up to 10 passengers | about 600 – 1,900 miles | 220 to 360 mph | for short- to mid-range flights |
| Ultra-Long Range Jet | up to 19 passengers | about 2,800 – 7,685 miles | 460 to 594 mph | for long-haul travels |
| Helicopters | up to 28 passengers | about 250 – 600 miles | 150 to 175 mph | for passenger and cargo transportation |
What are the advantages of flying on an Amsterdam private jet?
Renting a private jet has several undeniable advantages over commercial flights. Our team of experts is always ready to prepare and accompany you every step of a private plane charter to Amsterdam. We offer simple and confidential airport procedures, express departures, airports closest to your final destination, group charter flights, and no waiting for boarding.
Popular destinations near Amsterdam by private jet
Rotterdam – on the banks of the Nieuwe Maas, is one of the largest ports in the world and a famous city for leisure.
Dusseldorf – is a dynamic and lively city, a cultural and economic center of Germany.
Brussels – is the capital of Belgium, which attracts millions of visitors from all over the world every year.
Essen – in northwest Germany- gets rave reviews from private aviation clients.
Our clients travel on efficient and comfortable private jets. If you haven't found the answers to all your questions, you can contact our experienced and reliable team at any time or visit our air charter FAQ page.