Monarch Air Group provides private air charter in Amiens, France. Our clients benefit from top-notch service, unrelenting dedication to safety, wide selection of aircraft, and years of experience in chartering private jets. To obtain a free quote, please use our online quoting tool provided below, or call toll-free 1-877-281-3051.
Charter a private jet to&from Amiens, France
About Amiens, France
Monarch Air Group offers private jet charter services to and from Amiens, France. Amiens is situated within fifty miles of 7 airports, but the closest are Abbeville Airport (XAB), Bray Airport (LFAQ) and the Glisy Airport (QAM). There are over 15,000 available private aircraft to choose from, but the most common choices for charter around Amiens are light jets (Piaggio Avanti II, Premier I and Citation CJ2+), midsize jets (Citation VI and Hawker 800 XP) as well as large jets (Challenger 600, Falcon 900 EX and Gulfstream G450).
About Amiens and Places to See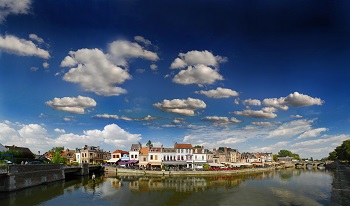 Located in northern France on the Somme River, Amiens is the capital of the region of Picardy and of the Department of Somme. It is situated 72 miles north of Paris, 89 miles northwest of Reims, 59 miles southwest of Lille and 22 miles southeast of Abbeville. Amiens was settled in pre-Roman times, and has been an important trading center for Northern Europe for centuries. Since the 16th century it has been known for its textile industry and the manufacturing of soap, chemicals, and electronics. Due to its geographic location and the Somme River, Amiens has become the region's railroad, industrial, and commercial center. Amiens has plenty of universities, with approximately 30,000 students.
Amiens is often nicknamed the "City of Art and History" for its rich history, exciting architectural heritage, vibrant arts and cultural scene. The most popular tourist attraction is the Cathedral of Notre Dame, one of the most attractive gothic cathedrals in France and also a UNESCO World Heritage Site. Other tourist attractions include the Jules Verne Museum, the Picardy Museum, the Museum of Contemporary Art, the Perret Tower. Amiens is home to many events and festivals including the Amiens Jazz Festival, the Amiens International Film Festival, the Water's Edge Festival, and the Hortillonnages Festival. Amiens is France's Gateway to the North, attracting millions of visitors each year. The city is served by Glisy Airport (QAM), Bray Airport (XAV) and Abbeville Airport (XAB), which provide private charter flights to business and leisure travelers around the world.