Monarch Air Group provides private air charter in Albuquerque, NM. Our clients benefit from top-notch service, unrelenting dedication to safety, wide selection of aircraft, and years of experience in chartering private jets. To obtain a free quote, please use our online quoting tool provided below, or call toll-free 1-877-281-3051.
Charter a private jet in Albuquerque, NM:
Book a Private Jet Charter to and from Albuquerque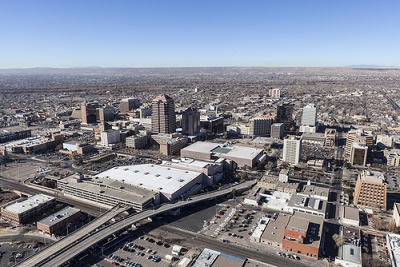 Monarch Air Group provides private jet charter flights to and from Albuquerque.
Albuquerque is the oldest and largest city in the state of New Mexico, US. Straddling the Rio Grande, and with the Sandia Mountains to the East, situated in the central part of the state.
Albuquerque has many cultures like Native American, Hispanic, Anglo, Latino. It is science and technology center, which has the University of New Mexico and Sandia National Laboratory. The city has all possibilities for such activities as biking, skiing, and golf.
Albuquerque is well known as the hot air ballooning capital of the world, which has during the month of October the Albuquerque International Balloon Fiesta. About 250,000 tourists each year come to see this celebration, and over 2000 registered air balloons making it the most photographed event in the world.
Airports for Private Jet near Albuquerque
ABQ, Albuquerque International, Albuquerque, United States.
LAM, Los Alamos, Los Alamos, United States.
OTO, Vor, Otto, United States.
SAF, Santa Fe, Santa Fe, United States.
Hotels in Albuquerque
Holiday Inn Express Albuquerque Airport, 1921 Yale Boulevard Southeast, Albuquerque.
Holiday Inn Express & Suites Albuquerque Historic Old Town, 2300 12th Street Northwest, Albuquerque.
Andaluz Hotel, 125 2nd Street Northwest, Albuquerque.
The Hotel Blue – Albuquerque Downtown Hotel, 717 Central Ave NW, Albuquerque.
Embassy Suites Hotel- Albuquerque, 1000 Woodward Place Northeast, Albuquerque.
Hotel Albuquerque at Old Town, 800 Rio Grande Boulevard Northwest, Albuquerque.
Hotel Parq Central, 806 Central Avenue Southeast, Albuquerque.
Sheraton Albuquerque Airport Hotel, 2910 Yale Boulevard Southeast, Albuquerque.
Holiday Inn and Suites, 1501 Sunport Place Southeast, Albuquerque.
DoubleTree by Hilton Hotel Albuquerque, 201 Marquette Avenue Northwest, Albuquerque.
FAQ for a Private Jet Charter Flights to Albuquerque
Why choose a charter jet to Albuquerque with Monarch Air Group?
Monarch Air Group provides private flights to and from Albuquerque and exclusive service for those interested in charter jet service. Please take advantage of our years of experience organizing private flights and our worldwide network of modern jets for your next flight. You decide when to take off, where to land, and which plane to choose, depending on the number of passengers and departure seats. Call one of our agents for charter jet Albuquerque.
How much does it cost to book an Albuquerque private jet charter?
Several factors determine the cost of renting an Albuquerque private jet. Based on your wishes, including the number of passengers, luggage, type of aircraft, and other parameters, we will make an exact price quickly. You can contact our specialists if you can't find the required information on air charter Albuquerque. Moreover, you can estimate the flight cost by using the private jet charter cost estimator.
Here are some approximate prices for private flights to Albuquerque:
Charter a private jet to Albuquerque from TEB: light jet – starting at $27,200;
Charter flights to Albuquerque from VNY: light jet – starting at $15,300;
Private charter flights to Albuquerque from Washington DC: light jet – starting at $27,370.
*Estimated price before taxes & fees.
What types of private jets can use for Albuquerque charter flights?
We are happy to provide you with a customized private jet quote for Albuquerque charter flights. When choosing an aircraft, you need to consider limitations on the size and amount of luggage, your intended route, the flight range, and what amenities are desired in the aircraft. We will check what aircraft types are already available for the departure and find an option perfectly suited to your needs and desires.
| Aircraft type | Passengers | Non-stop range | Cruising speed | Intended use |
| --- | --- | --- | --- | --- |
| Light Jet | up to 6 passengers | about 700 – 2000 miles | 476 to 518 mph | for comfortable short- to mid-range distances |
| Midsize Jet | up to 10 passengers | about 1300 – 1500 miles | 422 to 541 mph | to fly nonstop from coast to coast |
| Super midsize Jet | up to 10 passengers | about 3.500 – 4.000 miles | 490 to 590 mph | for longer flights |
| Heavy Jet | up to 18 passengers | about 6.000 miles | 480 to 551 mph | traveling overseas in luxury for an intercontinental flight |
| Turboprops | up to 10 passengers | about 600 – 1.900 miles | 220 to 360 mph | for short- to mid-range flights |
| Ultra-Long Range Jet | up to 19 passengers | about 2,800 – 7,685 miles | 460 to 594 mph | for long-haul travels |
| Helicopters | up to 28 passengers | about 250 – 600 miles | 150 to 175 mph | for passenger and cargo transportation |
What are the advantages of flying on an Albuquerque private jet?
Renting a private jet has several undeniable advantages over commercial flights. With a private jet, you fly regardless of the airline's schedule at any time and choose your landing spot. As a result, you can save time, rent a plane that meets your requirements, travel with your pets, and more. Our specialist is available for you 24 hours, seven days a week, for all your private plane charter Albuquerque needs.
Popular Destinations near Albuquerque by private jet
Santa Fe—is a famous tourist destination rich in Spanish and Mexican history.
Telluride—is a resort town in the scenic San Juan Ridge, known for its picturesque landscapes and unique heritage.
Aspen—in west-central Colorado, is one of the most famous year-round ski resorts in the United States.
Rifle—in western Colorado, is an important regional center for recreation and business.
Our clients travel on efficient and comfortable private jets. If you haven't found the answers to all your questions, you can contact our experienced and reliable team at any time or visit our air charter FAQ page.