Monarch Air Group provides reliable and convenient private air charter services to the Cayman Islands. Based in Ft. Lauderdale and servicing countless domestic and international destinations, our company is strategically located for direct flights to the Caribbean islands and beyond. Through a combination of our Ft. Lauderdale based fleet and preselected operators, we ensure the greatest selection of aircraft to meet your travel needs and budget.
Charter a private jet Florida to Cayman Islands:
Located two miles southeast of the port capital George Town, the Owen Roberts International Airport (GCM) remains the premier airport destination for the Cayman Islands. As a major international airport, it regularly receives one million passengers a year from U.S. cities such as Miami, Boston, and New York. When departing from Miami or Ft. Lauderdale, air charter travelers can also choose from among many airports serving the region such as Opa-Locka Executive Airport (OPF), Fort Lauderdale Executive Airport (FXE), Fort Lauderdale-Hollywood International Airport (FLL), Miami International Airport (MIA), and Kendall-Tamiami Executive Airport (TMB).
Aircraft Options
Piper Navajo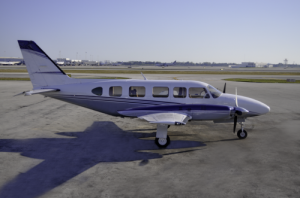 The Piper Navajo, a twin-engine aircraft, is one of Monarch Air Group's most popular choices for air charter to the Cayman Islands thanks to its economical price. Fully refurbished in 2012 including paint, interior, and insulation, our Piper Navajo features a comfortable executive interior with large tinted windows. Operated by experienced flight crews and maintained by leading facilities, the aircraft cruises at 200 mph and has a range of 600 miles. Comfortably accommodating up to seven passengers, the Navajo also features exterior luggage compartments for longer travel requirements. Flying our Piper Navajo allows air charter clients to travel in comfort, safety, and style. We pride ourselves in offering one of the most budget-friendly solutions across South Florida and the Caribbean basin.
Light Jets
Seating up to seven passengers, light jets also provide a comfortable and relaxing air charter experience to the Cayman Islands. Most light jets offer an enclosed lavatory, ample legroom, a quiet and pressurized cabin, and various optional amenities, such as Wi-Fi and catering. Cabin height for light jets typically average at 4'6".
Mid-Size Jets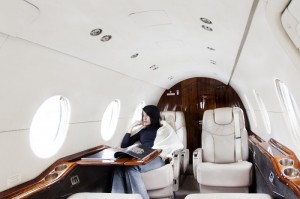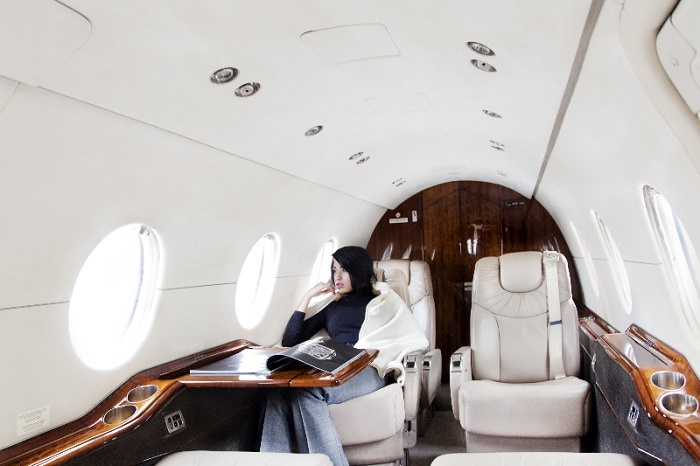 For a more spacious experience, mid-size jets can comfortably accommodate up to eight passengers, offering a 5'8" stand-up cabin, ample legroom and luggage space. Seating arrangements allow for multiple configurations to increase relaxation and provide maximum social interaction. Enclosed with a private lavatory, mid-size jets also will typically come equipped with a galley for food catering services. Various in-flight refreshments and amenities are available to increase productivity and enhance the travel experience.
Heavy Jets
With an average cabin height of over 6' and space for up to 16 passengers and baggage, heavy jets provide the most spacious and comfortable flight experience to make you feel at home. Select jets have two full lavatories and often come equipped with other services such as catering, digital entertainment, Wi-Fi, videoconferencing, massage chairs and much more. Whether for a large party, corporate travel, or family event, this elite class of jets will offer the highest grade in performance and leisure, ultimately designed for relaxation.
To book your flight to the Cayman Islands, contact +1 (954) 359 0059 to reach our charter department. Our charter coordinators will be able to assist you in choosing a preferred aircraft. For a quick estimate of what your air charter service may cost, submit your request here to price out your flight instantly.