Today, business jets are recognized as a tool for corporate development and growth. Introduced into the business world nearly 60 years ago, the first business jets opened up a whole new playing field for facilitating business by providing companies a significant edge over the competition. Business jets were marketed to companies that had started switching from rail transport to commercial jets, especially to pursue business opportunities during the postwar economic boom.
Jet Star
A Lockheed project initially meant for the U.S. Air Force but was abandoned due to budget cuts was salvaged by Clarence "Kelly" Johnson, Lockheed's famed aerospace engineer and VP of Advanced Development Projects. Johnson and other Lockheed visionaries saw there was a civilian need for small jets, so the company decided to pursue the commercial business market instead. The first two prototypes were powered by Bristol Siddely Orpheus engines. The first Jetstar took to the skies on September 4, 1957, and entered service in 1961. The company couldn't work out a suitable contract arrangement for the Bristol Siddely Orpheus engines, so they equipped the second prototype with four Pratt & Whitney JT12s instead.
For many years, seating ten plus two crew, it was the largest aircraft in the class. Of the total of 162 Jet Stars purchased from Lockheed, 16 JetStars were manufactured for the US Air Force. The jets served an important role as airport navigational aids for the Air Force during the Vietnam War and were retired from service in the 1990s. Aircraft in Lockheed's VIP transport fleet, designated as "VC-140Bs" occasionally served as Air Force One during the 1970s and 1980s, reliably serving the transportation requirements of several US Presidents.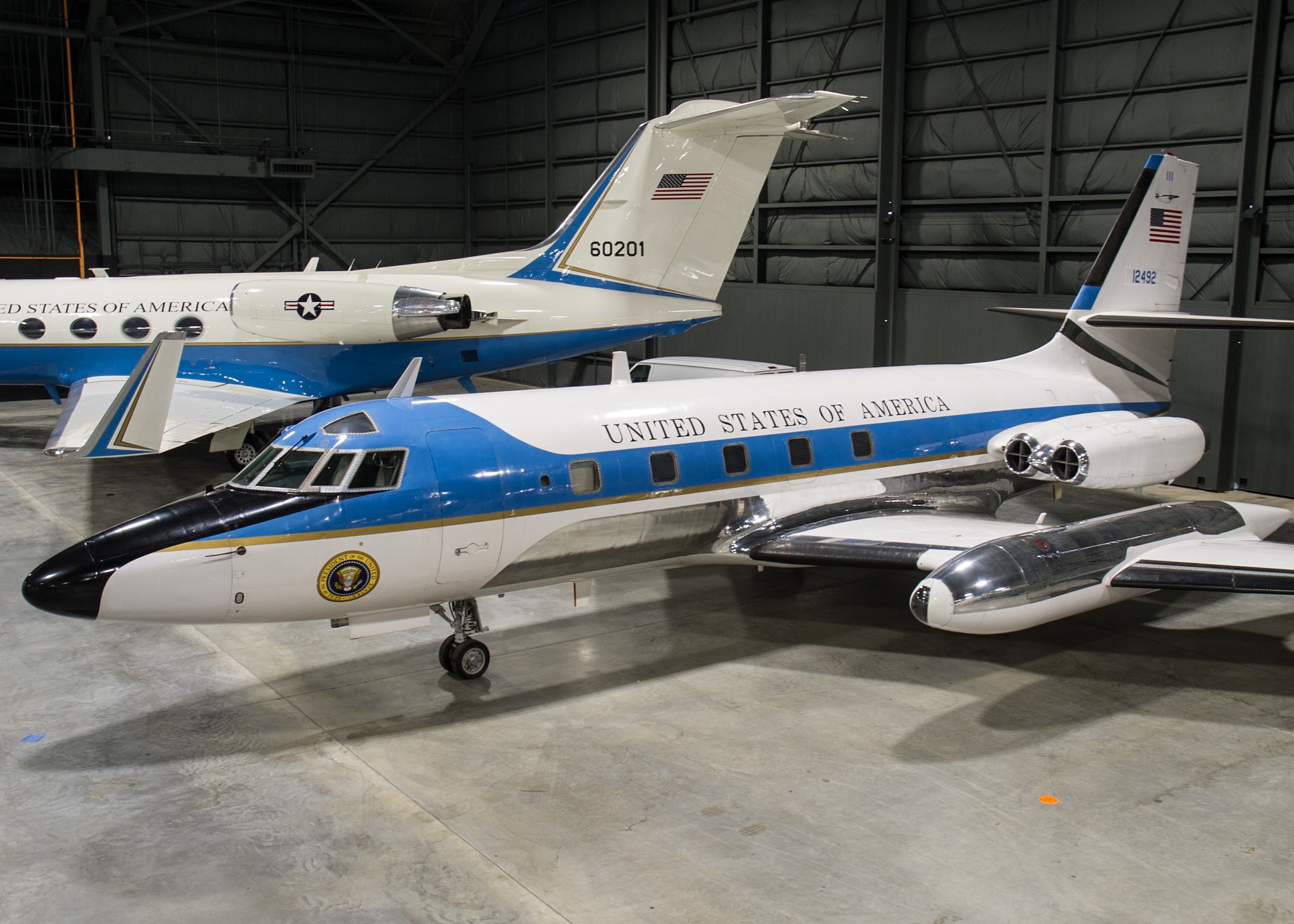 Photo: DAYTON, Ohio — Lockheed VC-140B JetStar in the Presidential Gallery at the National Museum of the United States Air Force. (U.S. Air Force photo by Ken LaRock)
Lyndon B. Johnson used JetStars extensively during his time both as vice president and president, and because of the aircraft's small size, he sometimes referred to them as "Air Force One Half." The aircraft on display carried Presidents Richard Nixon, Gerald Ford, Jimmy Carter, and Ronald Reagan a number of times, although it never served as the primary presidential aircraft. After 26 years of service, this JetStar was retired to the museum in July 1987.
TECHNICAL NOTES:
Crew: Four (plus 8 passengers)
Engines: Four Pratt & Whitney J60 turbojets of 3,000 lbs. thrust each
Maximum speed: 598 mph
Range: 2,200 miles
Ceiling: 45,000 feet
Weight: 41,000 lbs.
Mystère 20 (Falcon 20)
The first business jet in France was built by French industrialist Marcel Dassault whose name is synonymous with some of the most iconic aircraft of the 20th Century. Approval for the development of the Dassault 20, initially known as the Dassault-Breguet Mystère 20, was issued in December 1961. The aircraft was equipped with a pair of General Electric CF700 turbojet engines. The first production aircraft flew on January 1, 1965, less than two years after its prototype took its maiden voyage.
Helping to publicize the jet's record-breaking speed, French aviator Jacqueline Auriol clocked an average speed of 534 mph. In the U.S., Hollywood helped glamorize the concept of business jets by featuring a prototype with a red and white livery in the 1966 Parisian-based caper comedy How to Steal a Million starring Audrey Hepburn and Peter O'Toole in. Today, with 90 years of aerospace experience, Dassault continues to be a leading manufacturer of military and civilian aircraft.

Learjet 23
At the same time, his competitors were hard at work developing the first generation of business jets, Bill Lear, an American inventor, and businessman, and his team was hard at work rounding out their business jet design, after 20 years in development. Like the Lockheed JetStar, the Learjet 23 has roots in the military. Lear's design was based on a 1950s Swiss ground-attack fighter. Even though it was inspired by a military aircraft, from concept to delivery, the Learjet was designed as a civilian aircraft.
A name that would become associated with private jets, Lear initially moved to Switzerland in 1960 where he worked on the concept of delivering a private jet at the fraction of the cost of a commercial model. After deciding it took too long to get things done in Switzerland, he moved to Wichita, Kansas, and finalized the design. In 1962, Lear sold his interest in Lear Incorporated because he couldn't persuade the Board of Directors to pursue the aircraft manufacturing business.
Undaunted, Lear pressed on and by October 1963, the Learjet was flying at over 40,000 feet, with top speeds of 605 miles per hour and outperforming most military fighters. The first production model was delivered in October 1964 with a speed of 560 mph, 0.82 Mach, at 24,000 feet with a service ceiling at 45,000 feet, and a maximum range of 1,830 miles. The jet cost roughly $650,000 fully equipped, about 60% less than its competitors at the time.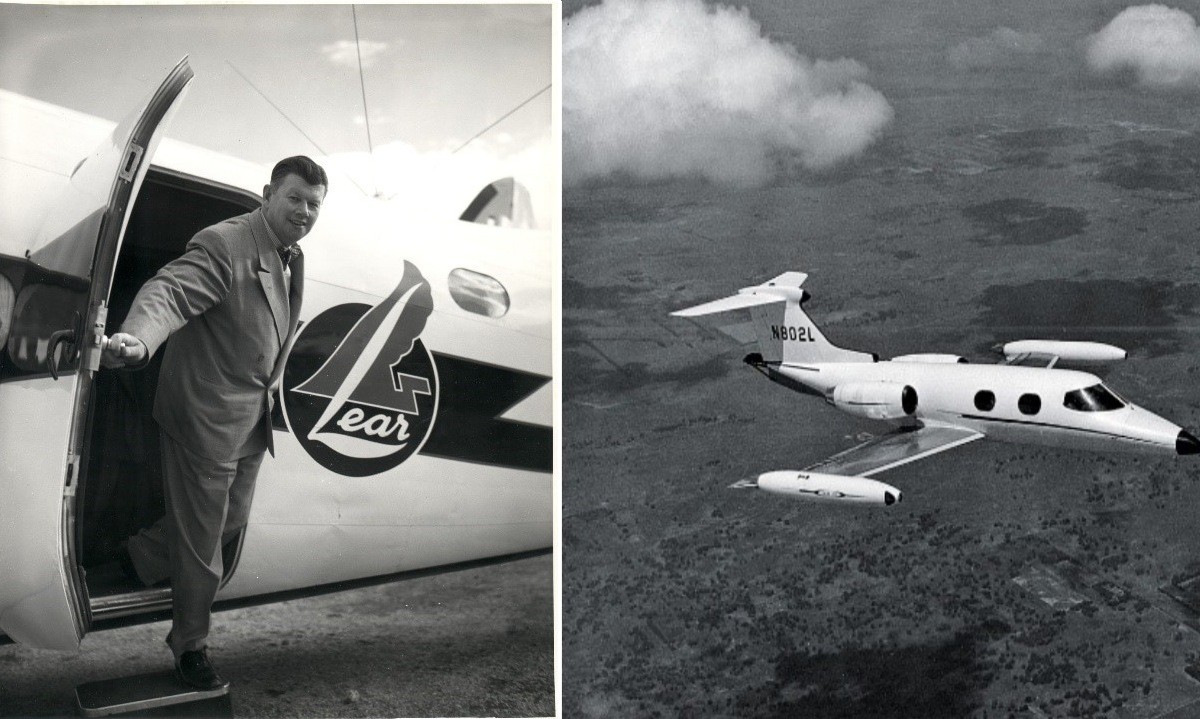 Photos: Left: Legendary inventor and founder William "Bill" Powell. Right: One-quarter front right side view from slightly above of Lear Jet 23 (r/n N802L) (A19780122000) in flight over farmland; circa 1964-1966. This particular aircraft was the second Learjet, and the first production model built by the Lear Jet Corporation. Source: Reproduced with permission from the Smithsonian Institution, National Air and Space Museum.