The SOCATA TBM 930 is a single engine turboprop manufactured but DAHER-SOCATA in France. The 930 is the newest and fastest version in the the TBM family. Introduced in April of 2016 the 930 comes equipped with an upgraded interior along with the latest avionics.
Charter a SOCATA TBM 930 private jet:
Passenger Capacity: up to 6 passengers (std configuration)
Max Range: 1,730 NM
Max Operational Speed: 330 ktas
Cabin Height: 4 ft in
Cabin Width: 3 ft 11 in
Cabin Length: 14 ft 4 in
Baggage Capacity: 30 cu ft.
The TBM 930 offers performance close to that of many light business jets with a maximum cruise speed of 330 knots (611 km./hr.) and a maximum range of 1,730 naut. mi. (3,200 km.), it provides greater flexibility with their load-carrying capacity and the ability operate from small airports.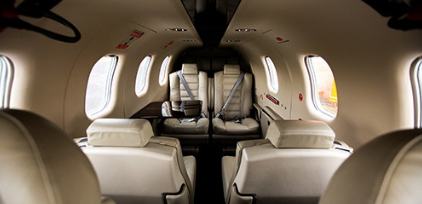 The seats in the 930 have been completely redesigned they now easily recline, allowing passengers to relax in generously-sized, sculpted deep cushions with padded leather armrests. There are several storage cabinet on both sides of the interior. In addition there is a simple lower storage cabinet, which also can be equipped with a hard support on top for pilot's case.

Another TBM 900/TBM 930 advantage is the capability to operate from mountain airports, retaining performance even in hot weather conditions. The aircraft need only 1,200 meters to take off and land at an airfield altitude of 8,000 ft.
For more information on chartering the SOCATA TBM 930, price out your flight here for an instant quote.